Dedicated Sponsors Continue to Make Capital Challenge Horse Show a Top Competition Destination for U.S. Equestrians
August 31, 2015 - Upper Marlboro, MD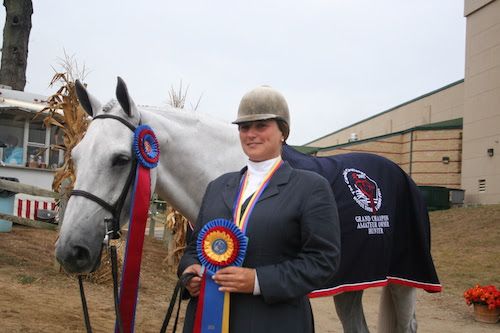 Bridget Hallman and Gray Slipper pose after winning the Grand Champion Amateur Owner Hunter at Capital Challenge in 2006.
Photo by Michelle Bloch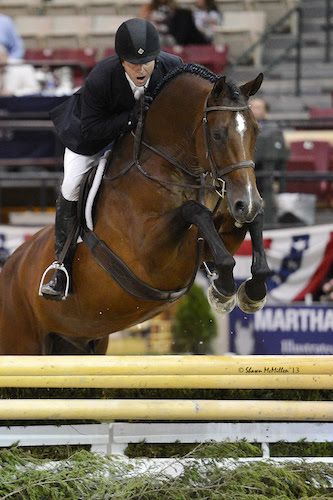 Peter Pletcher aboard Q, winner of the Future Hunter Championship at Capital Challenge in 2013.
Photo by Shawn McMillen Photography
As the Capital Challenge Horse Show (CCHS) prepares to host the 22nd edition of the competition from September 26-October 4, an array of families and sponsors continue to help make CCHS one of the premier equestrian destinations in the country. A long and growing list of dedicated sponsors bring the show to life, offering riders of all ages and experience levels an unparalleled experience in The Show Place Arena at Prince George's Equestrian Center in Upper Marlboro, MD.
CCHS looks forward to hosting another year of elite competition in 2015 thanks to the devoted sponsors who continue to assist the show management in creating an atmosphere and competition unlike any other. One major factor in the success of CCHS each year is the loyalty of sponsors spanning the entire United States. Families and trainers travel from every corner of the U.S., some making their way clear across the country, to compete and support the show.
Peter Pletcher and PJP Farm of Magnolia, TX, have sponsored CCHS every year since its inception in 1993. Pletcher's support has been an influential component in the growth of the competition through the years. For Pletcher, CCHS serves as a top destination to showcase the best hunters in the world and he brings his string of talented mounts to Prince George's Equestrian Center each show season.
"Capital Challenge is the epitome of horse shows for hunters in the country and we feel responsible for ensuring its success through both our sponsorship and participation in the competition," said Pletcher. "Every year the show continues to grow. We're excited for the future of Capital Challenge and look forward to continuing our support in the coming years."
Merrylegs South, located in Wellington, FL, and the Hallman family are entering their 21st year as sponsors of CCHS and find that the show brings together the best of the professional as well as amateur and junior worlds in one location, helping to cultivate and grow the sport.
The Hallman family is the perfect example of how owners contribute to the success of Capital Challenge as well as the industry as a whole, bringing along young hunters and moving them into the amateur ranks. A perfect example is Gray Slipper. In 2000 Bridget Hallman found Slipper, then a young spooky gray hunter, who was brought along with Louise Serio in the irons. Gray Slipper's career is reflected in Capital Challenge history, beginning with his success in the Future Hunters in 2001 and going on to earn the Regular Working Hunter championship in 2004 and 2005. Gray Slipper repeated that win in 2006 while also collecting the Grand Hunter champion with Serio and the Grand Amateur Owner championship, piloted by Bridget Hallman.
"When Capital Challenge was started, it became the perfect addition to many of the other large shows in the area and is now a staple in the fall season. It is a great facility and the show always runs smoothly thanks to an incredible group of individuals," said Bridget Hallman of Merrylegs South. "Our success at the show over the years has made it a memorable place for all of us at Merrylegs South and it is a privilege to sponsor each year."
One factor that makes CCHS a special event is that riders and trainers from both coasts come together to compete. Trainer Archie Cox has been a long-time, loyal supporter of CCHS, traveling with his clients and horses all the way from Lake View Terrace, CA. His Brookway Stables team has supported CCHS for many years, both through sponsorship and by simply making the long trip from the West Coast to partake in the competition.
"Capital Challenge Horse Show is one of my favorite events to attend every year. You get to watch the best horses in the country go head-to-head in competition. It's an excellent competition facility, which makes it exhibitor friendly for everyone and I think that is so crucial in our industry," said Archie Cox, one of the country's top hunter trainers.
With more than 100 sponsors supporting CCHS this year, the dedication of longtime sponsors, including families and businesses, inherently make CCHS one of the most unique and popular shows for competitors each calendar year.
"We have always had an incredibly supportive group of sponsors at Capital Challenge and this year has been no different," said show manager Billy Glass. "We are truly thankful for their participation and are looking forward to another great year at Prince George's Equestrian Center in just a few short weeks."
Capital Challenge will open with equitation classes on Saturday, September 26, and continue with hunter and jumper classes, including the highly anticipated WCHR Finals Series throughout the week. Competition will conclude onSunday, October 4.
A complete time schedule for the 2015 competition and the 2015 Capital Challenge Horse Show Prize List are available online at www.capitalchallenge.org.
For more information on the 2015 Capital Challenge Horse Show please visit www.capitalchallenge.org or follow them on Facebook, Twitter, and Instagram.

About Capital Challenge Horse Show
In its 22nd year, the Capital Challenge Horse Show sets itself apart with a distinct and unique focus on preeminent hunter competition. Held each autumn at the Prince George's Equestrian Center in Upper Marlboro, MD, this year's show will take place on September 26-October 4. In addition to several prestigious equitation events, the Capital Challenge Horse Show will once again host the World Champion Hunter Rider Finals and will assemble the country's best horses and riders to compete in junior, amateur, and professional hunter classes.