Ian Silitch Rides to One-Two Finish in $30,000 Mount Equinox Grand Prix at Vermont Summer Festival
July 25, 2015 - East Dorset, Vermont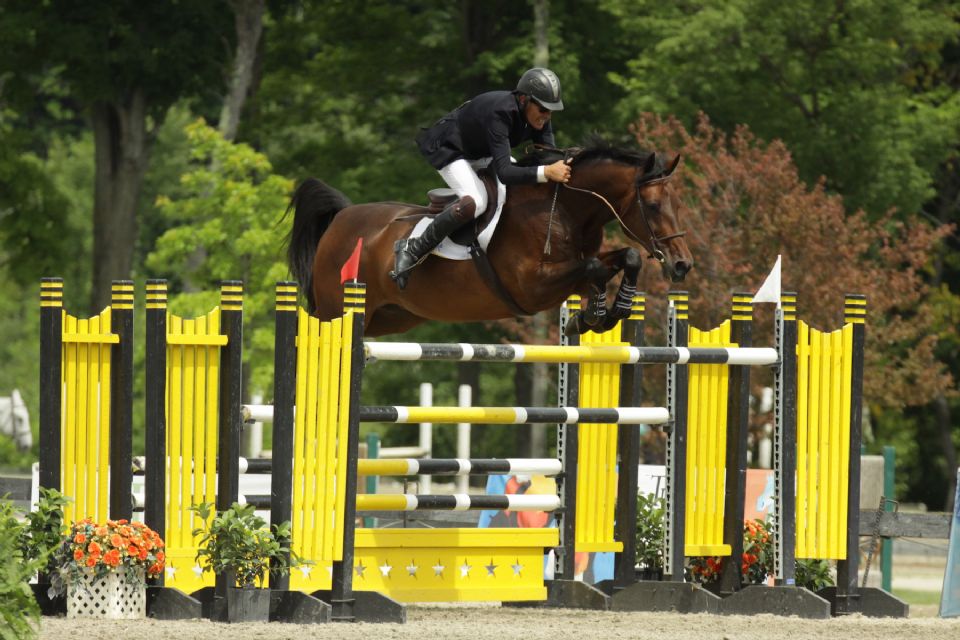 Ian Silitch and Cordovo on their way to victory in the $30,000 Mount Equinox Grand Prix, presented by Purina Horse Feed, on July 25 at the Vermont Summer Festival in East Dorset, VT.
Photo by David Mullinix Photography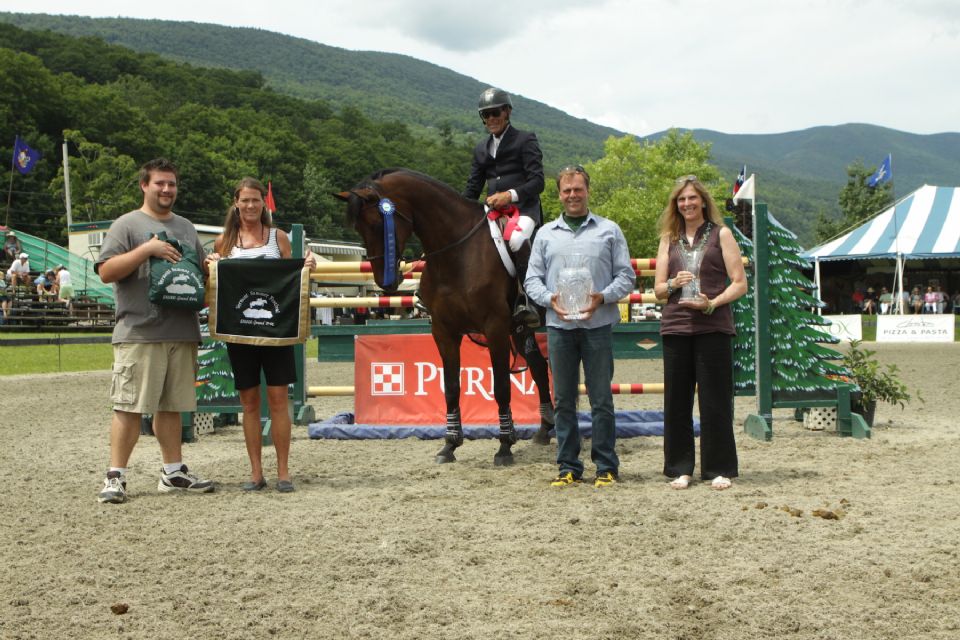 Following their win in the $30,000 Mount Equinox Grand Prix, presented by Purina Horse Feed, at the Vermont Summer Festival, Ian Silitch and Cordovo are joined by Chris Johnson and Connie Johnson Hambley of Purina dealer Eastern Hay, Jennifer Glass of the Vermont Summer Festival, and groom Steven Ottersburg.
Photo by David Mullinix Photography
Ian Silitch of Ocala, FL, and Cordovo captured the $30,000 Mount Equinox Grand Prix, presented by Purina Horse Feed, on Saturday, July 25 at the 2015 Vermont Summer Festival in East Dorset, VT. The Vermont Summer Festival runs for six consecutive weeks, from June 30 through August 9, at Harold Beebe Farm.
Silitch, who advanced to the jump-off on two mounts, both owned by Gaston Family Investments, LLC, posted the only double-clear trip of the day aboard Cordovo and jumped Vanita to the fastest four-fault ride to secure the one-two finish. Both tracks were set by U.S. Course Designer Steve Stephens.
Delivering the first fault-free ride of the day over Stephens' 12-obstacle course, Silitch and Cordovo were sitting pretty as the lone clear for seven trips. With a roar from the crowd, Marylisa Leffler of Brookeville, MD, and Carlot secured a jump-off for owner Rolling Acres. Next in the ring, Silitch doubled his chances for a win, going clear with Vanita to set the stage for a three-horse jump-off.
Returning first over the short course, Silitch and Cordovo broke the timers in 38.79 seconds. Leffler and Carlot picked up four faults in 39.88 seconds and guaranteed Silitch the win. In the final ride, Vanita and Silitch's four-fault effort in 38.67 seconds moved into second and bumped Leffler to third.
The fastest four-fault ride from the first round in 68.55 seconds gave David Raposa of Clinton, NY, and his own Waultraut a fourth-place ribbon. Jimmy Torano of Wellington, FL, and his own Daydream rounded out the top five on four faults in 71.22 seconds.
Silitch was quick to thank Purina Horse Feed as the sponsor of Saturday's event, as well as his owners, The Gaston Family of Morgantown, WV, for their support. "It's nice when good things happen to good people and the Gastons are ecstatic about our results this week," said Silitch, who also won the $10,000 Vineyard Vines Welcome Stake, presented by Manchester Designer Outlets, with Cordovo on Thursday.
Cordovo, a 10-year-old Holsteiner gelding (Contender x Erania), was purchased by The Gaston Family almost two years ago from Derek Petersen. "Derek is a neighbor of mine in Ocala and he told me he had a wonderful young horse to show me and he was right," said Silitch. "We came along quietly and it gets better and better every day. He's on fire and I'm having a lot of fun with him."
Before entering the ring on Vanita, Silitch was in the unique position of already having the class won. "I've been in that situation a few times, but it doesn't make it any less nice," he laughed.
Vanita, a 13-year-old Dutch Warmblood mare (Na Ssau Ot x Nenke) has jumped to a couple notable wins with Silitch in the tack and is impressing again at the Vermont Summer Festival.
"She is tough and isn't everybody's cup of tea, but she's incredibly game and I would put my life in her hands," she said.
Silitch will aim to defend is spot at the top and pilot both Cordovo and Vanita in next week's $30,000 Manchester & the Mountains Grand Prix on Saturday, August 1 at 1 p.m.
While Silitch was honored with prizes for his win, including a scrim from Mona's Monograms, the Vermont Summer Festival also recognized his groom with the weekly Grand Prix Groom Award. In recognition of his hard work to prepare Cordovo for grand prix competition, Steven Ottersburg was presented with a monogrammed jacket and coolerette from sponsor Glenn Geary of Horsewatch.
Competition at the 2015 Vermont Summer Festival runs weekly from Wednesday through Sunday, beginning each day at 8 a.m. Admission is $6 for adults and $3 for children from Wednesday through Friday. On Saturday and Sunday, admission is $9 for adults, $5 for children. 100% of the gate proceeds benefit the Manchester Community Library and Dorset Equine Rescue.
The Vermont Summer Festival is New England's largest hunter/jumper competition, and the richest sporting event based on purse in the state of Vermont. It is a proud member event of the Show Jumping Hall of Fame, the Marshall & Sterling League, and the North American League (NAL). For over 20 years, the event has attracted exhibitors and their families to the Manchester region in southern Vermont for great competition in an ideal summer setting.
Please e-mail or visit the website for more information about the Vermont Summer Festival.
$30,000 Mount Equinox Grand Prix, presented by Purina Horse Feed
Saturday, July 25, 2015
Rider Hometown Horse Faults Time
1. Ian Silitch Ocala, FL Cordovo 0:0 38.79
2. Ian Silitch Ocala, FL Vanita 0:4 34.67
3. Marylisa Leffler Brookeville, MD Carlot 0:4 39.88
4. David Raposa Clinton, NY Waultraut 4 68.55
5. Jimmy Torano Wellington, FL Daydream 4 71.22
6. Amanda Forte Glenmoore, PA HHS Louis 4 74.40
7. Julie Welles Wellington, FL Bazooka De Muze 8 71.79
8. Helen Goodard Lincroft, NJ Sweetheart 8 73.06