Kristy Herrera and Exaltation Win $5,000 Hunter Derby at Vermont Summer Festival
July 10, 2015 - East Dorset, Vermont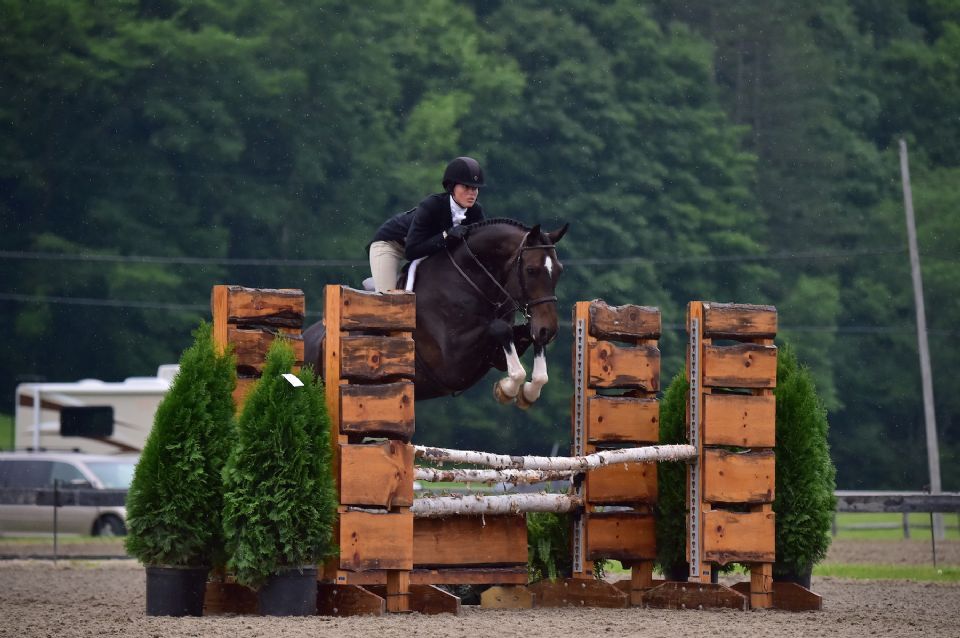 Kristy Herrera and Exaltation won the $5,000 NEHJA Performance Stake Hunter Derby, presented by Eastern Hay, at the Vermont Summer Festival.
Photo by David Mullinix Photography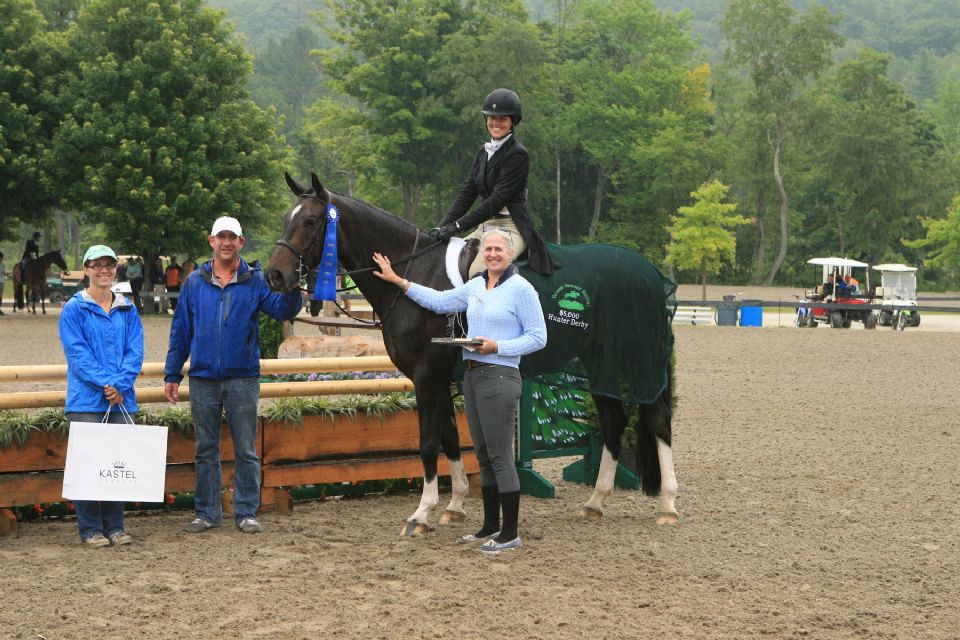 Kristy Herrera and Exaltation, pictured with trainer Richard Herrera, owner Sarah Cabot and groom Molly Blais, are presented as the winners of the $5,000 NEHJA Performance Stake Hunter Derby, presented by Eastern Hay, during the second week of the Vermont Summer Festival.
Photo by David Mullinix Photography
Kristy Herrera of Wellington, FL, took home top honors in the $5,000 NEHJA Performance Stake Hunter Derby, presented by Eastern Hay, aboard Exaltation on July 9 at the Vermont Summer Festival in East Dorset, VT. The Vermont Summer Festival runs for six consecutive weeks from June 30 through August 9 at Harold Beebe Farm.
Herrera piloted Exaltation, a seven-year-old Hanoverian gelding (Fidertanz x Dancing Queen G), for owner Sarah Cabot to a first-ever Vermont derby victory for both horse and rider with consistently high scores. The pair earned an 87 in the first round and 90 in the second round for a total of 177 to top a field of 32 starters.
The track, set by Doug Russell of Ocala, FL, spanned two competition rings as it does each Thursday afternoon during the six-week Vermont Summer Festival. Following the first round, the top 12 entries returned in reverse order of standing for a handy course, which again utilized both rings. Herrera and Exaltation returned second-to-last with the second highest score in the opening round, behind last week's derby victors Robert Lee and Cameron.
Lee of Old Saybrook, CT, and Cameron, owned by Marianne Huss, were poised for a repeat this week after jumping to the high score in round one with an impressive 90. An 86 over the handy track gave them a 176 total and guaranteed the win for Herrera by a single point.
Following Herrera and Lee, Keri Kampsen of Wellington, FL, jumped to third and fourth on two mounts owned by Micaela Kennedy. Kampsen and Balletomane took third on scores of 84 and 85 for a 169 total, while Pagani carried her to combine an 81 and 84 for a 165 final score. David Wilbur of Granby, CT, and his own Charismo rounded out the top five on scores of 80 and 84, which totaled for a 164.
Herrera has been competing in Vermont since she was a junior – either as a rider or trainer – and thinks of the show as a second home, making Thursday's win all the sweeter. She and her husband Richard run Oasis Show Stables in Sherborn, MA.
Cabot purchased Exaltation last April as a second horse for her to compete in the amateur hunters, but also gave Herrera the ride in pre-green and derby competition. "He was a dressage horse up until just before we bought him. Elizabeth Faraci of Annapolis, MD, found him and was bringing him along," said Herrera of Exaltation's road to the show ring. "They [Exaltation and Cabot] were a perfect match and she has been nice enough to let me show him and get his first derby win today."
Cabot was all smiles watching her gelding come out of the ring draped in winner's prizes, but gave the credit to Herrera. "Kirsty has been working really hard with him," she said. "You never know how things are going to work out, but I was hoping it would all come together today. We have really high hopes for Exaltation."
Despite a lack of experience in the derby format, Herrera said she felt like she was on a seasoned horse. "The jumps were enough to impress him, but he was going around no matter what was in front of him," she added.

In addition to winner's awards, including their share of prize money, trophy, and scrim personalized by Mona's Monograms, Herrera was also presented with the Kastel Denmark Style of Riding Award for her flawless performance in the tack.
After Thursday's win, Herrera and her team have already set their sights on the $15,000 Performance Stake Hunter Derby, sponsored by Land Rover Experience, during the final week at the Vermont Summer Festival. She and Exaltation will be back to compete in the high-stakes offering on August 6.
Competition at the 2015 Vermont Summer Festival runs weekly from Wednesday through Sunday, beginning each day at 8 a.m. Admission is $6 for adults and $3 for children from Wednesday through Friday. On Saturday and Sunday, admission is $9 for adults, $5 for children. 100% of the gate proceeds benefit the Manchester Community Library and Dorset Equine Rescue. This weekend will feature the $30,000 Battenkill Grand Prix, sponsored by The Inns at Equinox, on Saturday, July 11 at 1 p.m.
The Vermont Summer Festival is New England's largest hunter/jumper competition, and the richest sporting event based on purse in the state of Vermont. It is a proud member event of the Show Jumping Hall of Fame, the Marshall & Sterling League, and the North American League (NAL). For over 20 years, the event has attracted exhibitors and their families to the Manchester region in southern Vermont for great competition in an ideal summer setting.
Please e-mail or visit the website for more information about the Vermont Summer Festival.
$5,000 3'3" NEHJA Performance Stake Hunter Derby, presented by Eastern Hay
Thursday, July 9
Rider Hometown Horse Scores
1. Kristy Herrera Wellington, FL Exaltation 87/90 = 177
2. Robert Lee Old Saybrook, CT Cameron 90/86 = 176
3. Keri Kampsen Wellington, FL Balletomane 84/85 = 169
4. Keri Kampsen Wellington, FL Pagani 81/84 = 165
5. David Wilbur Granby, CT Charismo 80/84 = 164
6. Corinne Milbury Boston, MA Kavalier 78/82 = 160
7. Meghan Kaupp Pittsford, NY La Te Da 79/80 = 159
8. Hannah Lavin Westford, MA Aramis Z 77/74 = 151
9. Marjorie Sugarman Smithtown, NY The Entertainer 74/65 = 139
10. Emily Noble Arlington, MA Claudio 75/55 = 130
11. Kristy Herrera Wellington, FL Namesake 85/40 = 125
12. Melissa Monti-Spadaccini New Vernon, NJ Adorado STL 76/45 = 121