Show Jumping Returns to the Nation's Capital
May 16, 2016 - Ottawa, Ontario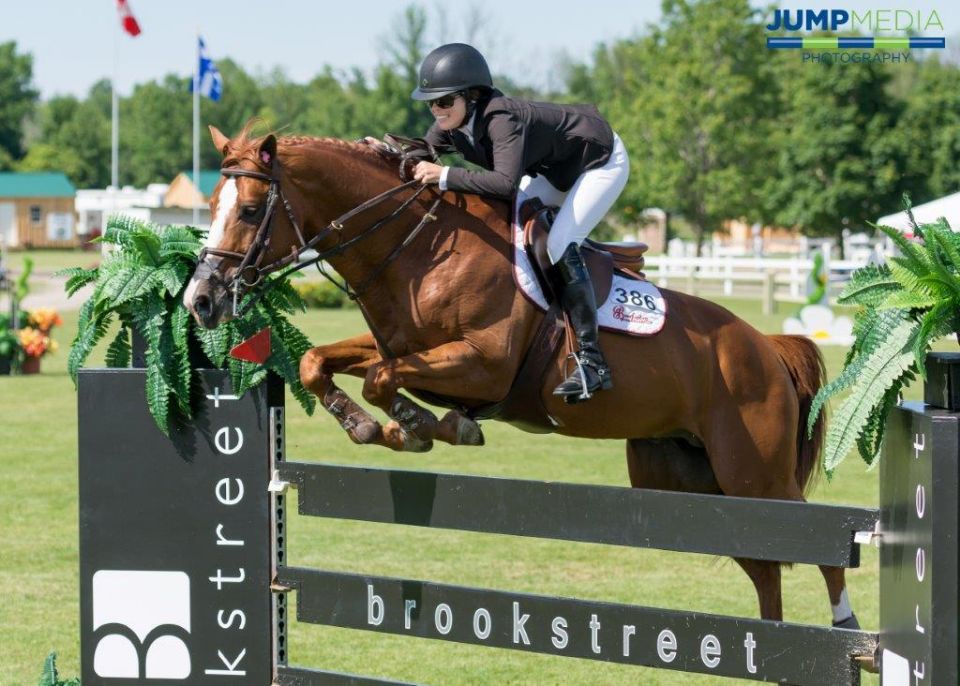 Elizabeth Bates of Toronto, ON, and Wildfire won the $35,000 Brookstreet Grand Prix at the 2015 Ottawa International Horse Show at Wesley Clover Parks.
Photo by Jump Media
Two Weeks of Back-to-Back Competition at Wesley Clover Parks
World-class show jumping returns to the Nation's Capital this summer with two weeks of back-to-back competition at Wesley Clover Parks in Ottawa, ON. The Ottawa National Horse Show will take place from July 13-17, 2016, followed by the CSI2* Ottawa International Horse Show from July 20-24, 2016.
The Ottawa International Horse Show debuted to rave reviews in 2015, prompting the expansion to a two-week schedule. Featured events at the Ottawa National Horse Show include a $20,000 Open Welcome Stake on Thursday, July 14, and a $50,000 Grand Prix on Saturday afternoon, July 16. Hunter riders will have their turn in the Ottawa National Horse Show spotlight on Sunday afternoon, July 17, with the popular $10,000 Canadian Hunter Derby held on the beautiful grass field.
The following week, Guilherme Jorge of Brazil will set the tracks for the Ottawa International Horse Show in his final appearance prior to acting as course designer at the 2016 Rio Olympic Games. Sanctioned as a CSI2* by the International Equestrian Federation (FEI), featured events at the Ottawa International Horse Show include a $35,000 Open Welcome and a $100,000 Classic. In addition to the competition, the Ottawa International Horse Show will offer a cocktail reception, a pony party for the kids and a welcome barbecue for all guests.
"Based on the overwhelmingly positive feedback and encouragement we received from competitors and spectators alike last year, we have expanded our competition to two weeks this year, and have also added FEI-sanctioning to truly raise our event to the international level," said Karen Sparks, Executive Director, Wesley Clover Parks. "We are also pleased to have Guilherme Jorge returning as our course designer this year, especially on the eve of his Olympic course designing debut."
A full slate of hunter, jumper, and equitation classes will be offered throughout both weeks of competition, and the Ottawa International and Ottawa National Horse Shows serve as qualifying events for Toronto's prestigious Royal Horse Show in November.
Conveniently located at the Moodie Drive exit off the 417 highway, Wesley Clover Parks showcases international show jumping competition in the heart of Ottawa. The uniquely urban location makes the Ottawa Horse Shows one of the few show jumping tournaments in Canada held inside city limits. Spectators are welcome to attend all events, with Wesley Clover Parks expecting to host more than 15,000 visitors over the two weeks of competition.
Tentative schedules are available for both the Ottawa National Horse Show and the Ottawa International Horse Show. Sponsorship opportunities are available by contacting Tracy Howard at Tracy.Howard@wesleycloverparks.com. For more information on the Ottawa International and Ottawa National Horse Shows, please visit wesleycloverparks.com or follow Wesley Clover Parks on Facebook here. Everyone is welcome to share their Wesley Clover Parks experiences using #TheParks.