$10,000 Canadian Circuit Awards Return to 2016 Vermont Summer Festival
May 31, 2016 - East Dorset, Vermont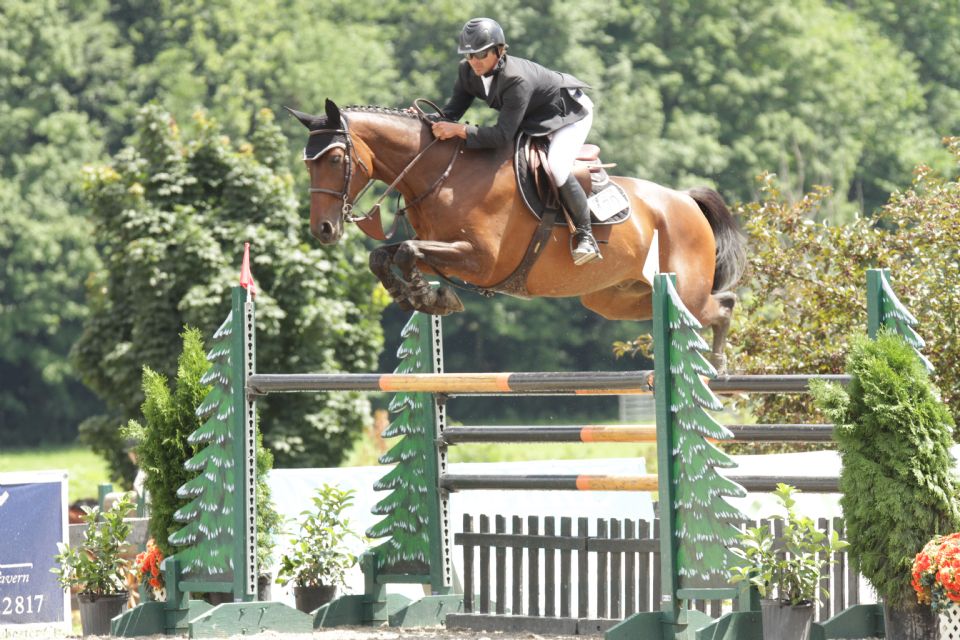 Canada's Tommy Feigel will once again be competing at the Vermont Summer Festival, hoping to take home his share of the bonus money offered in the $10,000 Canadian Circuit Awards.
Photo by David Mullinix Photography
Canadian competitors have big incentives to look forward to at the 2016 Vermont Summer Festival as the $10,000 Canadian Circuit Awards return to the six-week circuit running from July 5 through August 14, 2016, at Harold Beebe Farm in East Dorset, VT.
The Canadian Circuit Awards are an effort made by Vermont Summer Festival management to reward loyal Canadian competitors who choose to make Vermont a stop on their summer show schedule.
The $10,000 Canadian Circuit Awards will be presented to high-point hunter and jumper champions and reserve champions who hail from Canada at the conclusion of the circuit. The $10,000 in bonus money will be divided between the highest ranking jumper and hunter champions, each receiving $3,000, as well as $2,000 awarded to the reserve champions with the most cumulative points.
"We have a strong contingent of Canadian riders who spend their summers in Vermont," said Ruth Lacey, Marketing Director of the Vermont Summer Festival. "We know that riders and trainers have many choices when it comes to deciding their show schedule and we wanted to make an effort to show our appreciation of the support given to us by Canadian riders."
A regular competitor at the Vermont Summer Festival, Tommy Feigel of Ottawa, ON, cashed in during the 2015 season by accumulating a total of 37.5 points in the jumper ring over six weeks to win $3,000 as the Canadian Circuit Jumper Champion. He also successfully competed in the hunter ring to earn a total of 74.5 total points for the Canadian Circuit Hunter Reserve Championship, pocketing $2,000.
"It's always great to have an opportunity for special awards, but to have an award that has the ability to encourage more Canadians to come to Vermont is even better!" said Feigel. "I was lucky enough to win such a generous offering. It's a great reason for any rider – hunter or jumper – to spend their summer in Vermont."
Feigel's accolades in 2015 were highlighted by a fourth-place finish in the $10,000 New Balance Welcome Stake, presented by Manchester Designer Outlets, and second place in the $30,000 Battenkill Grand Prix, presented by The Inns at Equinox. Feigel's mount on both occasions was Analyze This, owned by Equestrian Concepts, Ltd.
After jumping to Canadian Circuit Award honors on both hunter and jumper mounts, Feigel is again focused on success in both rings for 2016.
"I have a nice group of horses, so the Canadian Circuit Awards are a goal again," said Feigel. "I want to make a pretty good run at it with my grand prix horse, as well as make some hunter derby appearances."
For Feigel, prize money incentives aren't the only reason he chooses Vermont as his summer showing destination, saying, "It's a very well-organized show, but for me and a lot of others, the area is a big part of the attraction. It has so much to offer, from great restaurants and shopping to outdoor activities."
The Vermont Summer Festival is New England's largest hunter/jumper competition and offers more than $750,000 in prize money, making it the richest sporting event based on purse in the state of Vermont. For over 20 years, the Vermont Summer Festival has attracted exhibitors and their families to the Manchester region in southern Vermont for great competition in an ideal summer setting.
To view more information on course designers, as well as entry and schedule information for the Vermont Summer Festival, click here.
The Vermont Summer Festival is a proud member event of the Show Jumping Hall Of Fame, the Marshall & Sterling League, and the North American League (NAL). Please e-mail or visit www.vt-summerfestival.com for more information about the Vermont Summer Festival.