2016 Vermont Summer Festival Features Lisa Cueman Photography
May 18, 2016 - East Dorset, Vermont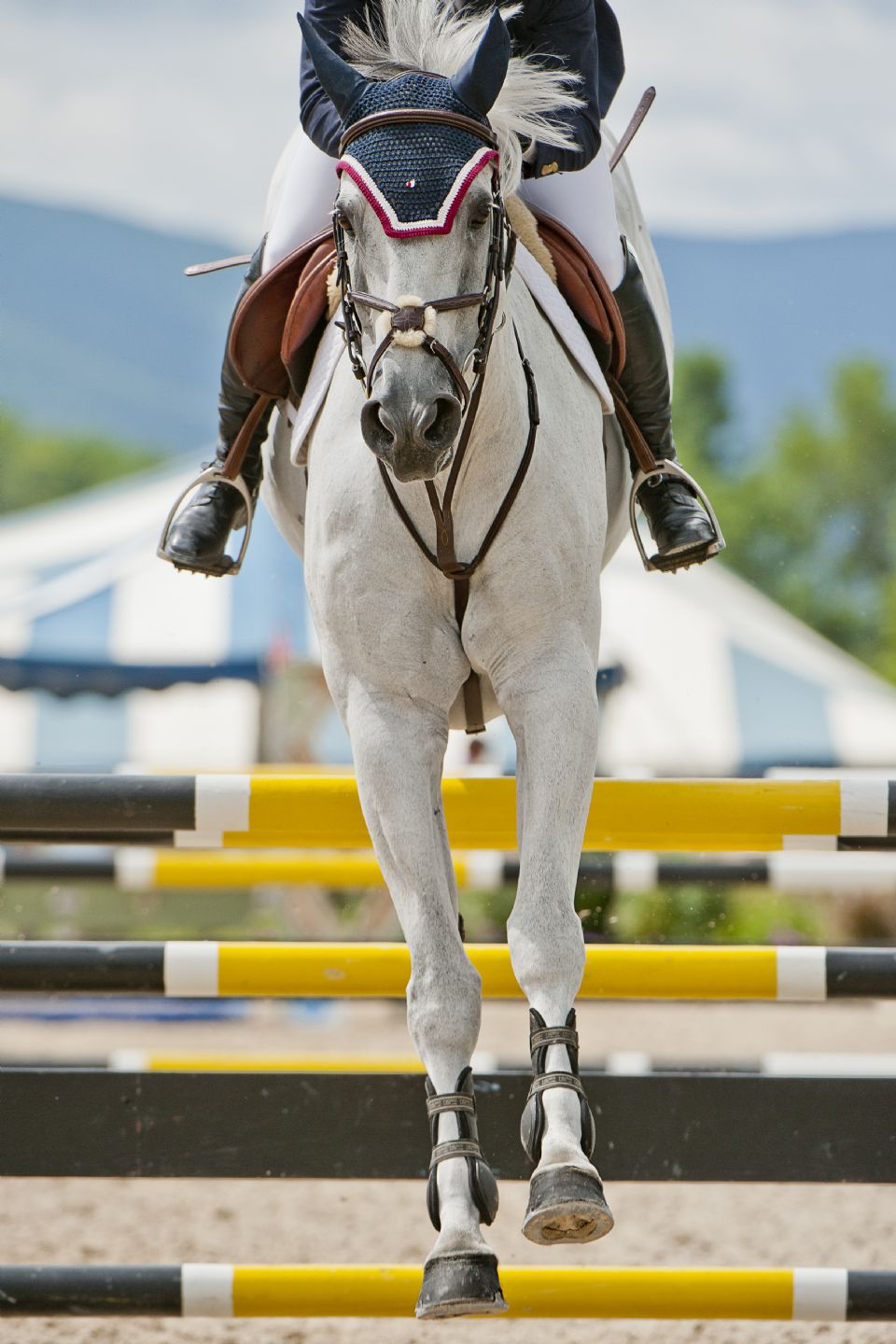 The cover of the 2016 Vermont Summer Festival event program features a photograph by Lisa Cueman.
Photo by Lisa Cueman
A photograph by Lisa Cueman will be the official artwork of the 2016 Vermont Summer Festival. The Vermont Summer Festival hosts six weeks of top jumper, equitation, and hunter competition from July 5 through August 14, 2016, at Harold Beebe Farm in East Dorset, VT.
Cueman's photograph, which was taken at the Vermont Summer Festival several years ago, will be featured on the cover of the 2016 event program and posters.
"This photo captures what the Vermont Summer Festival is all about," said Cueman. "The iconic blue and white tents with the mountains in the background are a symbol for the show. My work is really all about the horse, and I don't look for what some people might think makes a complete picture. The angle I took this photo at really engages you and gives a true sense of the athleticism of the horse in the photo."
Cueman is a lifelong horsewoman, winning her first ribbon at the age of four in a leadline class at a horse show held in Bermuda. Born and raised in Bermuda, Cueman spent the majority of her life as an amateur competitor and horse owner.
After dedicating herself to horse showing for several years in Ontario, Canada, Cueman moved to Dorset, Vermont, just minutes from the Vermont Summer Festival showgrounds. She first got involved with the show as a volunteer and has witnessed the event's growth.
"I have been involved for so long that I have seen the evolution of the show and it is great," she said. "For me, photographing horses became the perfect way to fill the space in my life that had always been full with riding and equestrian pursuits."
Lisa Cueman's work can be viewed at Helmholz Fine Art in Manchester, VT, or online at www.lisacuemanphotography.com. She will also showcase her photographs as part of a two-person show at Helmholz Fine Art from July 16 through August 16 in Manchester, coinciding with this year's Vermont Summer Festival.
The Vermont Summer Festival is New England's largest hunter/jumper competition and offers more than $750,000 in prize money, making it the richest sporting event based on purse in the state of Vermont. For over 20 years, the Vermont Summer Festival has attracted exhibitors and their families to the Manchester region in southern Vermont for great competition in an ideal summer setting.
To view more information on course designers, as well as entry and schedule information for the Vermont Summer Festival, click here.
The Vermont Summer Festival is a proud member event of the Show Jumping Hall Of Fame, the Marshall & Sterling League, and the North American League (NAL). Please e-mail or visit www.vt-summerfestival.com for more information about the Vermont Summer Festival.