Ali Wolff's Casall Named Equis Best Presented Horse at Tryon Summer III CSI 4*
July 19, 2016 - Mill Spring, North Carolina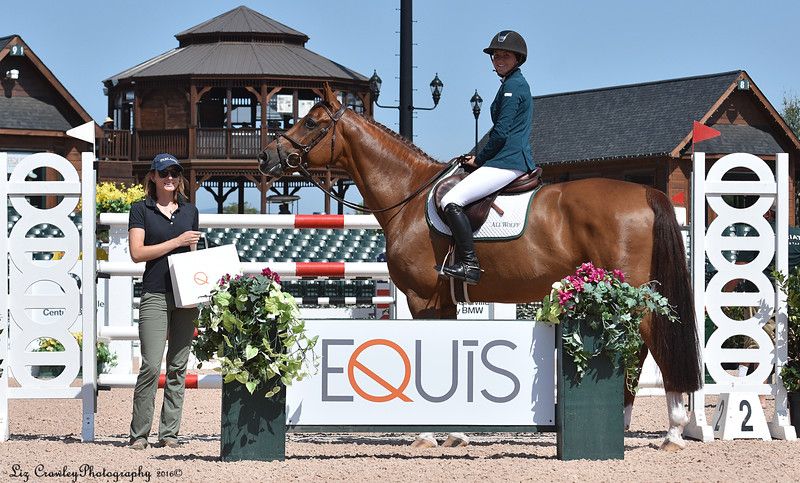 Ali Wolff and Casall are presented with the Equis Boutique Best Presented Horse Award by Annie Browarny of Equis Boutique after competing in CSI 4* competition at TIEC.
Photo by Liz Crawley Photography
Ali Wolff (USA) and Casall won the Equis Boutique Best Presented Horse Award during CSI 4* competition at Tryon International Equestrian Center (TIEC), held July 13 through July 17 in Mill Spring, NC. Equis Boutique sponsors the Best Presented Horse Award at the International Equestrian Federation (FEI) Horse Inspection during all weeks of FEI-sanctioned competition at TIEC throughout the 2016 season.

Wolff, of New Albany, OH, and Casall turned heads at the FEI Horse Inspection at TIEC thanks to the tireless efforts of both Wolff and her grooms. Their turnout and horsemanship was rewarded by the ground jury, which named them Best Presented after seeing 83 horses jog.

Casall is an 11-year-old chestnut Holsteiner gelding by Casall x Capitol I owned by Blacklick Bend Farm. He was prepared for the FEI Horse Inspection by Wolff's grooms, Mary Glier and Stacy Lawless.

For Wolff, the best part of seeing her horse be named Best Presented is seeing her grooms get acknowledged for their dedication to the horses they care for.

"They work so hard and don't always get the recognition," she said. "What I like most about winning this award is that they get rewarded for their efforts."

Growing up under the direction of trainers like George Morris and Michelle Grubb, Wolff was taught the importance of properly presenting and jogging horses at the FEI Horse Inspection. She recalled, "They used to have us practice jogging our horses. Once you reach the international level, it is so important."

Wolff's practice has clearly paid off as she has won the Equis Best Presented Horse Award five times since the honor was first introduced in 2015. This time, the award consisted of a commemorative plaque, as well as a pair of hind jumping boots to match the front pair she won during Tryon Summer II from Equis Boutique partner brand, Kentucky Horsewear.

Equis Boutique will offer the Best Presented Horse Award again during Summer IV CSI 4* competition, which wraps the TIEC summer series this week.

Equis Boutique is a shopping experience for the discerning equestrian and offers the most convenient and luxurious choice for top equine brands to dress the horse and rider. Featured brands include Parlanti, Manfredi Equestrian, KASK Helmets, Anna Scarpati, Kingsland Equestrian, Kentucky Horsewear, and Dy'on, as well as a variety of imported specialty bits and Official FEI and Just World International merchandise.

For more information on Equis, LLC boutiques, please visit EquisBoutique.com, or look for Equis Boutique on Facebook and Instagram! Email info@equisboutique.com for questions on the stores and their products.

About Equis, LLC
Equis LLC delivers superior service in order to educate their consumers on the brands and products they offer and show the variety and quality of their made-to-order, customized products. By providing a unique shopping experience, Equis rises above your normal tack shop to offer only the best. "Live the Experience – A Boutique for the Discerning Equestrian."