Amanda Flint Unstoppable in $30,000 Battenkill Grand Prix
July 11, 2015 - East Dorset, Vermont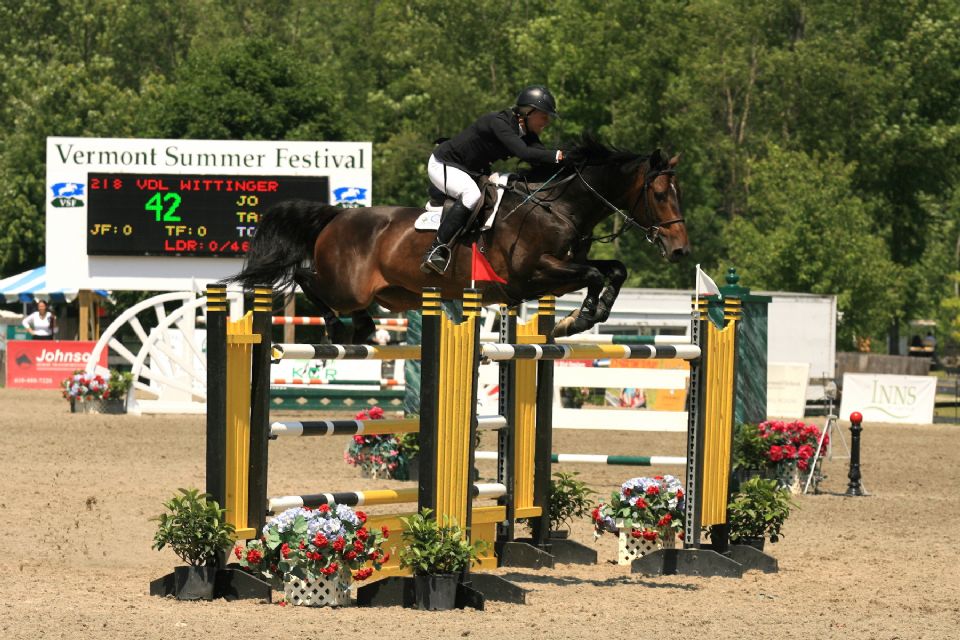 Amanda Flint and VDL Wittinger on their way to victory in the $30,000 Battenkill Grand Prix, presented by The Inns at Equinox, on July 11 at the Vermont Summer Festival in East Dorset, VT.
Photo by David Mullinix Photography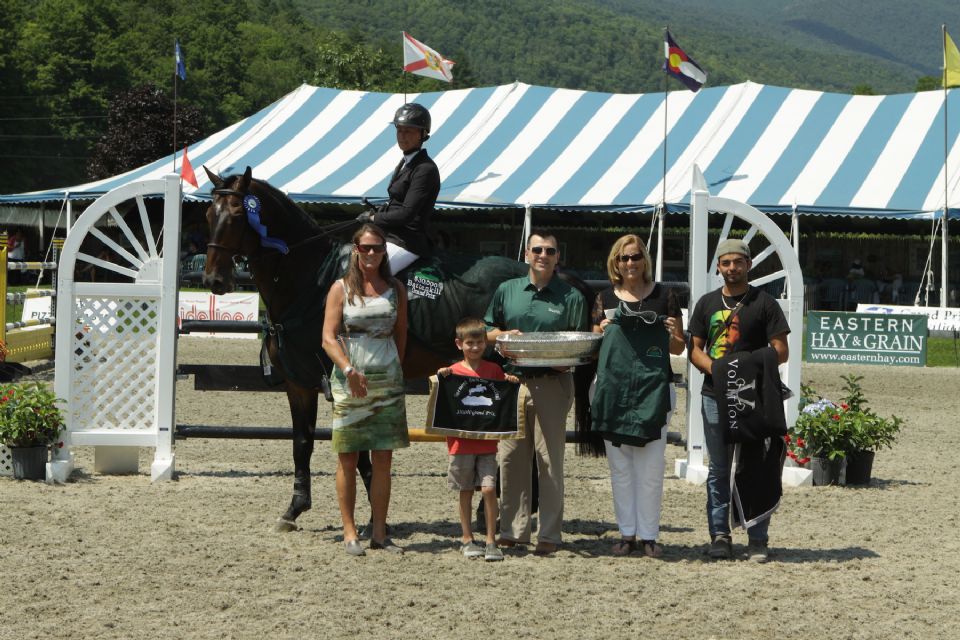 Following their win in the $30,000 Battenkill Grand Prix, presented by The Inns at Equinox, Amanda Flint, VDL Wittinger and groom Juan Pacheco, are honored by Gerry McFarland and son Kelan representing The Inns at Equinox, and Jennifer Glass and Ruth Lacey of the Vermont Summer Festival.
Photo by David Mullinix Photography
Amanda Flint of Long Valley, NJ, and VDL Wittinger won the $30,000 Battenkill Grand Prix, presented by The Inns at Equinox, on Saturday, July 11, to continue Flint's domination at the 2015 Vermont Summer Festival. The Vermont Summer Festival runs for six consecutive weeks, from June 30 through August 9, at Harold Beebe Farm in East Dorset, VT.
Flint and her own 12-year-old Dutch Warmblood gelding (Indoctro x Irusa) bested a starting field of 20 over courses designed by Michel Vaillancourt (CAN), who offered a significant test for horse and rider. Vaillancourt is soon headed to Toronto, ON, to set show jumping courses for the 2015 Pan American Games.
The first clear round came nine trips into the original order. Tommy Feigel of Pompano Beach, FL, and Equestrian Concepts, Ltd.'s Analyze This conquered Vaillancourt's technical time-allowed and striding questions to finish clear within 76 seconds. Amanda Starbuck of Ridgefield, FL, and Carte Blanche, owned by Starbuck Equestrian, guaranteed the onlooking crowd a jump-off with another clear effort in the next go. Eight rounds later, another one-two clear came from to Jimmy Torano of Wellington, FL, aboard his own Diadora and Flint with VDL Wittinger.
Elizabeth Mahoney of Bedford, NY and her own Mimosa watched the four-horse jump-off from the sidelines after a single time fault over the first-round course settled them in fifth.
Feigel and Analyze This, an 11-year-old Hanoverian gelding (El Bundy x Vorbuch 2) returned first, and immediately established a time to beat. Their clear round in 46.92 seconds eventually landed them in second.
Analyze This jumped his first-ever Grand Prix during week 1 of the Vermont Summer Festival, and finished eighth before making a marked improvement this week. "He's 11, but a little greener than most at that age," said Feigel of his mount, who was competing at the 1.20m level until he took over the ride this winter. "He's been slowly moving up, and I couldn't be happier today. He's got a lot of scope, is really careful and very brave, which is a great combination. It's rare that you have one with all three of those things, and we are excited about the future for him."
Starbuck and Torano followed Feigel in the jump-off, and each had a single rail down. Starbuck and Carte Blanche finished third on in 45.61 seconds, while Torano took fourth after stopping the clock in 48.29 seconds with Diadora.
Flint and VDL Wittinger entered the ring last and crossed the times clear in 44.03 seconds for the win.
Despite a year outside the show ring recovering from a minor injury, VDL Wittinger returned stronger than ever this spring. He and Flint won the $10,000 New Balance Welcome Stake on July 2 and were second in the $30,000 Vermont Summer Special Grand Prix on July 4.
VDL Wittinger carried Flint to the top prize on Saturday, delivering her a fourth-consecutive high-performance blue ribbon. Flint won both the Welcome Stake and Grand Prix during the first two weeks at the Vermont Summer Festival.
"The track was a little more difficult than last week – the combinations were pretty tight, which wasn't easy. But, as long as I stay out of his way and don't make any mistakes, he can perform like this every time," said Flint. "He has done a lot already this year and we have had a great couple weeks here [in Vermont], so he might get some time off after this summer."
While Flint was honored with prizes for her win, the Vermont Summer Festival also recognized VDL Wittinger's groom with the weekly Grand Prix Groom Award. In recognition of his hard work to prepare VDL Wittinger for grand prix competition, Juan Pacheco was presented with a monogrammed jacket and coolerette from sponsor Glenn Geary of Horsewatch.
Competition at the 2015 Vermont Summer Festival runs weekly from Wednesday through Sunday, beginning each day at 8 a.m. Grand prix action continues on Saturday, July 18 with the $30,000 Otter Creek Grand Prix at 1 p.m. Admission is $6 for adults and $3 for children from Wednesday through Friday. On Saturday and Sunday, admission is $9 for adults, $5 for children. 100% of the gate proceeds benefit the Manchester Community Library and Dorset Equine Rescue.
The Vermont Summer Festival is New England's largest hunter/jumper competition, and the richest sporting event based on purse in the state of Vermont. It is a proud member event of the Show Jumping Hall of Fame, the Marshall & Sterling League, and the North American League (NAL). For over 20 years, the event has attracted exhibitors and their families to the Manchester region in southern Vermont for great competition in an ideal summer setting.
Please e-mail or visit the website for more information about the Vermont Summer Festival.
$30,000 Battenkill Grand Prix, presented by The Inns at Equinox
Saturday, July 11, 2015
Rider Hometown Horse Faults Time
1. Amanda Flint Long Valley, NJ VDL Wittinger 0:0 44.03
2. Tommy Feigel Pompano Beach, FL Analyze This 0:0 46.92
3. Amanda Starbuck Ridgefield, CT Carte Blanche 0:4 45.61
4. Jimmy Torano Wellington, FL Diadora 0:4 48.29
5. Elizabeth Mahoney Bedford, NY Mimosa 1 76.08
6. Diego Vivero Wellington, FL Bandurria Hulmen 4 70.49
7. Amanda Flint Long Valley, NJ Balotan 4 71.56
8. Jimmy Torano Wellington, FL Daydream 4 73.71
9. Cassandra Orpen Weston, CT Casis 4 73.96
10. Wendy Ritter Peralta Geneva, FL Cruz Z 4 75.11
11. Amanda Flint Long Valley, NJ Child Z 7 78.63
12. Leann Kelly Valatie, NY Leander 8 70.55