Capital Challenge Horse Show To Host National Hunter and Equitation Finals Beginning September 26th at Prince George's Equestrian Center
September 11, 2015 - Upper Marlboro, MD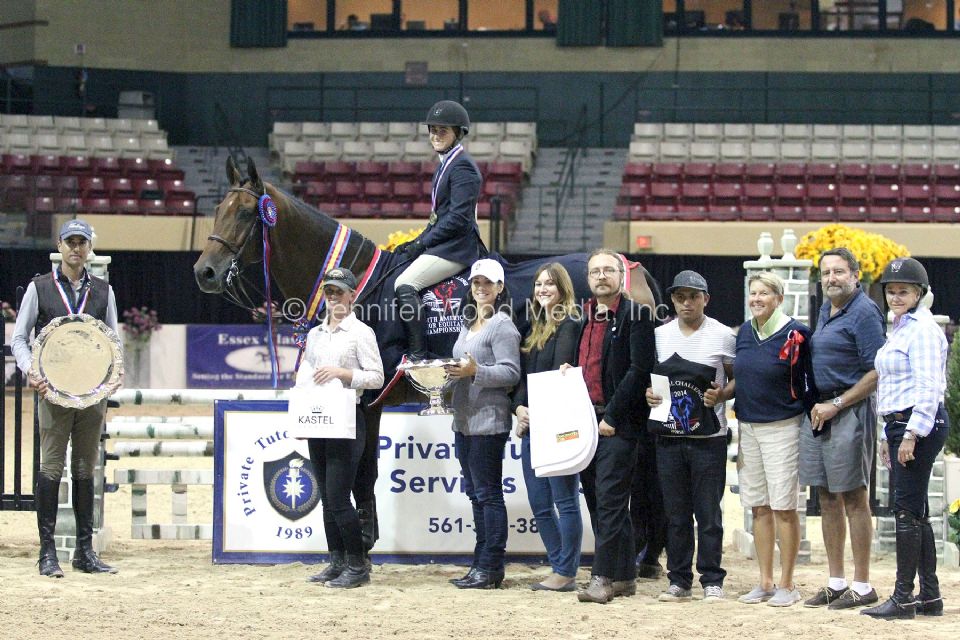 Victoria Colvin and Clearway after winning the Private Tutoring Services North American Junior Equitation Championships in 2014.
Photo by Jump Media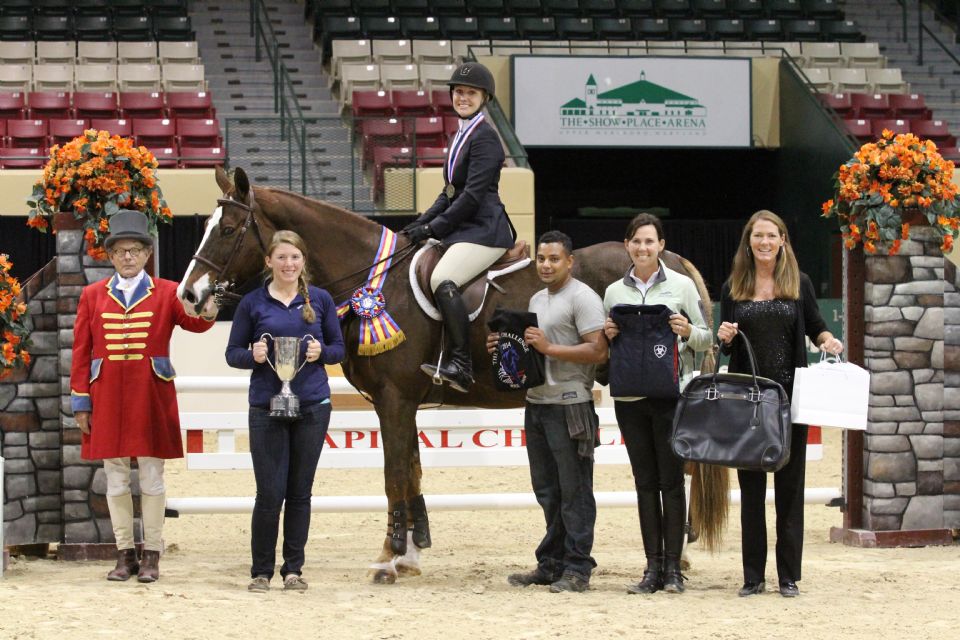 Rachel Boggus and Papillon 136 in their presentation ceremony after winning the ARIAT National Adult Medal Finals in 2014.
Photo by Jump Media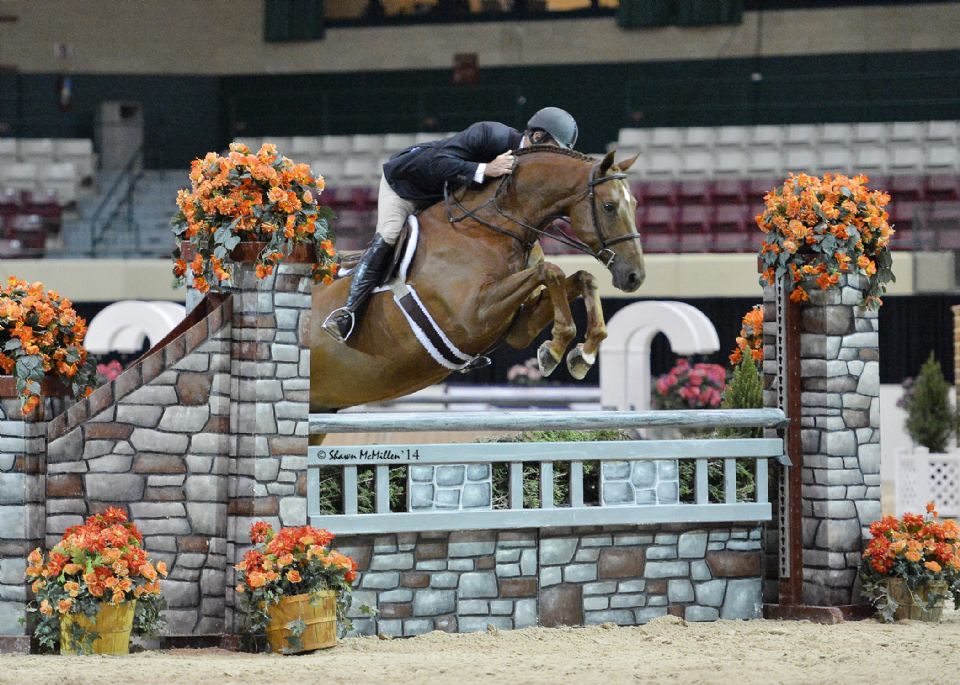 The 2015 Capital Challenge Horse Show (CCHS), presented by Well Placed Smile, is proud to offer several of the country's top indoor hunter and equitation national finals as competition commences at Prince George's Equestrian Center in two weeks, beginning on Saturday, September 26, and continuing through Sunday, October 4. Each year CCHS plays host to the sport's top equestrian athletes as they vie for championship titles during this elite week-long competition.
Several dedicated class sponsors have continuously provided their support to CCHS throughout the years, awarding titles in the highly touted finals classes, including World Championship Hunter Rider (WCHR) Finals as well as the major equitation finals that draw first-class equestrians to the Show Place Arena. In addition to being the title sponsor of the 2015 Capital Challenge Horse Show, Well Placed Smile, based in Nashville, TN, will also present the $5,000 Professional World Championship Hunter Rider Finals as well as the $5,000 World Championship Hunter Rider Developing Pro Challenge.
Another strong supporter of Capital Challenge is the Gochman Family who this year is sponsoring the $25,000 WCHR Professional Challenge. The WCHR Finals Series will also offer the Challenge classes for pony and children's riders as well as adult amateurs, amateur owners, and juniors. New for this year is the WCHR 3'3" Junior Challenge sponsored by Canterbury Farm and the Durpetti Family.
CCHS starts out strong with the first weekend of the competition, showcasing the best equitation riders in the country as Equitation Weekend, presented by Bigeq.com, takes the national spotlight. Saturday, September 26th is dominated by a full schedule of divisions for all age groups, while Sunday, September 27th showcases three championship equitation classes.


The day will begin with the highly competitive Private Tutoring Services North American Junior Equitation Championships, drawing the nation's top junior equitation riders who will begin their indoor season at Prince George's Equestrian Center. Several awards will be presented at the conclusion of the class, including the Best Equitation Rider Award sponsored by Karen Healey and Karen Healey Stables, Leading Equitation Trainer sponsored by Leslie Steele of Acres West, and the prestigious George H. Morris Equitation Championship Trophy donated by Frank and Stacia Madden and Beacon Hill Show Stables.
Next in the lineup is the Taylor Harris Insurance Services (THIS) National Children's Medal Finals, a class that CCHS will proudly host for its 21st year. CCHS will welcome forty of the country's best child riders who have qualified throughout the year to compete for the national title.
"Hosting finals classes at Capital Challenge is an honor and something we will continue offering in the future as the show expands and grows," said show manager Billy Glass. "The different finals classes provide riders of all ages an opportunity to perform on a national stage against riders from around the country, which is a very unique aspect of the show."
The final class during Equitation Weekend at Capital Challenge will be the North American Adult Equitation Championships, giving adults the opportunity to compete over a challenging course.
"We feel privileged to host such a large number of finals classes during the week. There is always a sense of a championship atmosphere surrounding the venue during Capital Challenge, which always brings out everyone's best," said Oliver Kennedy, who serves as a show manager beside Billy Glass. "The sponsors of these classes help to bring notoriety and attention to the show and we are thankful for their continued support."
The ARIAT National Adult Medal Finals presented by Ariat International will also highlight equitation talent, as top adult riders take to the Show Place Arena in this prestigious national final on Friday, October 2. Thirty competitors who have accumulated points throughout the season will ride a first-round course in an effort to qualify for the second round of competition where a national champion will be named.
Capital Challenge will open with equitation classes on Saturday, September 26, and continue with hunter and jumper classes, including the highly anticipated WCHR Finals Series throughout the week. Competition will conclude onSunday, October 4.
A complete time schedule for the 2015 competition and the 2015 Capital Challenge Horse Show Prize List are available online at www.capitalchallenge.org.
For more information on the 2015 Capital Challenge Horse Show please visit www.capitalchallenge.org or follow them on Facebook, Twitter, and Instagram.

About Capital Challenge Horse Show

In its 22nd year, the Capital Challenge Horse Show sets itself apart with a distinct and unique focus on preeminent hunter competition. Held each autumn at the Prince George's Equestrian Center in Upper Marlboro, MD, this year's show will take place on September 26-October 4. In addition to several prestigious equitation events, the Capital Challenge Horse Show will once again host the World Champion Hunter Rider Finals and will assemble the country's best horses and riders to compete in junior, amateur, and professional hunter classes.