Days End Farm Horse Rescue Celebrates 30th Anniversary at Annual Jingle & Mingle Holiday Appreciation Celebration
December 12, 2019 - Woodbine, MD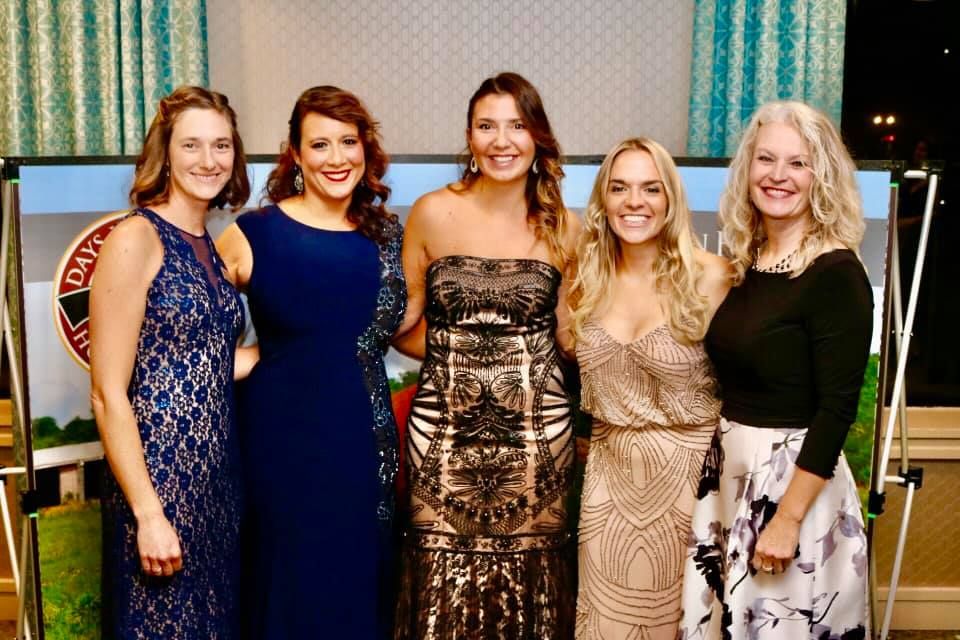 (from left to right): Sara Strauss (DEFHR Head Trainer), Caroline Robertson Herman (DEFHR Development Director), Erin Clemm Ochoa (DEFHR CEO), Nicky Wetzelberger (DEFHR Community Outreach Director), and DeEtte Hillman (DEFHR Equine Programs Director).
Photo by Ron Diehl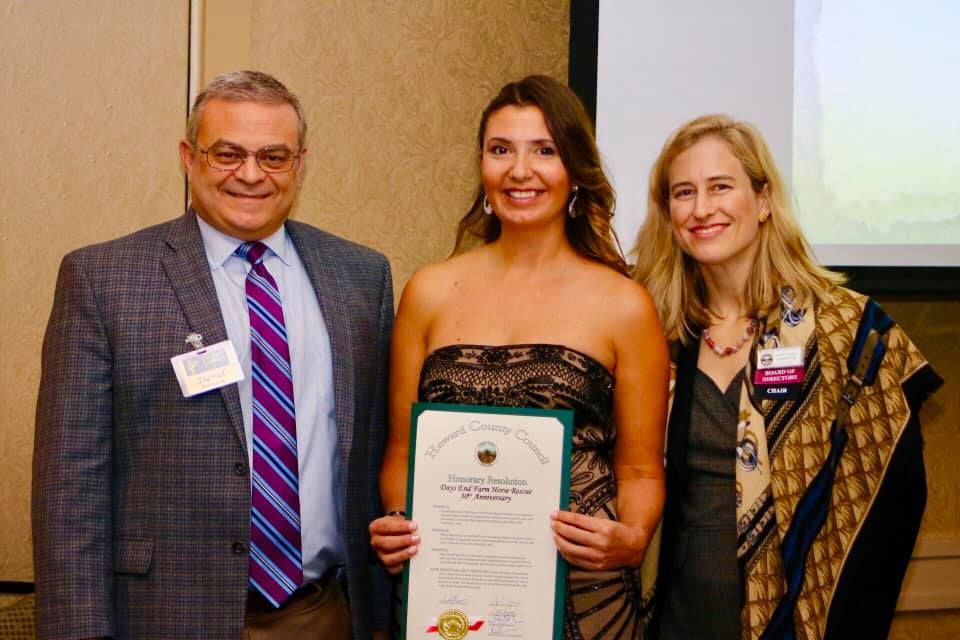 (from left to right): Howard County Councilman David Yungmann, Erin Clemm Ochoa (DEFHR CEO), and Alexandra Ledbetter (Chair of DEFHR's Board of Directors).
Photo by Ron Diehl
Days End Farm Horse Rescue (DEFHR), based in Woodbine, MD, celebrated 30 years on Friday, December 6, at the non-profit organization's year-end Jingle & Mingle Holiday Celebration at the Turf Valley Resort in Ellicott City, MD.
More than 250 guests attended the gala event, generously sponsored by Monocacy Equine Veterinary Associates, and joined in recognizing the great work and support that volunteers and donors have given to DEFHR since its inception in 1989.
As part of the evening's program, Howard County Council Member David Yungmann presented DEFHR's leadership with an honorary resolution recognizing DEFHR's 30 years of service to the area community.
"In the equine welfare industry, 70 percent of rescues fail within three years," said DEFHR's chief executive officer, Erin Clemm Ochoa. "It's an incredible feeling to see DEFHR not only enduring after 30 years, but thriving and continuing to grow, thanks our incredible donors and volunteers and this community. It's because of them that DEFHR is celebrating 30 years and because of them that we look forward to the next 30!"
The holiday celebration was headlined by a speech from DEFHR co-founder Allan Schwartz who was instrumental in creating the organization that has saved more than 2,300 horses throughout its history.
"I wanted a place to relax in the evening at day's end, and that's how we came upon the name Days End Farm," said Schwartz in speaking of DEFHR's earliest years.
"As time went on, we thought, 'Why can't we help other horse rescues start and do better?' People said, 'Why would you want to help others? That's competition,'" said Schwartz, who also went on to work for the Humane Society of the United States and was influential in creating animal cruelty legislation in Maryland. "This is about the animals. It's not about competition. The more we can make everyone stronger, the better we all can become. That was the basis for a lot of what we did. It was, 'How can we help others become stronger so that we can help more horses?' And that was where we found our passion.
"I don't know that I could have known it would grow into something this big and this strong," continued Schwartz. "[Fellow co-founder Kathy Howe Schwartz] would want to thank all of the horses that have come through our facility that people have beaten on and trod down and just treated like dirt. Those horses have turned around and put their trust in us and shown us that they can love us, and they can give back and make us stronger."
Schwartz also recognized the many volunteers and donors who have supported DEFHR over the years, a few of whom were acknowledged with special awards on Friday night. Among them was Alexandra Ledbetter, the recipient of the evening's highest honor, the Founder's Award.
Ledbetter, of Baltimore City, MD, has been a committed DEFHR volunteer since 2013 and was chosen in recognition of her incredible generosity toward the organization and her outstanding work as the current Chair of the DEFHR Board of Directors.
"For me, the educational component of our work is most compelling," said Ledbetter previously. "We maintain our farm as an educational community center for our volunteers and visitors and are open for tours, no appointment necessary, every day. We have hundreds of volunteers – people of all ages and backgrounds who collectively contribute thousands of hours per year. DEFHR staff members offer visitors not only the chance to be put to work productively, but also training and clinics and workshops that people find intellectually enriching. I just love that our community is so open and inclusive."
In the 30 years since its founding, DEFHR has remained highly committed to its mission of intervention, education, and outreach.
The organization has established strong relationships with local animal control authorities and humane agencies, and it is through these agencies that horses in need of rescue come to DEFHR. Currently, DEFHR provides intervention services throughout Maryland and the surrounding states, including as far away as New York, Massachusetts, North Carolina, and Florida.
DEFHR is also one of the few horse rescues in the country capable of mounting large animal rescue efforts, with notable national support efforts having included rescuing animals after hurricanes.
Once at DEFHR, horses receive top-of-the-line care from the DEFHR team and from the many volunteers who donate time each year. After successful rehabilitation, the horses are evaluated and given the training needed to best prepare them for adoption.
Learn more about DEFHR at www.defhr.org, and help the organization reach its year-end annual giving goals here!
For media inquiries or to request high resolution photos, please contact Emily at edaily@jumpmediallc.com.