Equis Boutique Honored with "Leg Up" Award by JustWorld International
January 22, 2016 - Wellington, Florida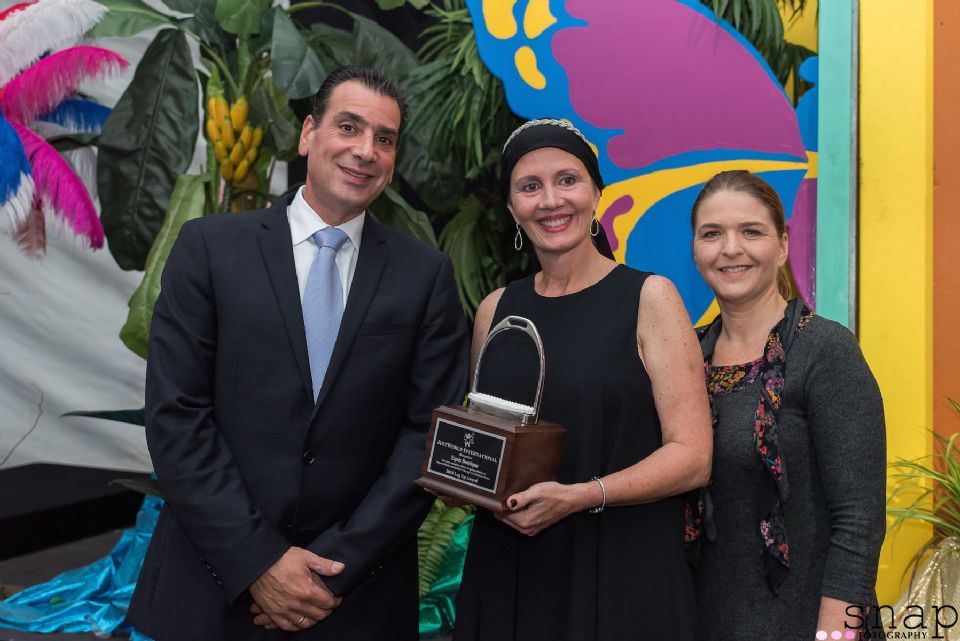 Cesar Hirsch, Elena Couttenye and Irma Rubesa of Equis Boutique accept the "Leg Up" Award at the 2016 JustWorld International Gala.
Photo by Snap Photography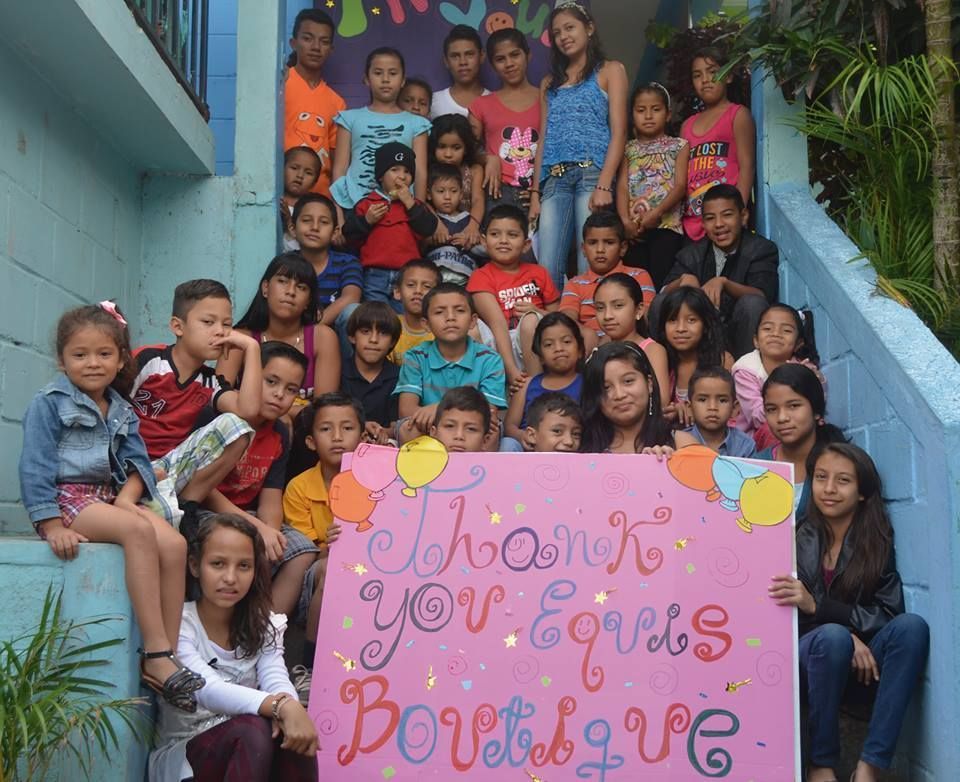 Children from Tegucigalpa, Honduras, thank Equis Boutique for its support of the Compartir mobile library program through JustWorld International.
Photo courtesy of JustWorld International
Equis Boutique was presented with the humanitarian "Leg Up" Award at the 13th Annual JustWorld International Gala, presented by Wellington Masters, held Friday, January 16, at Belle Herbe Farm in Wellington, FL.
Equis Boutique's founders Cesar Hirsch, who is a JustWorld Technical Official Ambassador, and Elena Couttenye accepted the award, which is given each year to individuals and organizations who go above and beyond to spread the core values of JustWorld International and have demonstrated admirable efforts in giving children in impoverished communities a "leg up" to a brighter future.
Equis Boutique is a mobile and online luxury shopping experience for the discerning equestrian and an official merchandise partner of JustWorld International. The partnership allows JustWorld supporters to have direct access to branded merchandise, and also advances their efforts as 100% of the profits generated are donated back into the organization.
"We are so honored to even be involved with what JustWorld International does around the world, and to win this award is truly special," said Hirsch, who is a member of the JustWorld Ambassador program. "To stand on the same stage with the 13 other recipients was humbling, but also confirmed that businesses, organizations and individuals within the horse sport industry have the opportunity and the ability to affect positive change all over the world."
"Equis has become a key member of the JustWorld team by assuming the role of official merchandise partner and carrying JustWorld International products," said Jessica Newman, Executive Director of JustWorld International. "Cesar Hirsch has been a long-time supporter of JustWorld International as a Technical Official Ambassador and his support has helped JustWorld to reach new levels. Under Cesar and Elena's leadership, all Equis Boutique employees embody the JustWorld spirit and share it will all they encounter."
Thanks to support from Equis Boutique, JustWorld International was recently able to reach 5,000 students through the Compartir's Mobile Library program in Tegucigalpa, Honduras. Asociación Compartir is a JustWorld partner in Honduras working to provide children who live too far away to attend local schools with access to books and educational activities.
The 2016 JustWorld Gala raised well over $450,000 for the children at its partner projects. The annual gala is JustWorld International's largest fundraiser each year, allowing the organization to continue its goal of funding local partners around the world to help children thrive through their support of education, health and hygiene, nutrition, and cultural development.
For more information on Equis Boutique, please visit EquisBoutique.com, or find Equis Boutique on Facebook and Instagram! Equis Boutique welcomes questions about its store and products at e-mail info@equisboutique.com.
About Equis Boutique
Equis Boutique delivers superior service in an effort to educate their consumers on the brands and products they offer, and to demonstrate the variety and quality of their made-to-order, customized products. By providing a unique shopping experience, Equis rises above your normal tack shop to offer only the best. "Live the Experience – A Boutique for the Discerning Equestrian."