Equis Boutique Sponsors Best Presented Horse Award at 2016 HITS Ocala Winter Circuit
January 26, 2016 - Wellington, Florida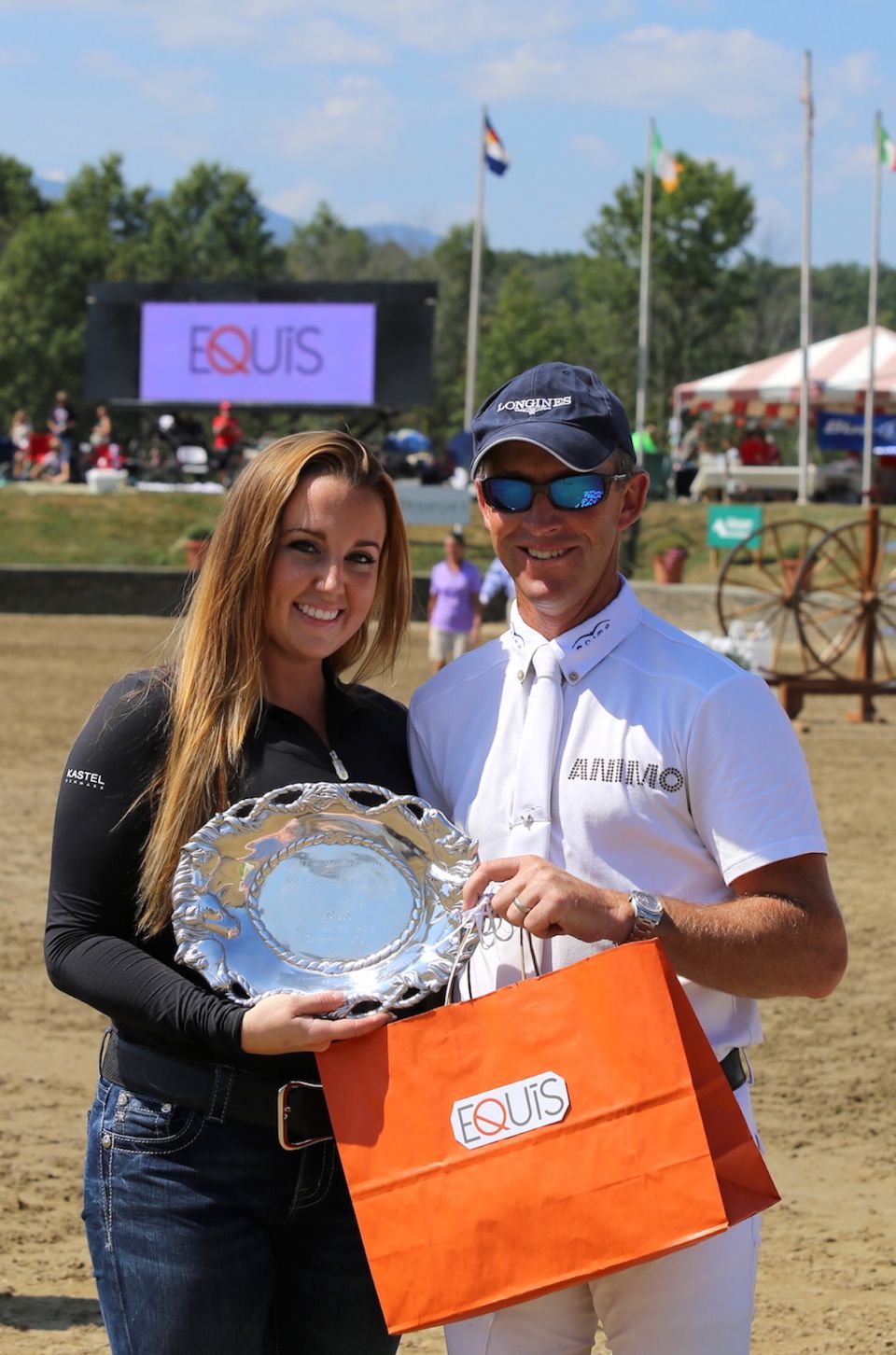 Jonathan McCrea accepts the Equis "Best Presented Horse" award from Alex West of Equis at HITS Saugerties. Equis will again present the award this winter at HITS Ocala.
Photo by Jump Media
Equis Boutique will sponsor the Best Presented Horse Award during the FEI Nations Cup CSIO 4* at the 2016 HITS Ocala Winter Circuit held February 16-21 in Ocala, FL.
After founding their mobile boutique in 2014, Equis returns to HITS Post Time Farm this week for their second season as a HITS Ocala vendor. They will be onsite with high-end tack, apparel and accessories throughout the circuit, which concludes on March 27. In addition, Equis Boutique will unveil its sponsorship of the Best Presented Horse Award in Ocala after enjoying a successful summer season presenting the award at top horse shows across the U.S. The award is to be given to the best turned-out horse that is presented by its rider at the International Equestrian Federation (FEI) Horse Inspection for the CSIO 4*.
Equis Boutique will honor one horse and rider with the Best Presented Horse Award during the CSIO 4*, scheduled during Week 5 of the 10-week season. At the weekly FEI Horse Inspection, the ground jury will evaluate turn-out to determine the Best Presented Horse. The winner will receive a commemorative plaque in recognition of the honor, as well as a collection of products from Equis Boutique partner brands.
"We are very proud to host the prestigious CSIO 4* at HITS Ocala and appreciate any efforts by our sponsor to heighten the experience for competitors," said HITS President and CEO Thomas Struzzieri. "Competing at the FEI level should feel special for these riders and we hope the Equis Best Presented Horse Award adds another element of competition while rewarding a well-deserving team of horse, rider and groom."
On-site throughout the duration of HITS Ocala, Equis Boutique rises above the ordinary tack store to offer a shopping experience for the discerning equestrian, and carries the most luxurious equine apparel for both horse and rider at a discounted price. Equis Boutique carries some of the sport's most popular brands including Parlanti, Manfredi Equestrian, Kentucky Horsewear, Dy'on, KASK riding helmets of Italy, Kingsland Equestrian, Animo and Just World International merchandise. In addition, Equis Boutique stocks a large variety of specialty imported bits, as well as official FEI merchandise.
During HITS Ocala, Equis Boutique will offer discounts on popular merchandise climbing to more than 50% off.
For more information on Equis Boutique and the Best Presented Horse Award, please visit EquisBoutique.com, or find Equis Boutique on Facebook and Instagram! Equis Boutique welcomes questions about its store and products at e-mail info@equisboutique.com.
About Equis Boutique
Equis Boutique delivers superior service in an effort to educate their consumers on the brands and products they offer, and to demonstrate the variety and quality of their made-to-order, customized products. By providing a unique shopping experience, Equis rises above your normal tack shop to offer only the best. "Live the Experience – A Boutique for the Discerning Equestrian."