Equitation Riders Fulfill Year-End Goals at Vermont Summer Festival
August 5, 2015 - East Dorset, Vermont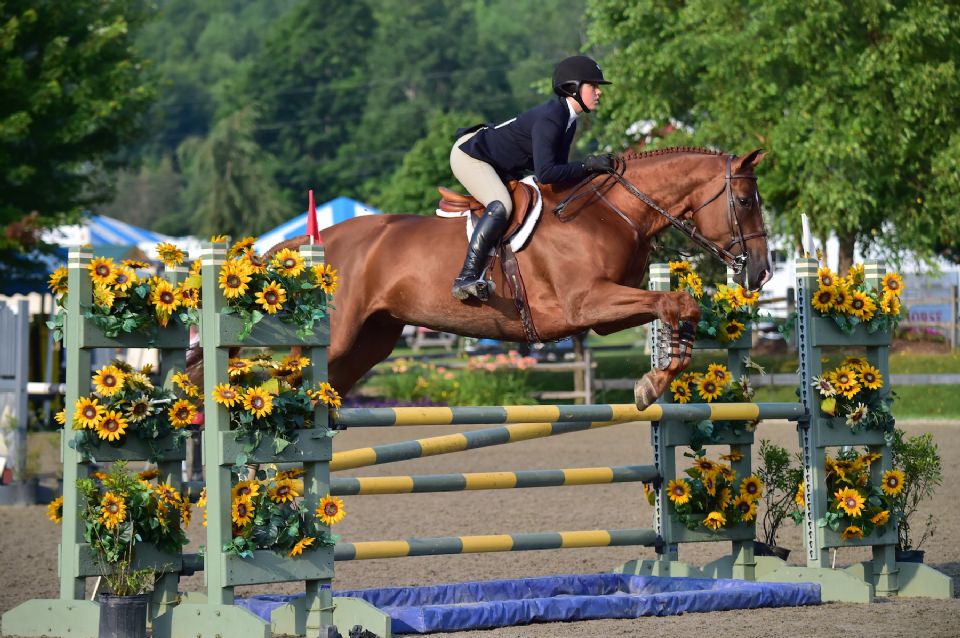 Elizabeth Ekberg and Finnegan taking advantage of the equitation offerings at the Vermont Summer Festival.
Photo by David Mullinix Photography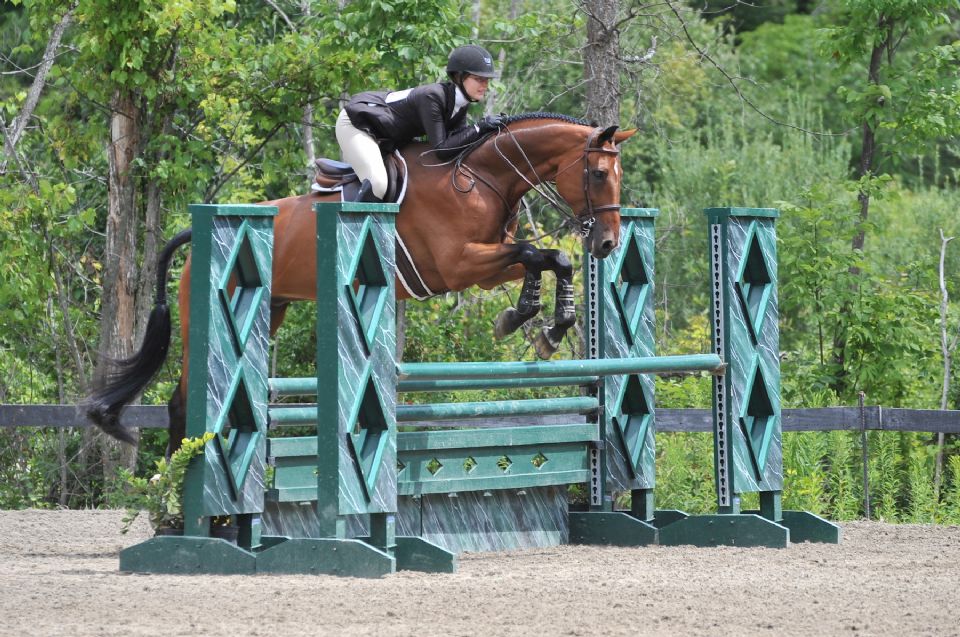 The ever-poplar Equitation Tuesdays returned to the Vermont Summer Festival in 2015 and are playing a major role in sending talented young riders to Equitation Finals this fall. The Vermont Summer Festival continues through Sunday, August 9, at Harold Beebe Farm in East Dorset, VT. Highlighting the final week of competition is the $10,000 Overland Welcome Stake, presented by Manchester Designer Outlets, and $15,000 Hunter Derby, presented by Land Rover Experience, on Thursday, as well as Saturday's $50,000 Vermont Summer Celebration Grand Prix.
Characterized as an equitation hub during the summer months, the Vermont Summer Festival's Equitation Tuesdays feature a day of qualifying classes, in addition to what's offered throughout the week, and were developed as a way to provide competitors with an extra opportunity to earn points toward qualifying for year-end finals. Pursuing qualifying points late in the summer used to result in competitors juggling multiple shows in one week, but thanks to Tuesday offerings at the Vermont Summer Festival, riders can accumulate the necessary points at one show.
With top equitation trainers, including the likes of North Run's Missy Clark, Bobby Braswell of Terrapin Hill Farm and Frank Madden of Old Salem Farm, flocking to the Vermont Summer Festival each summer, the points are there for the taking, but not without flawless riding.
"There are so many options as far as horse shows are concerned this time of year, so to have Vermont basically offer up two shots to qualify in one week is super," said Clark. "We come every year and this year we have a great group, including young kids who need extra points and some who are already qualified but want to keep moving up."
She added,"The competition is demanding enough and each week features great courses. It's a nice atmosphere for that final preparation where you can cover a lot of bases."
Elizabeth Ekberg, 16, trains with Madden at Old Salem Farm and celebrated a successful qualifying push at the Vermont Summer Festival. Winning the ASPCA Horsemanship class during Week 4 and the NEHC Junior Hunt Seat Medal during Week 5, Ekberg is well on her way to her second finals appearance.
"Overall, my goal is to make it to Maclay Nationals and once I get here to be in the top 30," she said. "I love Equitation Tuesdays because they give you double chances to pick up points, but are also very competitive."
When competing in equitation classes, Ekberg pilots Finnegan, an eight-year-old Irish Sport Horse gelding (Guidam x Prinses) owned by Maryann Ekberg.
While Ekberg is no stranger to Equitation Finals, 17-year-old Taylor Masters is hoping to earn her first trip during her last year as a junior rider. Masters rides with Braswell at Terrapin Hill Farm.
"I've never had the opportunity to qualify and ride at finals, so this year my biggest goal is just to make it there and have a good experience," she said. "The Maclay is what I'm focused on now, but I'm hoping that I can pick up enough points to ride in all the finals."
Masters has been consistently placing at the top of equitation classes in Vermont with a third-place ribbon in the Pessoa/USEF Hunter Seat Medal during Week 5 and second in the THIS Children's Medal during Week 4 to name a few.
"What I like about Equitation Tuesdays is that you can focus on the eq and not worry about anything else," she said. "Everyone is really motivated to do well and acquire points on, so the competition is really great, which you can't get everywhere."
Masters recently leased a new equitation mount with high hopes that he will help her to achieve her finals goals. The ride is 16-year-old gelding Nevada Bay (N-Aldato x Doujottie), owned by Sarah Finkel. "I only started riding him this summer, but he's amazing and I couldn't ask for a better horse," said Masters.
Competition at the 2015 Vermont Summer Festival runs weekly Wednesday through Harold Beebe Farm beginning each day at 8 a.m. Admission is $6 for adults and $3 for children from Wednesday through Friday. On Saturday and Sunday, admission is $9 for adults, $5 for children. 100% of the gate proceeds benefit the Manchester Community Library and Dorset Equine Rescue.
The Vermont Summer Festival is New England's largest hunter/jumper competition, and the richest sporting event based on purse in the state of Vermont. It is a proud member event of the Show Jumping Hall of Fame, the Marshall & Sterling League, and the North American League (NAL). For over 20 years, the event has attracted exhibitors and their families to the Manchester region in southern Vermont for great competition in an ideal summer setting.
Please e-mail or visit the website for more information about the Vermont Summer Festival.