Five Questions with Jump Media Newcomers
September 18, 2020 -
The team at Jump Media welcomed two new public relations professionals to the squad this summer, and we are excited for our blog readers to get to know them better. Tori Bilas and Kara Pinato Scro bring their own sets of professional qualifications, but they are also pretty rad people. We asked them each the same five questions to give you an opportunity to learn a little more about who they are, what they do, and how they find inspiration.
First up, Tori Bilas, Jump Media Account Manager:
1. Why horses?
I have loved horses, and all animals, from a very young age, and I started taking lessons thanks to my seventh birthday gift after practically begging my parents. They've always been supportive of my riding and let me lease and own hunters throughout my junior and early amateur years.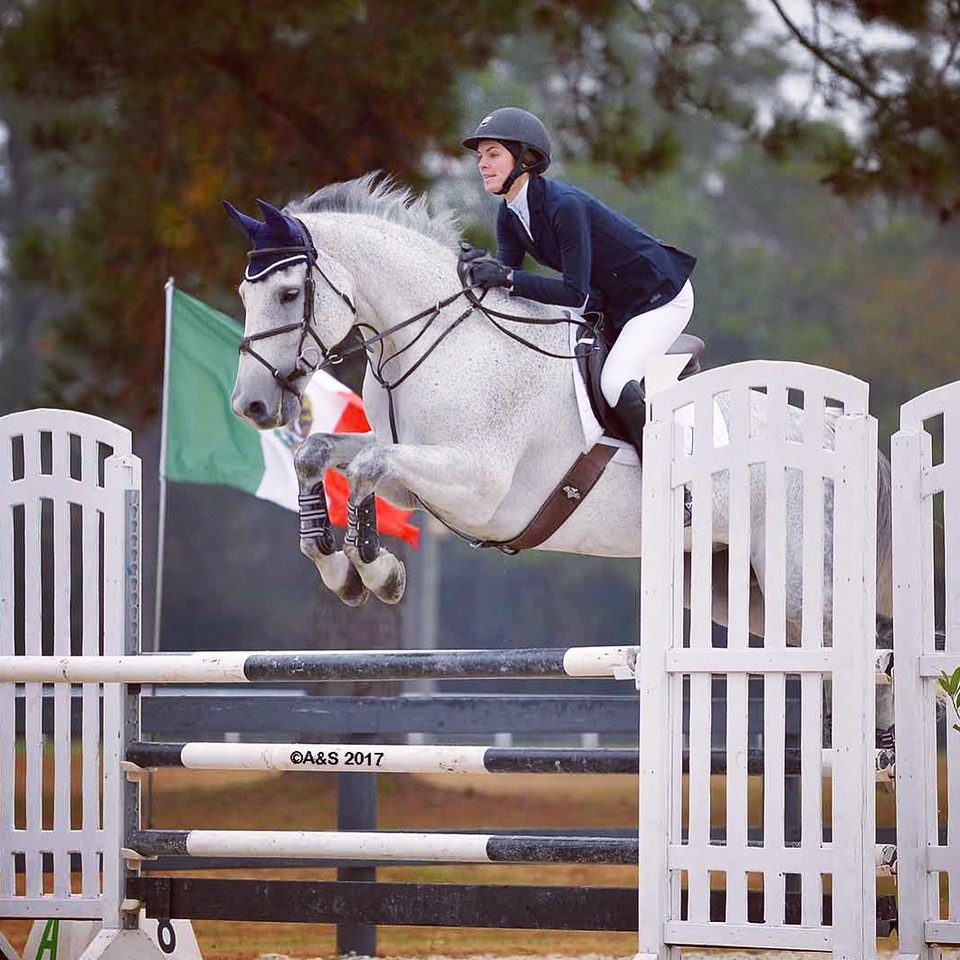 Tori and Brisbane.
Photo by A&S Photography
In college, I stepped away from the sport for a bit, but when I came back I was lucky enough to find the horse I have now, Brisbane. He was a bit unruly, but I took a chance and couldn't have found a more perfect match. I moved into the jumper ring with him and never looked back. We've won countless championship honors and have finished top 10 at some of the biggest shows in the country. Because of him, I became more interested in show jumping than I had ever been before. I now follow the sport as closely as possible; watching all the live streams, keeping tabs on all the top riders, and never missing a beat of what's happening in the horse world.
2. Where do you find inspiration?
I get most of my inspiration from art—I follow many artists I admire on Instagram, so my feed is more of a curated list of inspiration. I can get so lost in artist profiles just studying their work and trying to pick apart how they've attained their skill and created their bodies of work. I'm also inspired by documentaries—there's something about the way a documentarian can tell a simple story in such a profound and moving manner that makes people care. Some of my personal favorites are "Biggest Little Farm" and anything "30 for 30".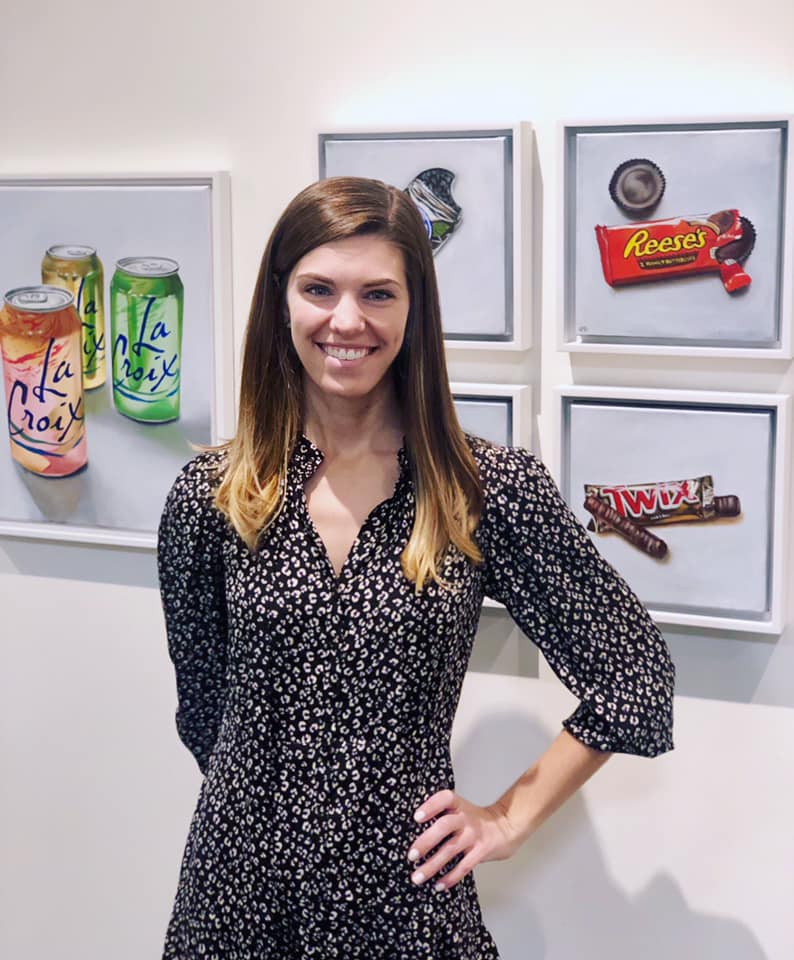 Tori with some of her own artwork.
Photo courtesy of Tori Bilas
3. If you could ride any currently competing horse, which would it be?
Emanuele Gaudiano's Chalou or McLain Ward's Clinta—both have such powerful and fabulous jumping styles and are incredible to watch. I'm not sure I could ever stay with a jump like that, but they both look like a blast to ride.
4. How would you spend your ideal day off?
I'm lucky that my ideal day off is my typical day off. I spend the first half of the day riding and caring for my horse, and I spend the afternoon in my studio painting and listening to podcasts. The truly ideal days off also include any grand prix live stream that I can tune into while I paint. I always make time to go for a run and walk my dog, too.
5. What are your workday necessities?
I can't start work without proper caffeination, and my favorite coffee currently is Archer Farms Cinnamon Vanilla Light Roast. I also rely heavily on my 32-ounce water bottle to keep me energized and hydrated all day. I just upgraded my planner to a Day Designer, so I can keep track of all my to-do lists and notes throughout each week.
Up next, Kara Pinato Scro, Jump Media Account Director:
1. Why horses?
I started riding and taking lessons at a very young age. My family didn't have a connection to the horse world, but we lived in New Jersey at the time, so they took me to various USET events at Gladstone, giving me an easy path to get hooked early on.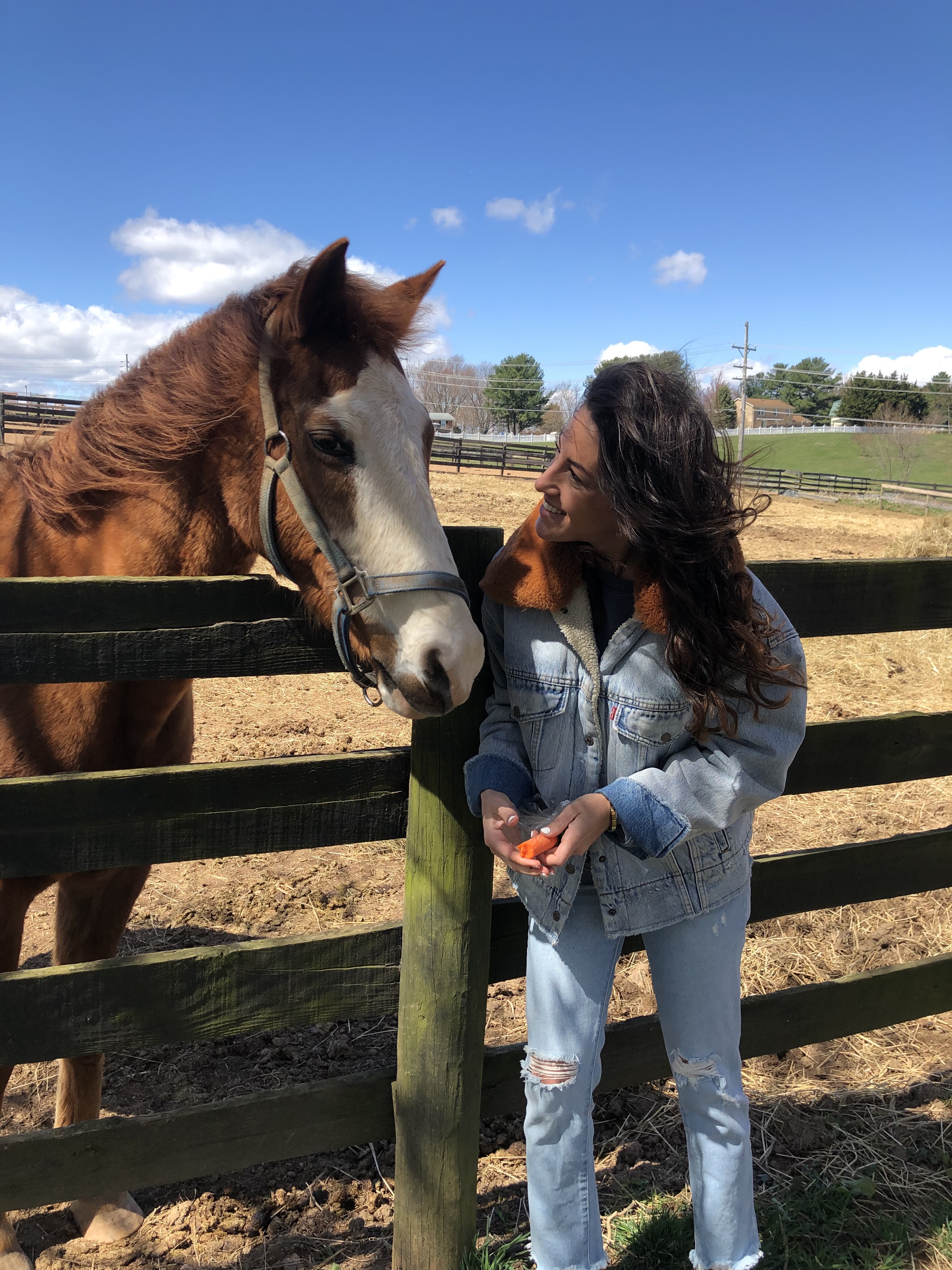 Kara and her retired pony, Kid Brother.
Photo courtesy of Kara Pinato Scro
Right around the time I started asking for a pony of my own, my mom had the idea to create a trivia-based board game. She thought that maybe we'd earn a small profit that would help offset the cost of purchasing a pony. She is the mastermind behind the concept and I spent hours upon hours coming up with questions and answers for the game while giving art direction (art direction to an eight-year-old simply meant that the horse on the box should be a palomino hunter). Ultimately, we launched HorseWise in tack shops and catalogs across North America. The initial earnings from the game helped me purchase my first pony, Moonstone.
I rode and showed consistently throughout childhood, but it started to take a backseat once I went away to college. Sadly, I lost my heart horse, Brooklyn, to colic my sophomore year of college when he was just nine years old. From that point forward, I didn't have the opportunity to ride the way I always had—and that was okay since I was happy at school and focused on starting my career in New York City.
I've been in New York City for 11 years now and horses have remained a constant in various forms. I am fortunate enough to keep riding and I dabble in the show ring from time to time. I also recently found a nice group of horse-crazy adults in the Manhattan Riding Club (MRC). Through MRC, I've done my first foxhunt, hunter pace, and have ridden an 18.3h Clydesdale—truly unique opportunities and styles of riding I never imagined I'd try.
Now, working at Jump Media, I'm thrilled to be able to combine my career expertise with my life-long passion. I know I'll never be able to shake the horse bug, not that I've tried very hard!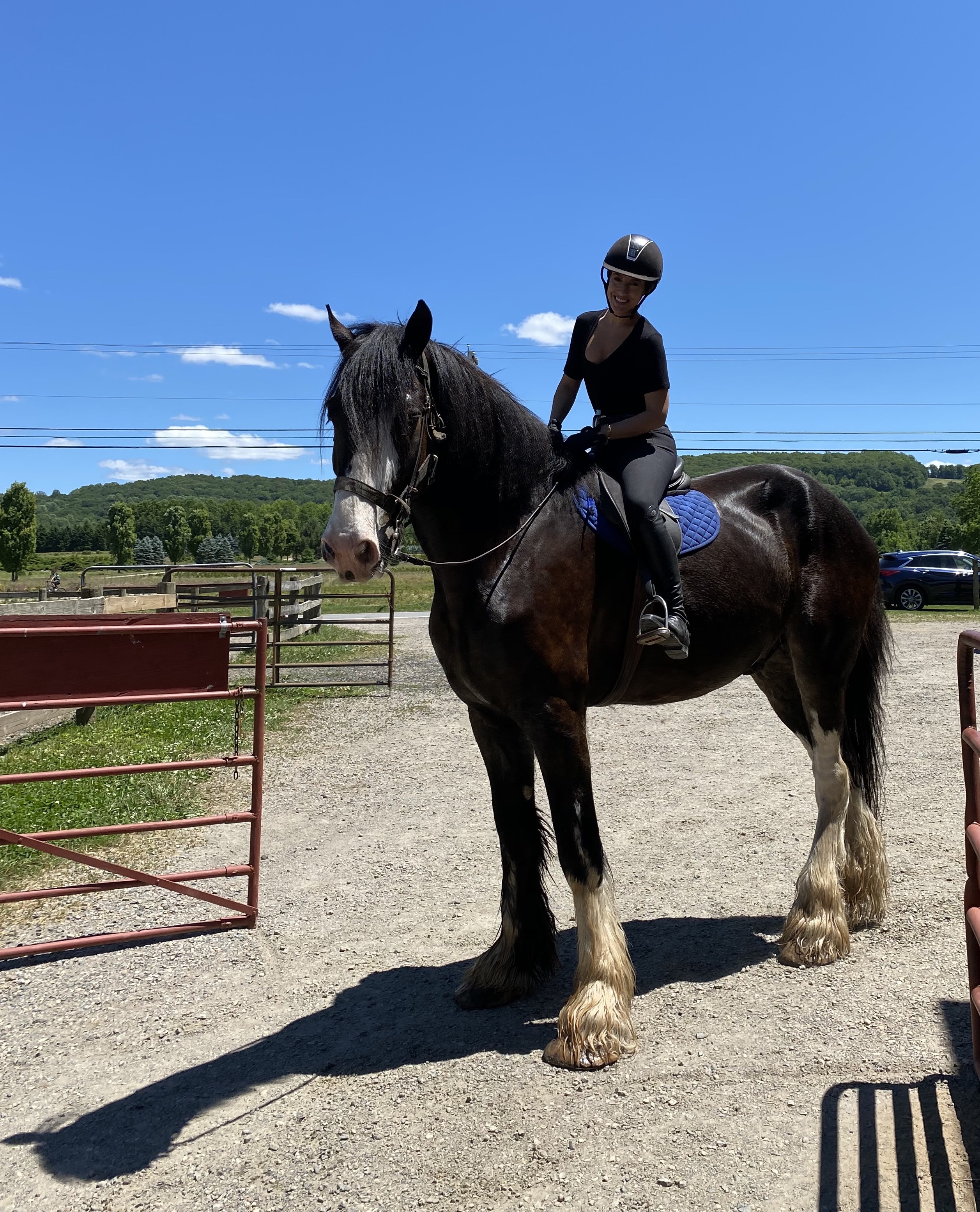 Kara and Ace the Clydesdale.
Photo courtesy of Kara Pinato Scro
2. Where do you find inspiration?
My parents. They are both serial entrepreneurs and I have learned so much about the importance of grit, creativity, and kindness in doing business and building a career. I'd also add that going for a run or taking a few minutes to read a novel or magazine, or watching a horse show live stream helps me to clear my very busy mind which, in turn, allows me to find inspiration in my day-to-day life.
3. If you could ride any currently competing horse, which would it be?
This is a tough one. Probably Kent Farrington's Creedance or Ben Maher's Explosion W. Creedance is smaller, which suits me, and I love that he is super quick across the ground. Explosion W truly just explodes off the ground at the jumps and looks like a lot of fun all around.
4. How would you spend your ideal day off?
When I have a day off and can visit family in Maryland, ideally I ride in the morning, followed by a visit to my retired large pony, Kid Brother. During a day off in New York City, my husband and I explore as much as we can outside of Manhattan. In the warmer months, I'll try to get to the Long Island beaches or head east to the wineries. In the winter, a few solid days of skiing.
5. What are your workday necessities?
A notebook since I am religious about writing my to-do lists by hand with colored ink to keep it fun! I'd also say that social media apps are critical as we manage a majority of our clients' pages and feeds.
We are excited to welcome Tori and Kara to the team, and encourage you to keep up with their work by following Jump Media on Facebook, Twitter, and Instagram.