Hannah Selleck's Barla Named Equis Boutique "Best Presented Horse"
March 20, 2016 - Wellington, Florida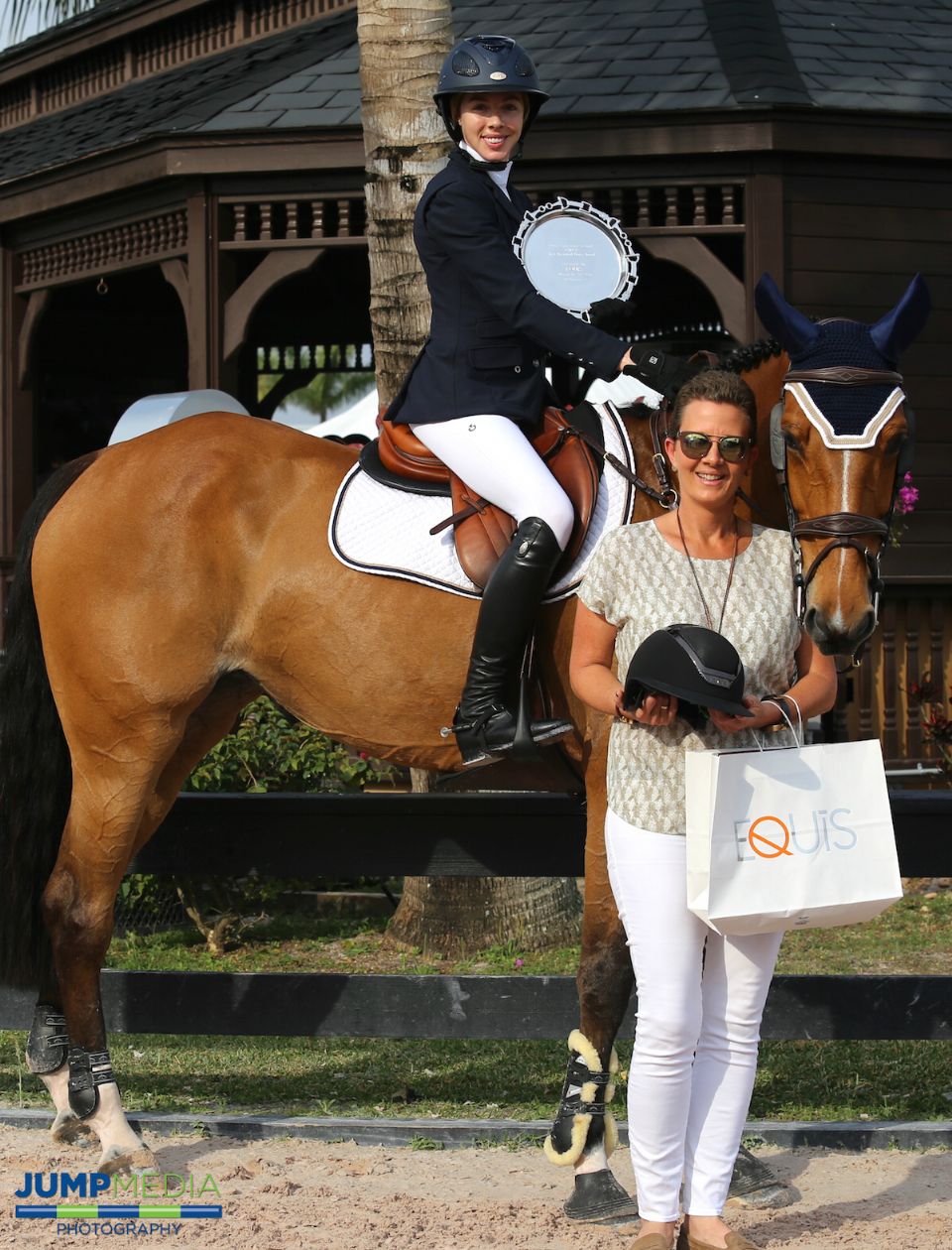 Hannah Selleck of Westlake Village, CA, and Barla are presented with the Equis Boutique "Best Presented Horse" Award by Elena Couttenye during Week 10 of the Winter Equestrian Festival in Wellington, FL.
Photo by Jump Media
Hannah Selleck of Westlake Village, CA, and her FEI mount Barla took home the Equis Boutique's "Best Presented Horse" Award during Week 10 of the 2016 Winter Equestrian Festival (WEF) in Wellington, FL. Throughout the 12-week WEF running through April 3, Equis Boutique is sponsoring the "Best Presented Horse" Award at the International Equestrian Federation (FEI) Horse Inspection.
At the FEI Horse Inspection for WEF Week 10, which is designated as a CSI3*, Selleck and Barla, a 12-year-old Oldenburg mare owned by Descanso Farm, stood out among the 164 horses that were presented. The FEI ground jury, led by Ralph Alfano of Wellington, FL, named Selleck and Barla as the recipients of the Equis Boutique "Best Presented Horse" Award.
"I was very excited when I found out that I had won," said Selleck, 27. "I just made a change – this is the first week Michelle Grubb is helping me at the ring – and I changed some of my staff, so it's nice to have this award on the heels of those changes."
Selleck presented Barla herself at the FEI Horse Inspection, consistently making an effort to be involved with every aspect of participation at an international competition.
"I like to be involved," she said. "Attention to detail is the most important thing to me. To stay involved with all the care is important, and that includes being there for the inspection."
Groom Kristen Holswick accepted congratulations from Selleck after preparing Barla for both the FEI Horse Inspection and the competition ring this week.
"She's a friend of mine in from California who's helping me out this week," said Selleck of Holswick. "With all the changes I needed some assistance, so she worked with Barla. We had a lot of firsts this week, so it's nice to be rewarded when you know you're working a little harder."
Selleck has had the ride on Barla since her eight-year-old year and characterizes Barla as her top mount currently. The pair has developed a relationship that has helped them make a seamless move into FEI competition, as evidenced by an eighth-place ribbon in Friday's $35,000 FEI Illustrated Properties 1.45m Classic. Selleck's plan for the coming months includes a goal to move up on the Longines FEI World Rider Rankings by heading to Europe this summer for 2* and 3* competition.
In recognition of the "Best Presented Horse" Award, Selleck and Barla were presented with a commemorative plaque by Elena Couttenye of Equis Boutique. Selleck was also awarded a riding helmet from Equis Boutique partner brand, KASK.
Equis Boutique will honor one horse and rider with the "Best Presented Horse" Award each week of the 2016 Winter Equestrian Festival, running through April 3. At the weekly FEI Horse Inspection, the ground jury will evaluate overall turn-out of horse and rider to determine the award winner.
Equis Boutique is a shopping experience for the discerning equestrian and offers the most convenient and luxurious choice for top equine brands to dress the horse and rider. Featured brands include Parlanti, Manfredi Equestrian, KASK Helmets, Anna Scarpati, Kingsland Equestrian, Kentucky Horsewear, and Dy'on, as well as a variety of imported specialty bits and Official FEI and Just World International merchandise.
For more information on Equis LLC boutiques, please visit EquisBoutique.com, or look for Equis Boutique on Facebook and Instagram! Email info@equisboutique.com for questions on the stores and their products.
About Equis, LLC
Equis LLC delivers superior service in order to educate their consumers on the brands and products they offer and show the variety and quality of their made-to-order, customized products. By providing a unique shopping experience, Equis rises above your normal tack shop to offer only the best. "Live the Experience – A Boutique for the Discerning Equestrian."