Heather Caristo-Williams and Freak Out Recognized with Equis Boutique "Best Presented Horse" Award
February 7, 2016 - Wellington, Florida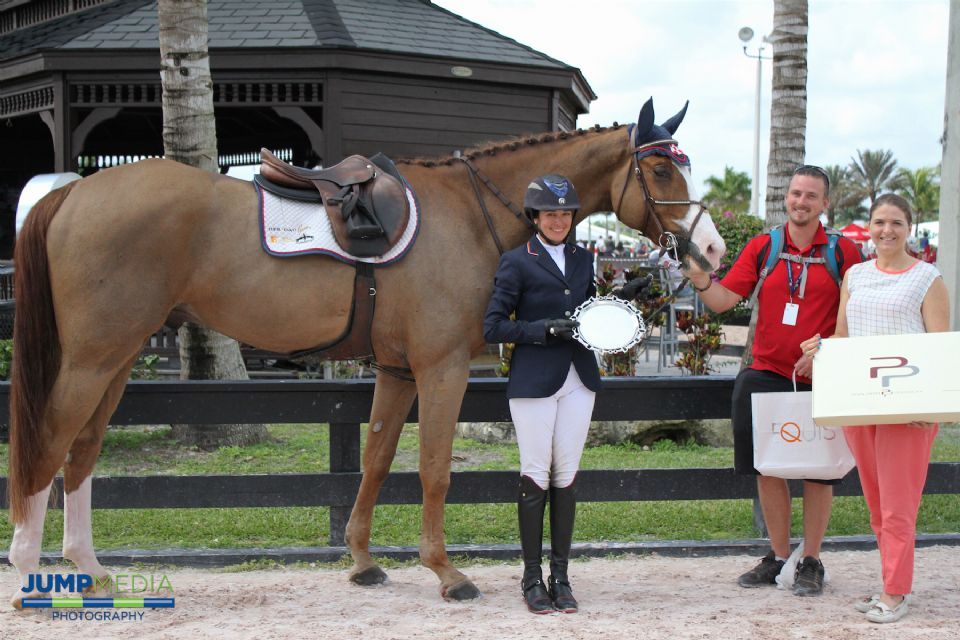 Irma Rubesa of Equis Boutique (right) presents Heather Caristo-Williams and Jesse Williams, pictured with Freak Out, with the "Best Presented Horse" Award and a new pair of Parlanti boots during Week 4 at the Winter Equestrian Festival in Wellington, FL.
Photo by Jump Media
Heather Caristo-Williams of Saugerties, NY, earned the Equis Boutique "Best Presented Horse" Award for her mount, Freak Out, during Week 4 of the 2016 Winter Equestrian Festival (WEF) in Wellington, FL. Equis Boutique will present the award during all 11 weeks of International Equestrian Federation (FEI) sanctioned competition at the 12-week WEF.
It marked the second time that Caristo-Williams has claimed the honor, having earned the "Best Presented Horse" title during the first week of fall competition in Tryon, NC, with Qui Vive Des Songes Z. This time, it was Freak Out, owned by Mr. and Mrs. Ralph Caristo, that was recognized at WEF.
"I think it is wonderful to have the jog showcased," said Caristo-Williams. "It's awesome to have Equis Boutique support the horses and riders in such a generous way. Of course, we all want our horses to look good, so to have won twice with two different horses has been a nice reward for a job well done. We have a super group of people at Glenview Stables who take pride in our horses and I can't thank them enough."
Specifically, Caristo-Williams gave credit to her husband and groom, Jesse Williams, and fellow Glenview Stables team member, Brett Buikema, for preparing her 11-year-old Oldenburg stallion for the WEF 4 horse inspection, designated as a CSI4* by the FEI.
"[Freak Out] was beautifully braided and sparkling clean when he went up to the jog," said Caristo-Williams, who only recently started competing with Freak Out at the international grand prix level.
For Caristo-Williams, being well-presented at the horse inspection is a priority. She commended Equis Boutique for its efforts to raise the level of turn-out at FEI Horse Inspections across the country.
"Many years ago when I was competing at Young Riders', the importance of the jog was instilled in me," she explained. "Our team, Zone 2, was always turned out impeccably and my parents had a lot to do with that. If you don't look the part, how can you perform the part? The first step to winning is literally taken at the jog."
Irma Rubesa of Equis Boutique presented Caristo-Williams with a commemorative plaque in recognition of the "Best Presented Horse" Award, as well as a new pair of Essential riding boots from Equis Boutique partner brand Parlanti.
At the weekly FEI Horse Inspection, the ground jury evaluates overall turn-out of horse and rider to determine the award winner. Each week, Equis Boutique presents a featured product from one of their partner brands as the prize for "Best Presented Horse". The prize for Week 5 will be a competition look courtesy of Manfredi Equestrian.
Equis Boutique is a shopping experience for the discerning equestrian and offers the most convenient and luxurious choice for top equine brands to dress the horse and rider. Featured brands include Parlanti, Manfredi Equestrian, KASK Helmets, Anna Scarpati, Kingsland Equestrian, Kentucky Horsewear, Dy'on, specialty imported bits, as well as Official FEI and Just World International merchandise.
For more information on Equis LLC boutiques, please visit EquisBoutique.com, or find Equis Boutique on Facebook and Instagram! Email info@equisboutique.com for questions on the stores and their products.
About Equis, LLC
Equis LLC delivers superior service in order to educate their consumers on the brands and products they offer and show the variety and quality of their made-to-order, customized products. By providing a unique shopping experience, Equis rises above your normal tack shop to offer only the best. "Live the Experience – A Boutique for the Discerning Equestrian."