Jonathan McCrea and Aristoteles V Accept "Best Presented Horse" Award at HITS Saugerties CSI 5*
September 10, 2015 - Saugerties, New York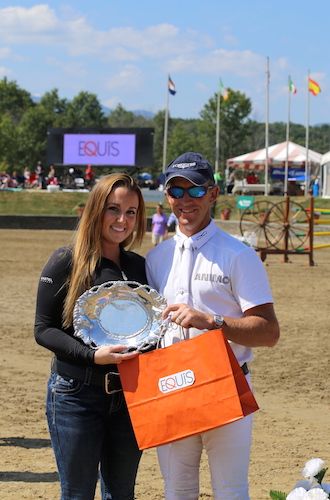 Jonathan McCrea accepts the Equis "Best Presented Horse" Award from Alex West of Equis at HITS Saugerties.
Photo by Jump Media
Jonathan McCrea of East Windsor, CT, and Aristoteles V, owned by Candy Tribble, earned Equis Boutique's "Best Presented Horse" honors at the FEI Horse Inspection HITS Saugerties preceding the Canadian Pacific $1 Million Grand Prix FEI-CSI 5*, presented by Wells Fargo.

Equis, a boutique for the discerning equestrian, is the premier destination for top luxury equestrian brands including Parlanti, Anna Scarpati, Kingsland Equestrian, Kentucky Horseware, and Dy'on. In an effort to recognize and award competitors and their team members for diligent work in preparing horses for FEI competition, Equis Boutique has revitalized the FEI Horse Inspection with their "Best Presented Horse" Award hosted at many of the country's top international competitions.

The award is presented to the horse and rider combination who are evaluated for best overall turnout by the FEI Ground Jury, which Jonathan McCrea and Aristoteles V received for their sharp turnout and clean presentation at the HITS Saugerties FEI Horse Inspection. McCrea and Aristoteles V accepted a commemorative engraved silver plate as well as a collection of products from top brands carried by Equis Boutqiue.
McCrea, honored to receive the award, first acknowledged and thanked his long-time groom, Juan Orando, for his continued dedication and commitment to the horses at Jonathan and wife Christine's Windsor Show Stables.

"The hard work here is done by the grooms and Juan has been with me for nearly ten years. He does an absolutely incredible job of making sure each horse is looking their best not just before the jog, but on a daily basis," said McCrea. "Without the grooms, an award like this wouldn't be possible. They are the backbone of the many of the top stables and I'm glad to see that their work and dedication to the sport is being recognized through the presentation of their horses, which I know for Juan, is the highest honor."
McCrea and wife Christine, also a top international competitor, thoroughly enjoyed their time at HITS Saugerties, "The one thing that riders have always wanted here in the U.S. is more FEI competitions and they have done an excellent job here securing incredible prize money and hosting a top-level show. It's right in our backyard and we think it is fantastic," continued McCrea.

The Windsor Show Stable team will continue with their busy fall schedule, as they base at the American Gold Cup this week and move through a tough season including stops in Central Park, New Albany, Split Rock and Tryon.
Elena Couttenye and Cesar Hirsch, who both serve as FEI judges and remain influential members within the equestrian community, founded Equis Boutique with the hopes of bringing quality international riding apparel to the North American equestrian market. In an effort to encourage and improve the FEI Horse Inspections in the U.S. and Canada, Hirsch and Couttenye have added a supplementary layer of competition through the "Equis Best Presented Horse" award.

"Since the award's inception, we have continued to see better and better turnout of horse and rider at each respective FEI inspection," said Hirsch. "We are privileged to have presented this award at HITS Saugerties, as it is one of the elite competitions in the U.S. We are pleased with the feedback we have received from recipients and will look to expand and continue honoring the hard work of riders and their teams at FEI competitions throughout North America."
Equis Boutique made a successful debut season at WEF in Wellington, FL, and HITS Horse Shows in Ocala, FL, this winter, and has had a busy summer season at horse shows around the U.S. For a complete schedule of Equis Boutique locations, visit equisboutique.com/find-us.

For more information on Equis, LLC boutiques, please visit EquisBoutique.com, or look for Equis Boutique on Facebook and Instagram! Email info@equisboutique.com for questions on the stores and their products.

About Equis, LLC
Equis LLC delivers superior service in order to educate their consumers on the brands and products they offer and show the variety and quality of their made-to-order, customized products. By providing a unique shopping experience, Equis rises above your normal tack shop to offer only the best. "Live the Experience – A Boutique for the Discerning Equestrian."