Julie Welles Dominates $30,000 Manchester & the Mountains Grand Prix at Vermont Summer Festival
August 1, 2015 - East Dorset, Vermont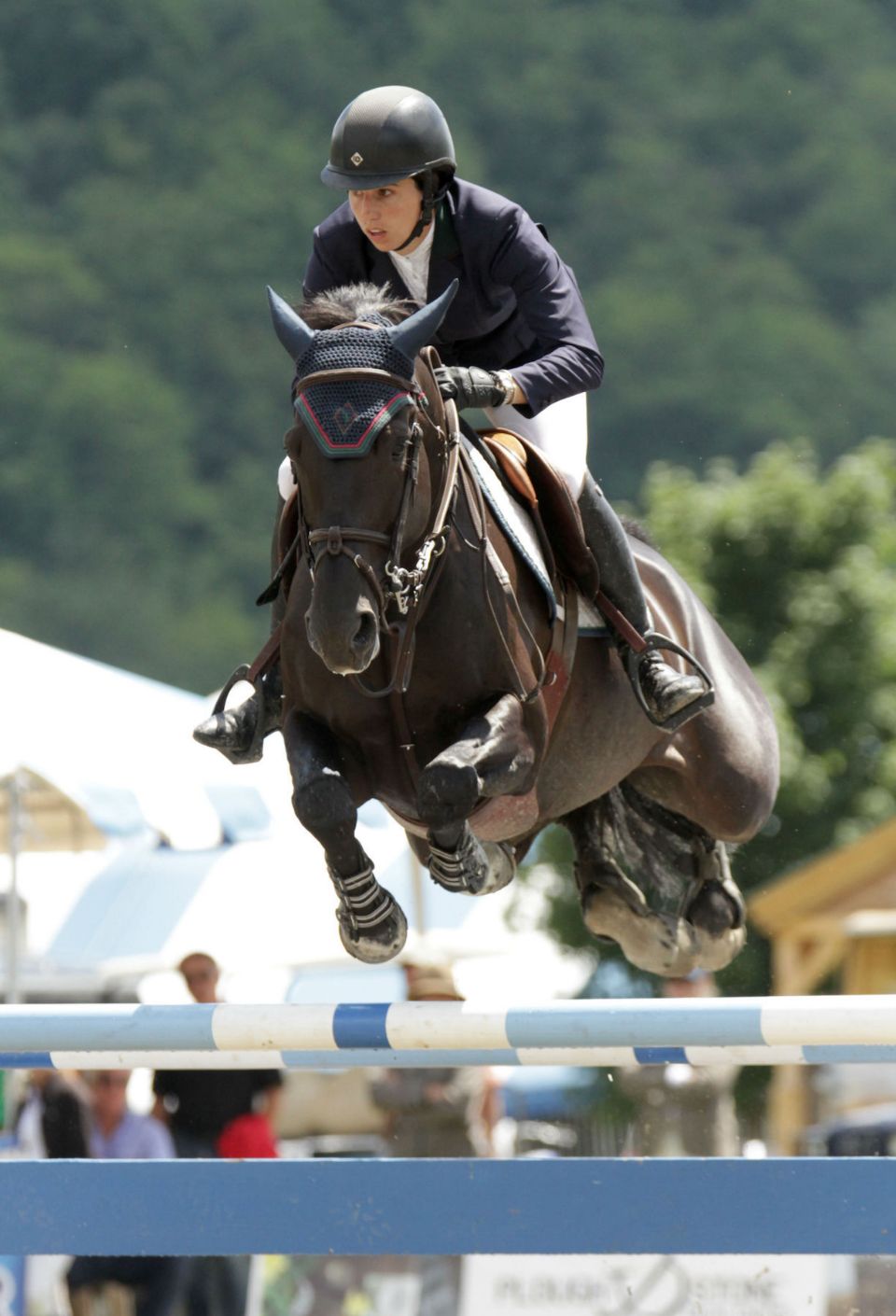 Julie Welles and Virginia W Z on their way to victory in the $30,000 Manchester & the Mountains Grand Prix on August 1 at the Vermont Summer Festival in East Dorset, VT.
Photo by David Mullinix Photography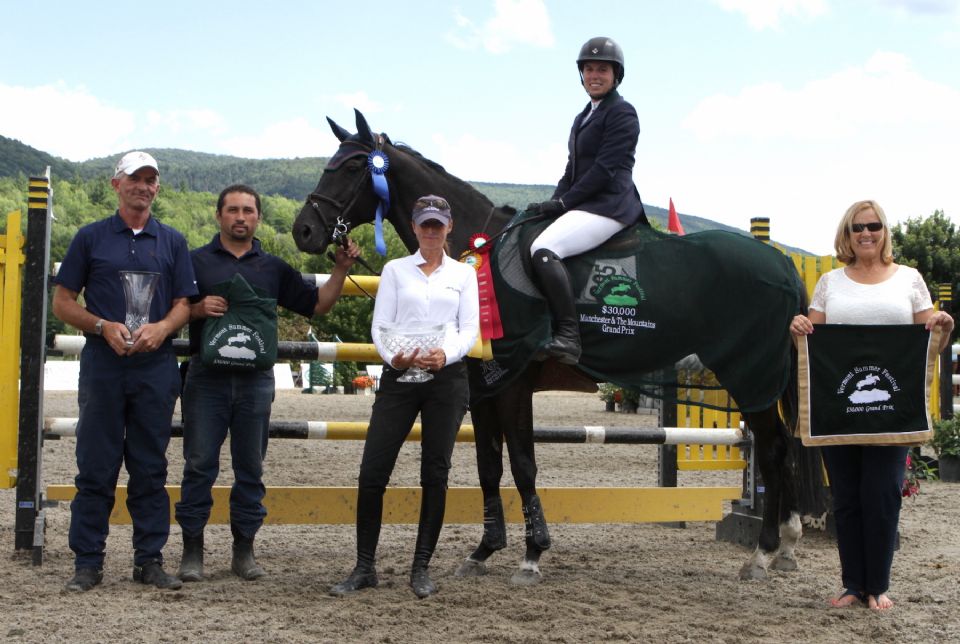 Following their win in the $30,000 Manchester & the Mountains Grand Prix at the Vermont Summer Festival, Julie Welles and Virginia W Z are joined by Ruth Lacey of the Vermont Summer Festival, trainers John Brennan and Missy Clark, and groom Arturo Vidal.
Photo by David Mullinix Photography
Julie Welles of Wellington, FL, was first, second and third in the $30,000 Manchester & the Mountains Grand Prix, winning aboard Virginia W Z on Saturday, August 1 at the 2015 Vermont Summer Festival in East Dorset, VT. The Vermont Summer Festival runs for six consecutive weeks, from June 30 through August 9, at Harold Beebe Farm.
Turning in flawless trips on her multiple mounts, Welles posted three double-clear performances over tracks built by Gerry Briggs (USA). With a total of 22 entires in the class, Welles was the first to jump clear over the original course before later adding her other two mounts to a five-horse jump-off against Leann Kelly of Valatie, NY, and David Raposa of Clinton, NY.
Welles returned first over the short course aboard Twan for owners Missy Clark and Stephex Stables. Their clear effort in 36.65 seconds set the pace. She entered the ring next in the irons of Virginia W Z and bested herself by crossing the timers three tenths of a second faster in 36.32 seconds.
Both Kelly with her own Leander and Raposa on his own Waultraut fought to catch Welles in the next two trips, but pulled rails to bump themselves to the bottom of the top five.
Despite having the class already won, the final ride in the jump-off belonged to Welles aboard Bazooka De Muze for Missy Clark and North Run. They broke the beam clear in 42.52 seconds to settle in third behind Twan and the class winner Virginia W Z.
Kelly and Leander's four faults and time of 36.68 seconds gave them fourth, while Raposa and Waultraut settled for fifth on 12 faults in 38.77 seconds.
Despite Virginia W Z being the newest horse in Welles' string, the pair has been knocking on the door of an open jumper win this week. The Vermont Summer Festival is the first show for the nine-year-old Warmblood mare (Vigo D'Arsouilles x Pandora) with Welles in the tack. They most recently took second in the $10,000 NYDJ Welcome Stake, presented by Manchester Designer Outlets, on Thursday.
Virginia W Z flew to the U.S. From Europe in early July and started competing right away for Welles and North Run. "She was doing 2* classes in Europe so she's a horse that can do courses like this right off the bat," said Welles. "We did her in the 1.30m to start off the week and she just kept moving up.
"I'm still getting to know her a little bit, but she's straight forward and game to win – you just have to hang on," said Welles with a smile.
Welles refers to her winning mount as "Spicey" and is already impressed with the mare's dedication. "She takes no leg and has so much scope," she said. "I tested her a little bit going into the last line in the first round. I steadied her too much and basically came to a stand still before the end of the line. But, I knew I didn't have to put any pressure on her at all and she would just sail over it. It's a really good feeling to have a horse that is going to jump no matter what you do."
According to Welles, each of her three rides felt capable of pulling off the win on Saturday. "Twan is one of my favorites and he's always ready to go fast and win. Bazooka only shows in the summer and he felt ready to go this week," said Welles. "I was really happy with how all three went today. It just happened that I had to beat Twan just in case the two behind me were faster. My plan with Bazooka was to have a nice clean round."
After her one-two-three finish on Saturday, Welles plans to pilot the same three horses in the $50,000 Vermont Summer Celebration Grand Prix on August 8. Welles won last year's finale grand prix aboard Twan and hopes to defend her title as she bids farewell to the 2015 Vermont Summer Festival season next week.
Welles was honored with prizes for her win, including a scrim from Mona's Monograms, and the Vermont Summer Festival also recognized her groom with the weekly Grand Prix Groom Award. In recognition of his hard work to prepare Virginia W Z for grand prix competition, Arturo Vidal was presented with a monogrammed jacket and coolerette from sponsor Glenn Geary of Horsewatch.
Competition at the 2015 Vermont Summer Festival runs weekly from Wednesday through Sunday, beginning each day at 8 a.m. Admission is $6 for adults and $3 for children from Wednesday through Friday. On Saturday and Sunday, admission is $9 for adults, $5 for children. 100% of the gate proceeds benefit the Manchester Community Library and Dorset Equine Rescue.
The Vermont Summer Festival is New England's largest hunter/jumper competition, and the richest sporting event based on purse in the state of Vermont. It is a proud member event of the Show Jumping Hall of Fame, the Marshall & Sterling League, and the North American League (NAL). For over 20 years, the event has attracted exhibitors and their families to the Manchester region in southern Vermont for great competition in an ideal summer setting.
Please e-mail or visit the website for more information about the Vermont Summer Festival.
$30,000 Manchester & the Mountains Grand Prix
Saturday, August 1, 2015
Rider Hometown Horse Faults Time
1. Julie Welles Wellington, FL Virginia W Z 0:0 36.32
2. Julie Welles Wellington, FL Twan 0:0 36.65
3. Julie Welles Wellington, FL Bazooka De Muze 0:0 42.52
4. Leann Kelly Valatie, NY Leander 0:4 36.68
5. David Raposa Clinton, NY Waultraut 0:12 38.77
6. Tommy Feigel Pompano Beach, FL Analyze This 3 93.14
7. David Raposa Clinton, NY Capri 4 87.44
8. Marylisa Leffler Brookeville, MD Carlot 4 89.04
9. Alexa Lowe-Wiseman Upperville, VA Gringo 4 89.97
10. Katherine Newman Wellington, Fl Miss Understood II 4 94.07