Lauren Kieffer's Veronica Named Equis Best Presented Horse at Rolex Kentucky Three-Day Event
May 2, 2016 - Lexington, Kentucky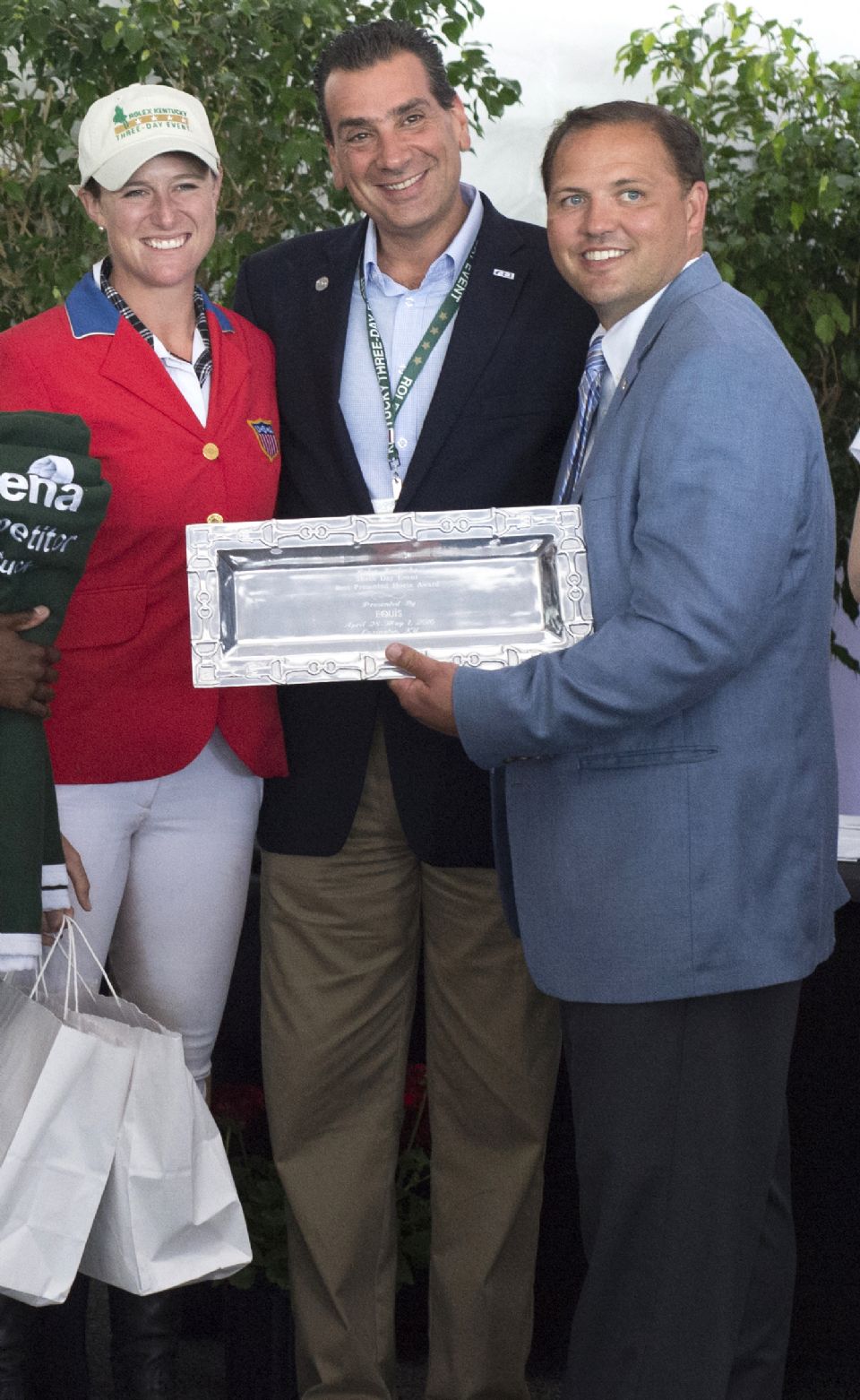 Lauren Kieffer is honored with the Equis Best Presented Horse Award by Equis Boutique Founder Cesar Hirsch and Lee Carter, Executive Director of Equestrian Events, Inc.
Photo by Betsy Whiteman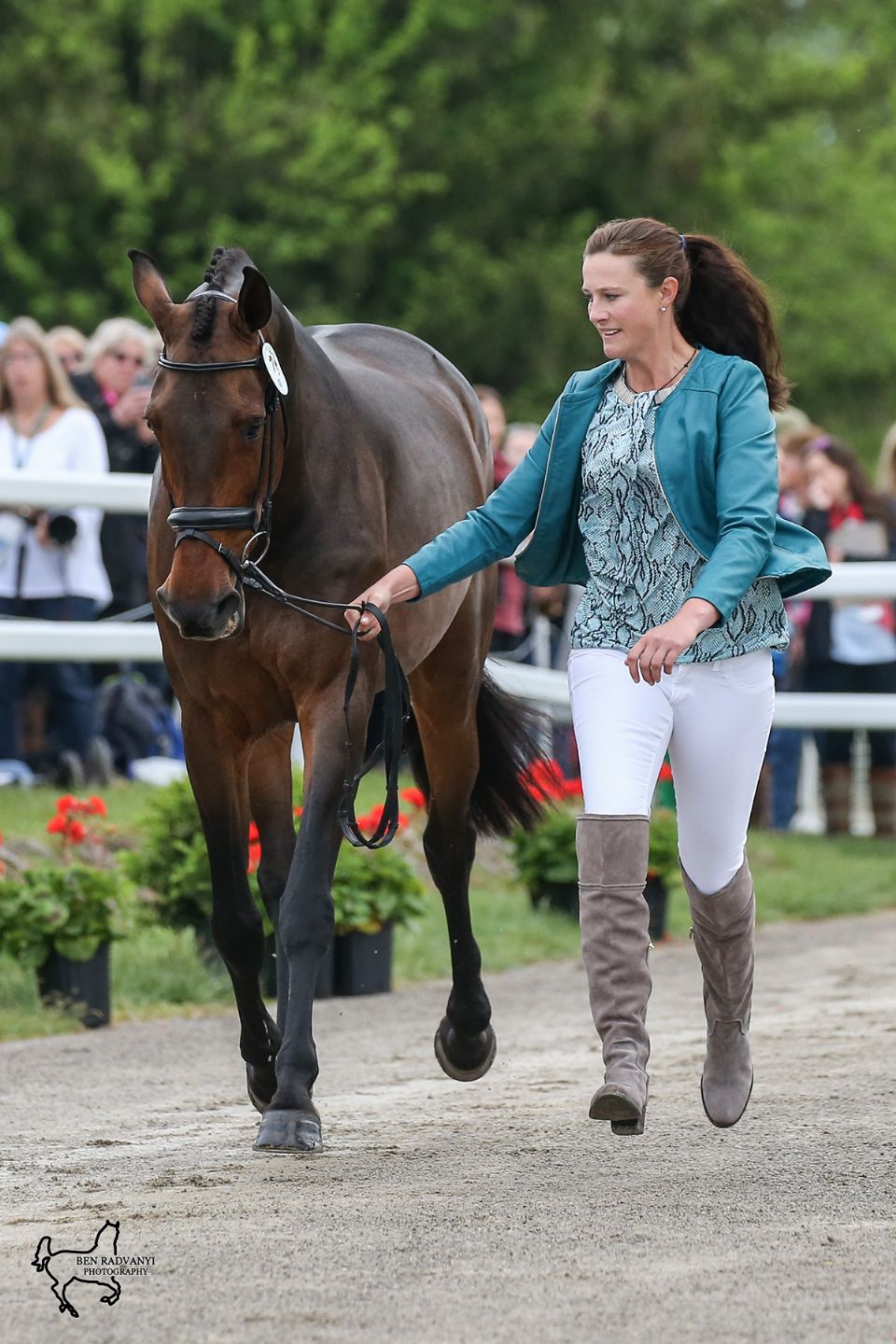 Lauren Kieffer and Veronica jogging at the second FEI Horse Inspection of the Rolex Kentucky Three-Day Event in Lexington, KY.
Photo by Ben Radvanyi Photography
USA's Lauren Kieffer and her mount Veronica claimed the Equis Boutique Best Presented Horse Award at the Rolex Kentucky Three-Day Event CCI****, presented by Land Rover, in Lexington, KY, on their way to a second-place finish in front of a home crowd of 25,000 spectators.
The Ground Jury at the second FEI Horse Inspection of the Rolex Kentucky Three-Day Event, led by President Ernst Topp of Germany, evaluated the appearance of each horse and rider pair, including grooming, tack, behavior, jog attire, and interaction with the judges. They unanimously selected Kieffer and her 14-year-old bay Dutch Warmblood mare (Pacific x Ferro) owned by Team Rebecca, LLC, as "Best Presented".
"Winning this award really comes down to the whole team," said Kieffer. "It is not a one day project – my team has spent years and put a lot of work into making sure these horses are as healthy as possible."
Kieffer gave special recognition to her head groom, Shannon Kinsley, who has been working by her side for more than two years.
"It is great to recognize the effort she puts into keeping the horses healthy and beautiful," continued Kieffer.
Kieffer and Veronica were one of 54 combinations to return on day three of the event and face the final show jumping phase. Combined with their dressage and cross-country efforts, Kieffer and her mare earned a final score of 52.5, placed second overall, and were the top-placed representatives from the United States.
"I am thrilled with her. We went in with a goal to finish well and sometimes you need a little luck on your side, but she was really on form," said Kieffer.
Veronica was also second at Rolex Kentucky Three-Day Event in 2014 with Kieffer in the irons after a long career together. Kieffer got the ride on the mare as a six-year-old after she was imported as a sale horse by Scott Keach and Sharn Wordley. She was sold to Team Rebecca, LLC as a mount for Karen O'Connor, but after an injury sidelined O'Connor, Kieffer took the ride over and has been partnered with the mare ever since.
"She has become a very seasoned mare with a lot of experience," said Kieffer. "I want to keep her on form and pick away at little things, but we take it one event at a time."
Kieffer was presented with a commemorative plaque by Cesar Hirsch, Founder of Equis Boutique, in recognition of the Best Presented Horse Award, as well as a set of Eventing Boots from Equis Boutique partner brand Kentucky Horsewear.
"The entire event was impeccably executed and is always a favorite of Equis Boutique," said Hirsch of the Rolex Kentucky Three-Day Event. "The Best Presented Horse Award has become a favorite across show jumping and eventing over the past year, and we were honored to present it for the second consecutive year at Rolex Kentucky.
"Lauren and Veronica were – without a doubt – deserving winners," continued Hirsch. "It was a joy to watch them at the Horse Inspection, but even more thrilling to see them in action throughout the event."
Equis Boutique is a shopping experience for the discerning equestrian and offers the most convenient and luxurious choice for top equine brands to dress the horse and rider. Featured brands include Parlanti, Manfredi Equestrian, KASK Helmets, Anna Scarpati, Kingsland Equestrian, Kentucky Horsewear, and Dy'on, as well as a variety of imported specialty bits and Official FEI and Just World International merchandise.
For more information on Equis, LLC boutiques, please visit EquisBoutique.com, or look for Equis Boutique on Facebook and Instagram! Email info@equisboutique.com for questions on the stores and their products.