Meet Our Clients: Sloane Coles and Spring Ledge
July 9, 2020 -
Horses are a family business for the Coles. Sloane Coles spent her childhood riding in the rolling hills of Virginia, and grew up to answer a call to the show ring. Based out of her family's farm, Spring Ledge in The Plains, VA, Sloane's business is home to a thriving group of junior, adult, and amateur riders.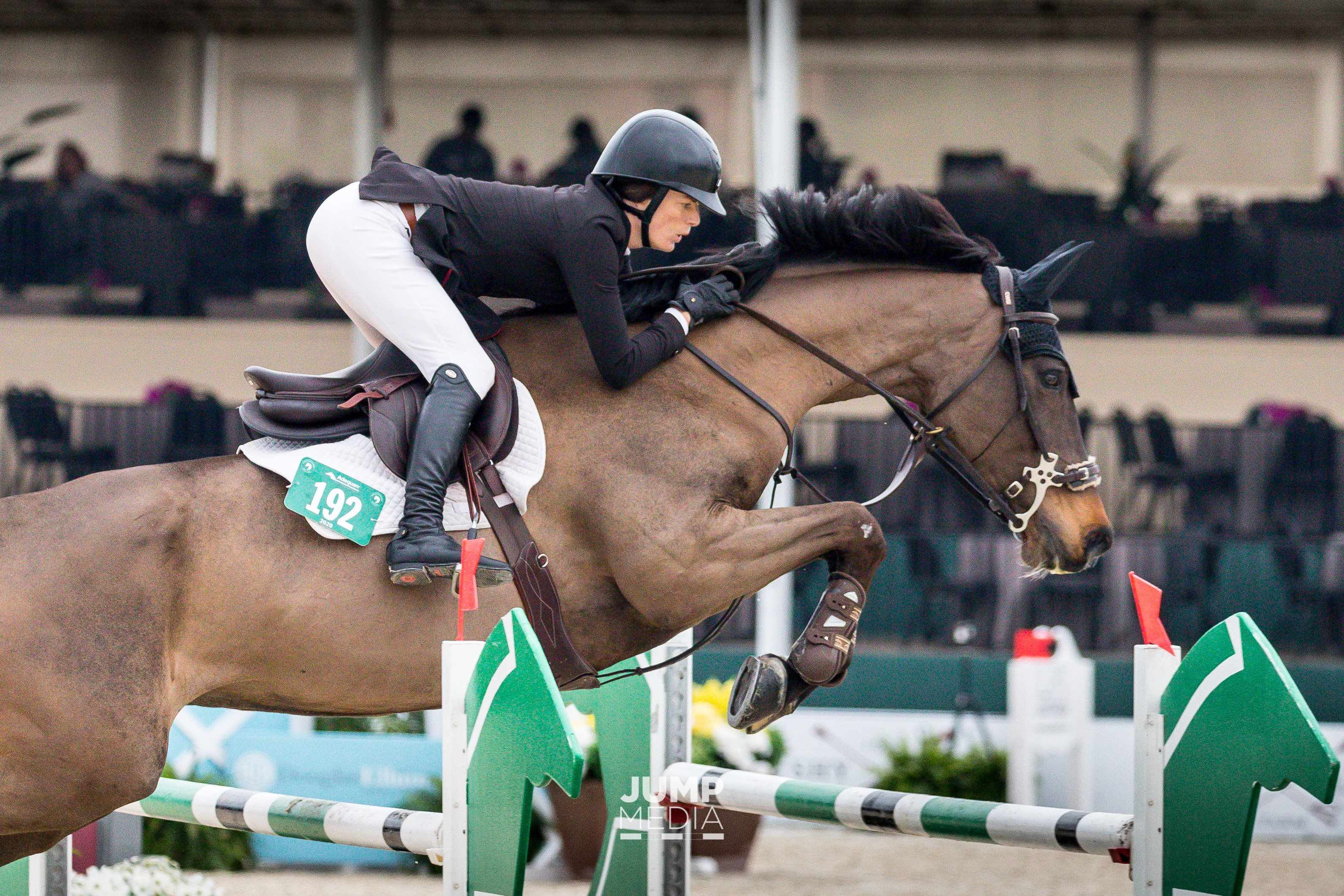 Sloane Coles and Coldplay competing at the 2020 Winter Equestrian Festival in Wellington, FL.
Photo by Jump Media
"I always knew that I wanted to call Virginia home, and create my own business here," said Sloane. "What I love is training young horses and helping people improve their relationships and skills with their horses. It's about the relationships and discovering what works best for each partnership."
Here are five things you may not know about Sloane and Spring Ledge:
1. Teamwork is the lifeblood of Spring Ledge.
"I think the fact that Spring Ledge is a family business has led to our riders feeling like members of that family themselves," said Sloane. "Our riders span the levels, but the one unifying factor is the horse. We are all here because we have fallen in love with these animals and have put them at the center of our lives."
Sloane has fostered a barn community that includes riders who have learned their horses' strengths, weaknesses, quirks, and personalities both on the ground and in the tack. She believes the members of Spring Ledge appreciate that deeper level of horsemanship, and their responses to that approach has proved her right.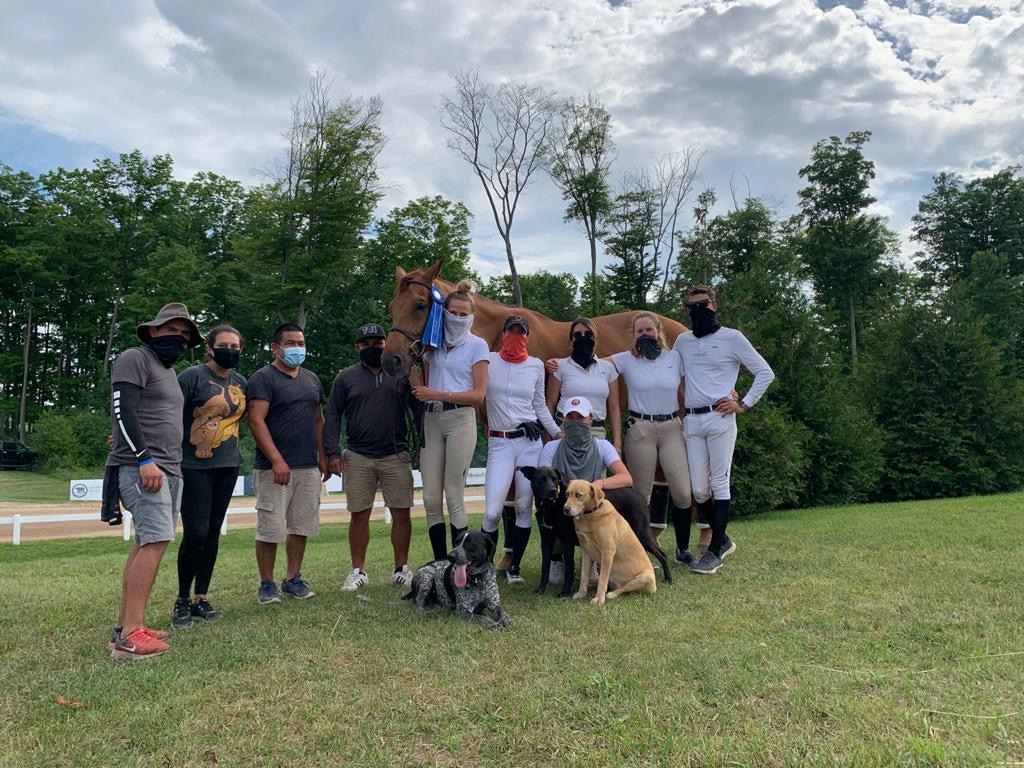 Team Spring Ledge at the 2020 Traverse City Horse Shows in Traverse City, MI.
Photo by Jump Media
2. Sloane grew up in the hunt field riding with her family.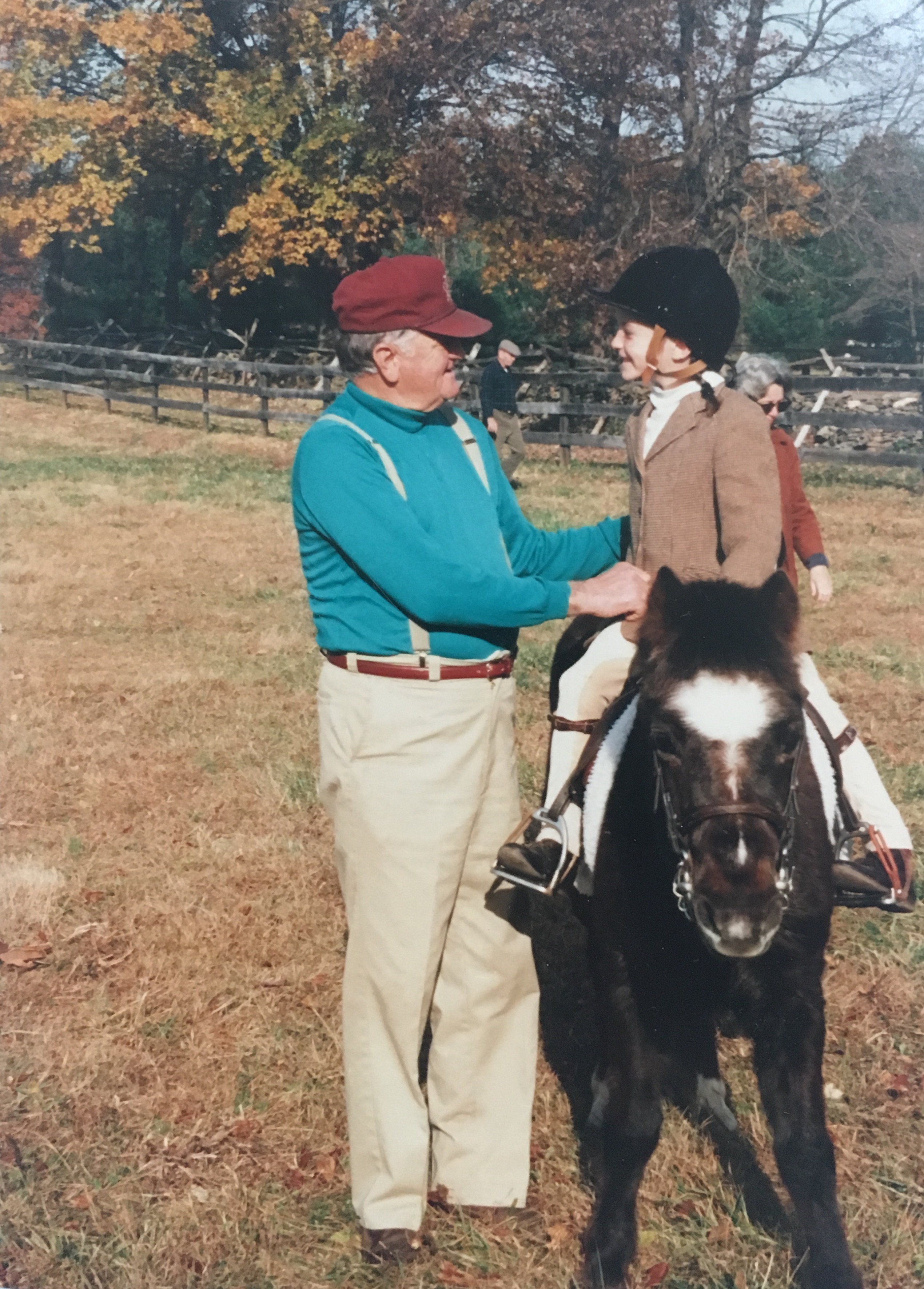 Sloane Coles and Oil Can Harry getting some tips from Melvin Poe.
"I don't remember my first ride, but some of my earliest memories of riding are of my mother leading me – or running beside me – during the hunt," recalled Sloane. "I had a small pony named Oil Can Harry [named for the white markings on his face that resembled drippings from an oil can]. My mother started putting me on him when I was still in diapers, and he could jump anything and keep up. Every day that I hunted on him – or any horse – I learned something new."
Sloane's father, John, is a former steeplechase jockey and currently serves as Joint Master of Foxhounds for the prestigious Orange County Hounds hunt. Her mother, Julie, is an accomplished hunter and jumper competitor. As a child, Sloane could be found trailing her mother and father through the fields or on a hunt, which instilled in her a steadfast appreciation for horses and the Virginia countryside she still calls home.
"The biggest lesson that hunting teaches you is that you learn to be in the saddle and sometimes ride by the seat of your pants," laughed Sloane. "You learn the basics and intricacies of balance in the tack, and it doesn't matter what you look like. It's just you and your horse."
3. Spring Ledge is home to 50 retired horses.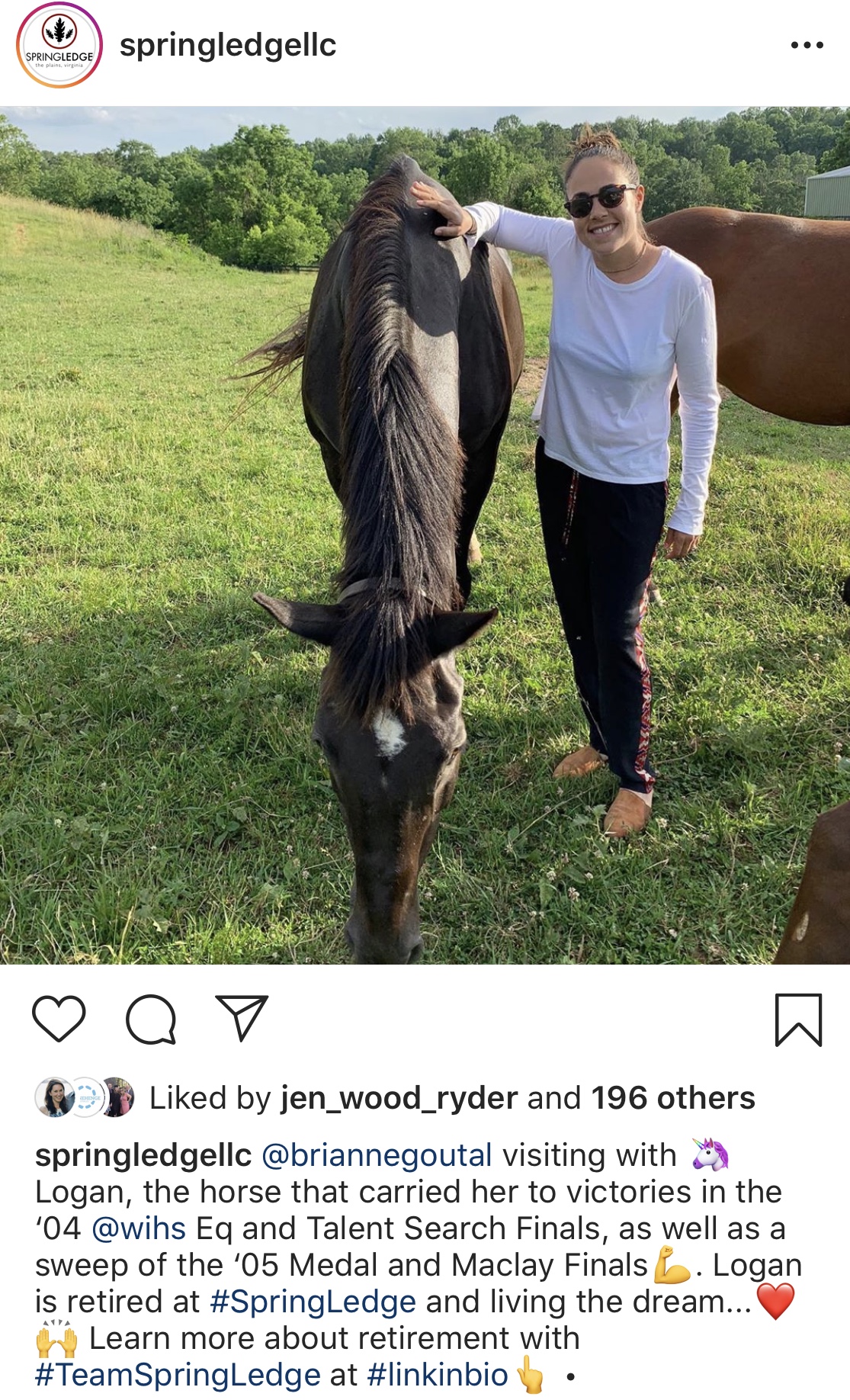 Based on 350 acres, Spring Ledge offers a forever-retreat to horses that have come to the end of their competition career and provides diligent care in an environment where retired horses thrive. Currently, Spring Ledge is home to the likes of Logan, the horse that carried Brianne Goutal to victories in the 2004 WIHS Equitation Finals and BET/USEF East Coast Show Jumping Talent Search Finals, as well as a sweep of the 2005 USEF Hunt Seat Medal Finals and ASCPA Maclay National Horsemanship Finals. Additionally, the newest arrival to Spring Ledge's retirement herd is U.S. rider Catherine Tyree's international grand prix mount, Enjoy Louis.
To learn more about Spring Ledge's retirement program, click here.
4. Show jumping isn't Sloane's only sport.
While riding has always been her passion, Sloane attended the Foxcroft School in Middleburg, VA, where she was inducted into the institution's sports hall of fame as an accomplished lacrosse player. While at Drew University in New Jersey, her first international sports competition was playing for the victorious U.S. Team in the Southern Crosse Tournament in Australia. Sloane graduated from Drew University in 2011 with a degree in sociology and business.
5. Sloane learned from the best.
Sloane's riding style and competitive drive were shaped by top trainers from all corners of the world. She has learned from professionals like John and Beezie Madden, Stacia Madden of Beacon Hill Show Stables, Heritage Farm's Andre Dignelli, and U.S. Olympian Lauren Hough.
"As a junior, I worked for Beezie and John Madden and it felt like I came full circle by ultimately being on a team with Beezie," said Sloane, who made her Nations' Cup debut in 2019 at the CSIO5* Spruce Meadows 'Masters' tournament in Calgary, Canada.
Sloane Coles and Chippendale's Boy DZ competing in the CSIO5* Spruce Meadows 'Masters' in 2019.
Photo by Jump Media
Follow Spring Ledge on Facebook and Instagram for an insider's look at life as part of their team, both at home in Virginia and on the road at horse shows. Keep an eye out for Spring Ledge riders competing next at the Great Lakes Equestrian Festival in Traverse City, MI, later this month.