Monday Balous Crowned Connaway & Associates High Point American-Bred Horse at the Capital Challenge Horse Show
October 5, 2019 - Upper Marlboro, MD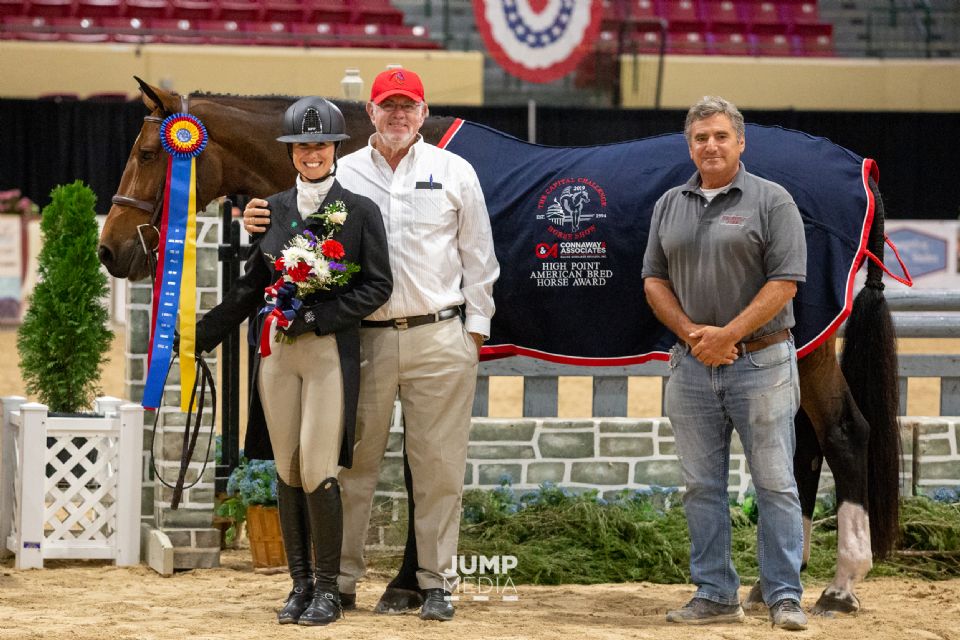 Left to right: Cassandra Kahle, Donald Stewart, and Emil Spadone are presented with Monday Balous' Connaway & Associates Equine Insurance Services High Point American-Bred Horse at the Capital Challenge Horse Show.
Photo by Jump Media
Monday Balous, piloted by Cassandra Kahle of Langley, British Columbia, was named the Connaway & Associates Equine Insurance Services High Point American-Bred Horse at the Capital Challenge Horse Show in Upper Marlboro, MD, in a special presentation on Friday, October 4, 2019.
"As a passionate sport horse breeder myself, I was so honored to be able to work with the Capital Challenge Horse Show to recognize the accomplishments of fellow breeders in this country," said Connaway & Associates President Laura Connaway of Little Rock, AR. "There is so much talent being bred in North America and I was very pleased to see Monday Balous' achievements this week. I am proud of this award and I look forward to continue shining a spotlight on American breeders and the accomplishments of American-bred horses in the future."
Monday Balous, a 10-year-old Dutch Warmblood, competed in the High Performance Hunter division, and scored a 90 in an over-fences class before carrying Kahle to top the $30,000 World Championship Hunter Rider (WCHR) Professional Challenge. The award was designated to be presented to the horse competing in Capital Challenge with the highest score in a professional division. To be considered for the award, horses had to be recorded as bred by an American breeder. The gelding, formerly known as Eros SCF, was bred by Karin Morgenstern Jimenez and Carlos Jimenez DVM of Sporting Chance Farm in Coatesville, PA.
"It takes a village, super genetics, and a measure of luck to create a super horse like Monday Balous," said Karin Morgenstern Jimenez. "He is bred to be a top show jumper, but with an eye towards beauty and the hunter style and technique that we have always strived for. We so appreciate the fact that [Connaway and Associates and Capital Challenge Horse Show] are including breeders and breeding information as it is vital, not only as an acknowledgement for what is often a thankless task, but also for us as breeders to learn about new stallions that we can use in our program."
Monday Balous campaigned in the young jumpers with Sarah Scheiring (USA) before transitioning to the hunter ring. Don Stewart and Emil Spadone of Redfield Farm currently co-own Monday Balous.
"I was judging at a horse show in Raleigh, NC, where I saw Monday Balous competing in a derby and knew I had to have him," said owner Don Stewart of Ocala, FL, who has helped the gelding make a name for himself in the hunter ranks. "The course included a very scopey two-stride, and the horse made a '10' jumping in and another '10' jumping out. He's one of the best jumpers I have ever had."
When that 2017 horse show concluded and Stewart inquired about Monday Balous, he learned that Spadone's eye had also been caught by the horse in the same class. It was then that Monday Balous was purchased in partnership between Stewart, of Ocala, FL, and Spadone's Redfield Farm, based in Califon, NJ.
"I do a lot of breeding myself because I feel like it's our sport in this country, and we are all looking for the same quality horses, which has become harder and harder to do in Europe," said Spadone, who started his breeding program in Ocala, FL, eight years ago. "I love the fact that Monday Balous is American-bred, and I really appreciate that fact that [Laura Connaway] is recognizing American-bred horses that are competing at quality horse shows like this."
Monday Balous is sired by Balou du Rouet and out of the Coriano mare, Mariana. The impressive bloodlines were showcased early when the horse won the $15,000 Adequan Six-Year-Old Classic during the 2015 Winter Equestrian Festival in Wellington, FL, with Scheiring. But, his breeding also made him a perfect candidate for the hunter ring. Gavin Moylan transitioned him to the hunter ring in 2017 when he bought him, and he was the one showing him when Spadone and Stewart spotted him.
Monday Balous spent 2018 and most of 2019 showing in the junior hunter ranks with students of Stewart's, and in the USHJA International Hunter Derby Championships in August with Jimmy Torano riding, where they placed 12th. The horse then joined Spadone's string, and Kahle rode him to third place in the $250,000 Diamond Mills Hunter Prix at HITS Saugerties (NY) in September in their first show together.

"His jump is so impressive, but he's a gentleman to work with," said Kahle of her experience with Monday Balous at Capital Challenge. "He's sweet and honest, and everyone who rides him raves about him. I was not expecting the results we got this week, and that made it even more special. To see a horse of this caliber win an award like this is encouraging for American breeders and I am very grateful to have been a part of it."
Connaway & Associates includes a team of seasoned equestrians who work to provide insurance coverage for fellow riders, trainers, and breeders. Connaway & Associates tailors comprehensive horse, farm, and liability coverage for each of its clients, and Connaway and her team pride themselves on providing coverage at competitive rates with outstanding service.
To find out more about Connaway & Associates and its range of insurance coverage offerings, visit www.connaway.net. Also, find Connaway & Associates on Facebook and Instagram for more about the team and company updates.