Nick Novak and Dirkie Z Accept Final Equis Boutique "Best Presented Horse" Award of the 2016 Winter Equestrian Festival
April 1, 2016 - Wellington, Florida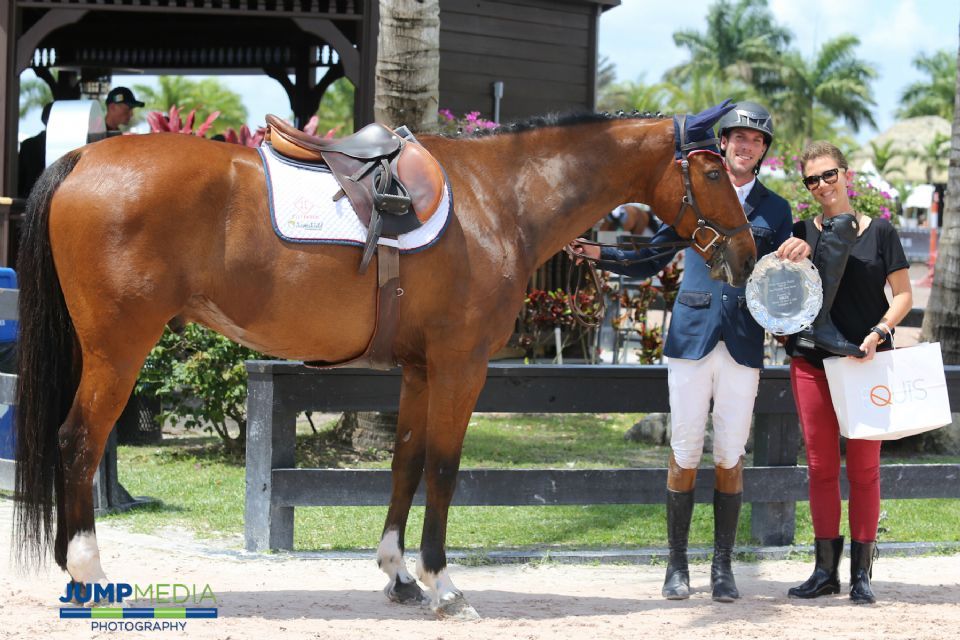 Nick Novak and Dirkie Z are presented with the Week 12 Equis Boutique "Best Presented Horse" Award by Elena Couttenye at the Winter Equestrian Festival in Wellington, FL.
Photo by Jump Media
U.S. rider Nick Novak and his own Dirkie Z were honored with the Equis Boutique "Best Presented Horse" Award during the 12th and final week of the 2016 Winter Equestrian Festival (WEF) in Wellington, FL. Throughout the WEF, Equis Boutique has sponsored the "Best Presented Horse" Award at each International Equestrian Federation (FEI) Horse Inspection.
Novak jogged Dirkie Z at the FEI Horse Inspection for WEF Week 12, designated as a CSI5* and sponsored by Rolex. Dirkie Z, an 11-year-old bay Zangersheide gelding (Dutch Capitol x Baloubet du Rouet), stood out among the 151 horses presented and was determined "Best Presented Horse" by the FEI ground jury, led by David Distler of Norwalk, CT.
"It's important for me to show off my horse myself," said Novak, 27, of Poplar Grove, IL. "I made sure for the final week, Dirkie Z was braided and looking nice, and it paid off."
Novak also acknowledged the efforts of his groom, Brittanie DiMichele, in preparing Dirkie Z for the FEI Horse Inspection.
When asked his thoughts on Equis Boutique's efforts to add a new level of competition to the FEI Horse Inspection, Novak responded, "It's a really great incentive to get the horses looking their best and it attracts some attention to the jog component of FEI competition, as well as how much work goes into preparing for the jog."
In recognition of the "Best Presented Horse" Award, Novak was presented with a commemorative plaque by Elena Couttenye of Equis Boutique. He was also awarded a pair of Essential riding boots from Equis Boutique partner brand, Parlanti, which he plans to let DeMichele claim for her dedication to Dirkie Z's health and appearance.
"She works really hard and deserves it," he said.
As for Novak's plans for Dirkie Z, he has big goals for the gelding that joined his string in February of 2015.
"We moved up this year to the Thursday and 1.50m classes and have been getting some good ribbons," said Novak. "I think he has World Cup potential, so I am gearing towards that in the next couple of years."
Equis Boutique is a shopping experience for the discerning equestrian and offers the most convenient and luxurious choice for top equine brands to dress the horse and rider. Featured brands include Parlanti, Manfredi Equestrian, KASK Helmets, Anna Scarpati, Kingsland Equestrian, Kentucky Horsewear, and Dy'on, as well as a variety of imported specialty bits and Official FEI and Just World International merchandise.
For more information on Equis LLC boutiques, please visit EquisBoutique.com, or look for Equis Boutique on Facebook and Instagram! Email info@equisboutique.com for questions on the stores and their products.
About Equis, LLC
Equis LLC delivers superior service in order to educate their consumers on the brands and products they offer and show the variety and quality of their made-to-order, customized products. By providing a unique shopping experience, Equis rises above your normal tack shop to offer only the best. "Live the Experience – A Boutique for the Discerning Equestrian."