Palm Beach Equine Clinic – Serving the Palm Beach International Equestrian Center As Official Veterinarians This Winter
January 19, 2016 - Wellington, FL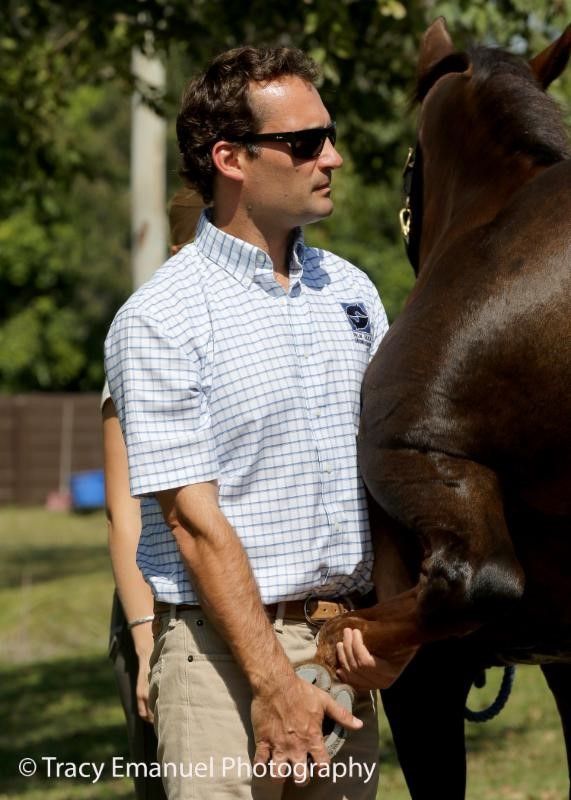 Dr. Richard Wheeler is one of many vets from Palm Beach Equine Clinic who can assist with any veterinary needs at PBIEC.
Photo by Tracy Emanuel Photography
When the New Year arrives and equestrians flock to Wellington by the thousands, there is one name that stands out in the field of veterinary care. Palm Beach Equine Clinic is the gold standard for the treatment of the many sport horses that arrive to compete at the Palm Beach International Equestrian Center, which hosts the Winter Equestrian Festival and Adequan® Global Dressage Festival from January to April. They are the long-standing Official Veterinarians of the Winter Equestrian Festival and have been the Official Veterinarians of the AGDF since its inception in 2012.
Providing a veterinarian for on-call service for every competition day for the 12 consecutive weeks of the circuits is no easy task, but Palm Beach Equine Clinic draws on over 30 years of experience in the Wellington area. All 28 veterinarians, including the three surgeons, rotate in the on-call schedule at WEF and AGDF. Along with being on-site every Tuesday through Sunday, they attend every FEI jog at WEF and AGDF, provide Team Veterinarian support, and serve as FEI Veterinary Delegates. The team of veterinarians includes specialists who are board-certified in surgery, internal medicine, radiology, and ophthalmology.
One of PBEC's veterinarians, Dr. Hillary Clayton enjoys the part of her job that brings her to the competition and notes that the system that has been put in place ensures a smooth operation for the vets and the events. The veterinarians are based out of the new WEF Annex Office, which is located near the Stabling Office at the back exhibitor entrance of the main PBIEC grounds.
"We have a very good system," Clayton affirms. "We have the primary vet here, and we are ready with a golf cart outfitted with everything we would need in an emergency situation to stabilize a horse and help it leave the ring."
Palm Beach Equine Clinic works with an Equine Ambulance, which is fully outfitted to safely and securely remove an injured or sick horse. "From there, depending on what is wrong with it, we can send it to Palm Beach Equine Clinic. That's a comfort because I know the horse is going to be in the best hands there," Dr. Clayton says.
Just minutes down the road from PBIEC, the Palm Beach Equine Clinic provides 24-hour emergency coverage, complete surgical procedures, and intensive care at the hospital every day of the year. There is an on-site pharmacy, full laboratory, and diagnostic imaging equipment, including a Nuclear Scintigraphy gamma ray camera and a standing MRI.
Dr. Clayton was assisting at the WEF show on the day in 2014 when a jumper had an accident in the DeNemethy Ring, when the jump standard punctured its stomach. Dr. Clayton and Dr. Robert Brusie stepped in quickly to help stabilize the horse, load it into the ambulance, and drive to Palm Beach Equine Clinic for emergency surgery. Only 30 minutes elapsed from the time of the accident to when the horse was on the table for emergency surgery. The surgery was led by Dr. Robert Brusie and Dr. Weston Davis to repair the horse's abdomen and internal organ injuries. His miraculous recovery is the combination of quick thinking and amazing care provided by Palm Beach Equine Clinic.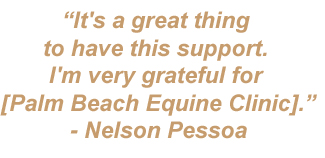 The horse's owner, the legendary Nelson Pessoa, said at the time, "They said it was a miracle. I want to say for everybody that has a horse here at this horse show, this clinic is something. You hope things like this won't happen, but for sure with the number of horses and the amount of jumping here, things like that happen sometimes. It's a great thing to have this support. People don't always realize this – we realize now because it happened to us. I'm very grateful for [Palm Beach Equine Clinic]."
Dr. Clayton remembers, "Those things happen very rarely, luckily. You've always got to be ready to leap into action. When I get here in the morning, I make sure the golf cart is running and everything is prepared. I talk to the ambulance staff and know who is here. It's a big show grounds. I might be looking at a horse in a tent at the end of the facility. You've got to have your ears open, have your radio on, and have your phone as a back up."
While the emergency situation is what many people imagine when they think of an official horse show veterinarian, they may not know that the vets on the grounds are also available for any type of veterinary assistance. These include such regular needs as lameness problems, health certificates, and pre-purchase examinations. Those who need a vet can always call the main Palm Beach Equine Clinic office to schedule a visit, or just stop by the WEF Annex Office to talk to a vet.
"We do routine work as well and are always available for the regular services for any of the exhibitors on the show grounds and in local barns," Dr. Clayton acknowledges.
The WEF Annex Office is connected to a permanent stable, where a treatment area is available for such work as radiographs, ultrasounds, and more. "It's nice for people at the show to know there is a base here. They can come to the office and knock on the door if they want to come talk to us," says Dr. Clayton.
Palm Beach Equine Clinic provides experience, knowledge, availability, and the very best care for the horses of Wellington. Have them be a part of your team! To find out more, please visit www.EquineClinic.com or call 561-793-1599. "Like" them on Facebook to follow along on what happens in Wellington and more, and get news from their Twitter!