Parlanti to Unveil New Boot Lines at Upcoming AETA Show
August 6, 2015 - Oaks, Pennsylvania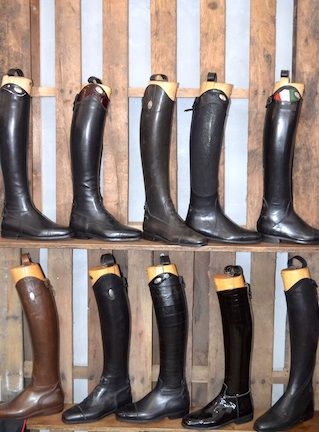 Parlanti, the go-to riding boot for the world's top equestrians, will release four new products at the American Equestrian Trade Association (AETA) show held in Oaks, PA, from August 15-17, 2015.

With unmatched customization, quality and popularity within show jumping circles, Parlanti boots have also been worn by celebrities such as Madonna and Meryl Streep. Parlanti has been affiliated with Brooks Brothers, as well as being named "The Best Riding Boot in the World" by Gucci's Creative Director in Allure Magazine. Rather than simply be satisfied with its current success, it has instead driven the company to continue to innovate.
To that end, Parlanti will launch four new boots at AETA. Two are an effort to restyle current boots with special attention paid to further improving functionality and style. The other two boots will feature an affordable price point without losing the signature Parlanti quality.

Under the direction of Worldwide Manager Mr. Francesco Iannelli and CEO Mr. Gianluca Caron, Parlanti is dedicated to advancing its styling and technology while still making its products accessible to the masses.
"From junior riders to top-level international talent, Parlanti is always the best choice," said Caron, a native Italian and a rider himself. "We want to see that popularity continue to grow as a result of our attention and commitment to moving forward. Alongside American's top equine brands, the AETA show is the perfect place to showcase what we have coming up."

Parlanti currently sponsors some of show jumping's most successful athletes, including North American ambassadors Reed Kessler, Kent Farrington and Yann Candele, as well as international show jumping talent such as Edwina Tops-Alexander, Darragh Kenny, Pénélope Leprevost, Marie Hecart, Harrie Smolders, Gerco Schröder and Ben Maher. In addition, Parlanti has recently dedicated their sponsorships to up-and-coming stars like Bertram Allen, Nicola and Olivier Philippaerts, Lucy Davis, Sophie Simpson, and Spencer Smith.
"Style, comfort, and efficiency are the features that set Parlanti apart for me," said Canada's Yann Candele, a team gold medalist at the recent Toronto 2015 Pan American Games. "They are very easy to put on, easy to break in, and they stick to the saddle. That efficiency, combined with the styling and comfort, make Parlanti my riding boot of choice."
AETA has served to unite the industry and support connections between equestrian manufacturers and retail buyers with semi-annual trade shows. The AETA August show will take place at the Greater Philadelphia Expo Center at 100 Station Avenue and showcase the best in up-and-coming, as well as established equine brands.

For more information on Parlanti, visit www.parlanti.com.
Like passioneq on Facebook.
Follow @_passioneq_ on Twitter.
Share with @passion_eq on Instagram.

About Parlanti
From model design to the finishing process, every product from Parlanti Roma follows the highest work standards with an unquestionable prerogative of meticulous craftsmanship. Made to measure riding boots are created using the finest manufacturing methods and feature a perfect combination of tradition and research, enabling Parlanti Roma to combine ancient craftsmanship with continuous style evolution.

The recognizable features in every product showcases the passion of Parlanti Roma, making it one of the most sought-after apparel companies in the equestrian industry. Over 30 years of experience have been dedicated to making made to measure riding boots unique in their genre. The greatest satisfaction of all is dressing the best riders in the world. To view Parlanti online, visit www.parlanti.com.