Riders Continue Drive to Qualify for 2015 WIHS Championship Finals
June 16, 2015 - Washington, DC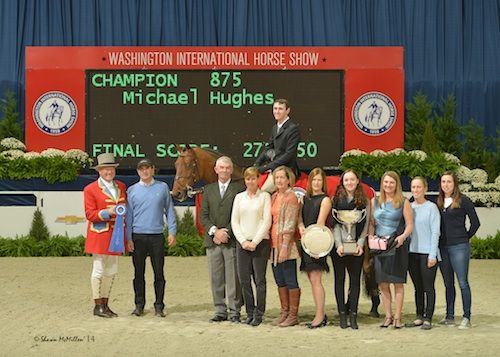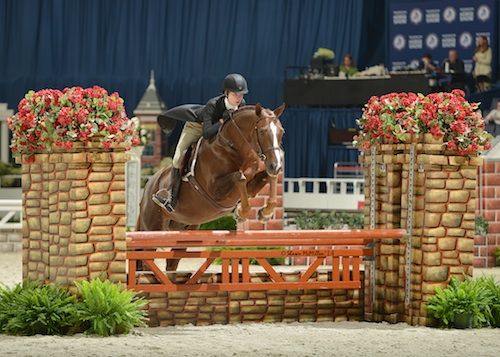 Winner of the 2014 $10,000 WIHS Children's Hunter Championship was Aubrienne Krysiewicz-Bell on Monopoly.
Photo by Shawn McMillen Photography
As the 2015 horse show season continues, many of the nation's top horses and riders are competing to earn qualification in this year's Washington International Horse Show (WIHS) Championship Finals. The qualifying period is September 1, 2014, through August 31, 2015, so riders have just over two months left to earn their place in the prestigious championships.
The 57th Annual Washington International Horse Show returns to Verizon Center in downtown Washington, DC, on October 20-25, 2015. The WIHS offers popular year-end championships for junior and pony equitation riders as well as adult and children's hunter and jumper competitors.

Horses and riders compete all year in order to qualify for the WIHS Championship Finals, including the $10,000 WIHS Children's Hunter Championship, $10,000 WIHS Children's Jumper Championship, $10,000 WIHS Adult Hunter Championship, $10,000 WIHS Adult Jumper Championship, WIHS Equitation Finals, and WIHS Pony Equitation Finals.
Although you do not have to be a WIHS member to compete in the qualifying classes, competitors must be WIHS members in order for their points to count towards the finals. Sign up today at www.wihs.org/membership to become a WIHS member and start earning points for qualification.
As qualifying competition continues, we congratulate the leaders in WIHS standings as of June 12, 2015:
WIHS Equitation and Pony Equitation
Victoria Colvin of Loxahatchee, FL, currently leads the WIHS Equitation East Coast standingswith 7,800 points. Thomas O'Mara, Jr. of Rumson, NJ, sits second with 4,300 points, and Ashton Alexander of Ocala, FL, stands third with 3,290 points.
Alexandra Ladove of Rancho Santa Fe, CA, remains on top of the West Coast standings with 2,318 points. Hunter Holloway of Topeka, KS, comes in second with 1,908 points and Sydney Hutchins of Westlake Village, CA, sits third with 1,757.5 points.
In the WIHS Pony Equitation standings, Jordan Cobb of Austin, TX, has 670 points to maintain her lead throughout the year. Abigail DuBose of Alpharetta, GA, is second with 572 points, and Augusta D. Iwasaki of Calabasas, CA, is third with 546 points.
WIHS Children's and Adult Hunter Championships
In the Children's Hunter Championship, Vivaldi and Lauren Dean of Great Falls, VA, lead the way with 1,458 points. Voltaro and Katherine Habeeb of Birmingham, AL, sit second with 1,372 points, and Heartbreaker and Shaye E. Coe of Versailles, KY, stand third with 1,332 points.
Overseas and Mindy Wurzburg of Memphis, TN, currently lead the Adult Hunter Championship standings with 1,724 points. Benvolio and Mary Grossman of Burlington, WI, sit in second place with 1,122 point. My Wingman and Mimi Hardie of Atlanta, GA follow with 1,107 points.
WIHS Children's and Adult Jumper Championships
In the Children's Jumper division, Bilbo Baggins and Anna Claire Smith of Atlanta, GA, hold a steady lead on their way to qualifying for the championship with 3,876 points. Opium de Moyon and Mary Elizabeth Cordia of Alexandra, VA, moved into second place with 2,768 points, and New Jersey and Olivia Notman of Boca Raton, FL, sit third with 2,492 points.
The Adult Jumpers also continue to earn points to qualify for their championship finals in October. Bonapart and Lindsey Tomeu of Wellington, FL, have 6,515 points to lead the division. Wup L and Maxine (Star) Schatten of Franklin, TN, sit second with 3,941 points. Jessy du Breau and Laura Sexton of Greenwich, CT, have 3,634 points in the third position.
Don't miss your chance to qualify for the WIHS Championships. WIHS looks forward to hosting top combinations from around the world as well as the best horses and riders from around the nation for these championships in 2015 and encourages all riders to continue their drive to qualify.
About the Washington International Horse Show (wihs.org)
Established in 1958, the Washington International Horse Show attracts more than 26,000 spectators to the six-day show, which includes Olympic-level competition along with community and charity events. More than 500 top horses and riders come to D.C. from all over the globe to jump for more than a half a million dollars in prize money. In 2014, the Fédération Equestre Internationale (FEI), the international governing body for all Olympic equestrian disciplines, elevated the show's rating to CSI4*-W for international show jumping. Event highlights include the Puissance high jump competition on Military Night (Friday), the $125,000 President's Cup Grand Prix, a World Cup qualifier (Saturday night) and Kids' Day (Saturday), a free, fun and educational community event. The Washington International Horse Show Association, Ltd. is a 501(c)(3) nonprofit charitable organization headquartered in Washington, D.C. WIHS is an official USEF Heritage Competition and is recognized as a Top 25 Horse Show by the North American Riders Group.