The Sponsors That Make Capital Challenge Move
September 24, 2021 - Upper Marlboro, MD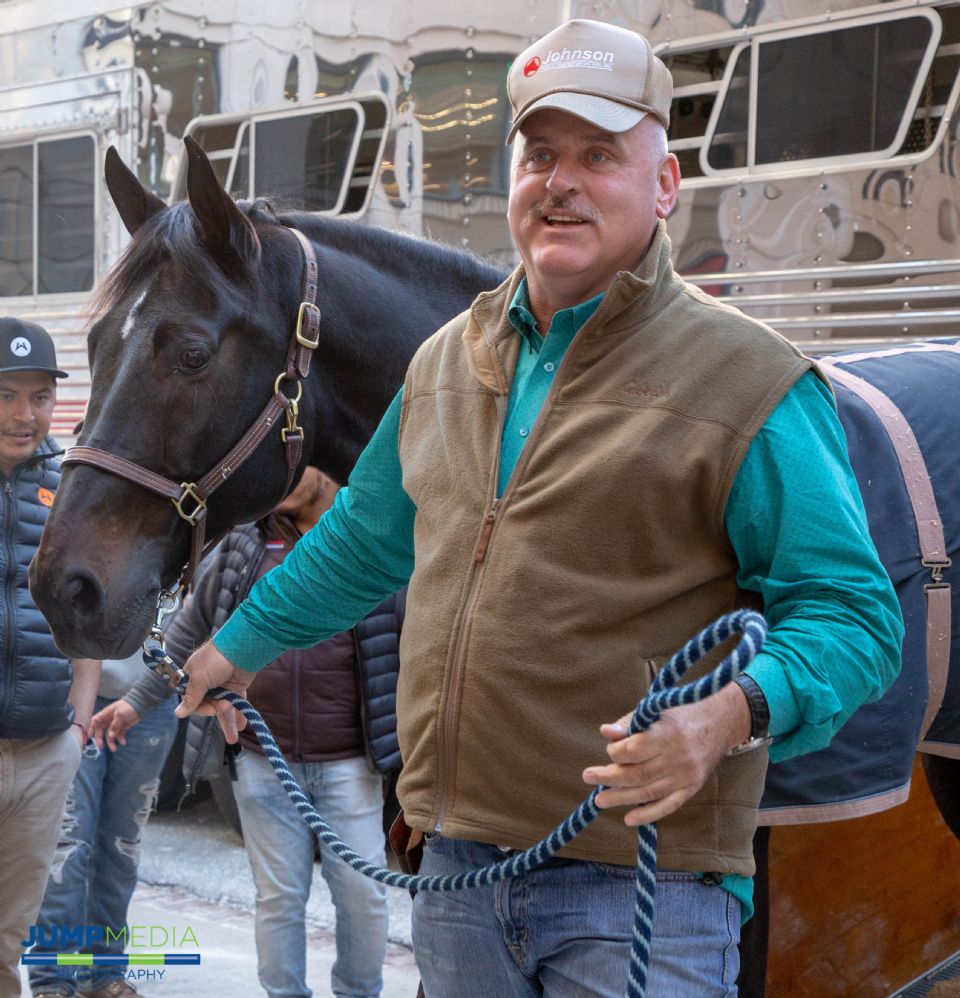 DJ Johnson of Johnson Horse Transportation.
Photo by Jump Media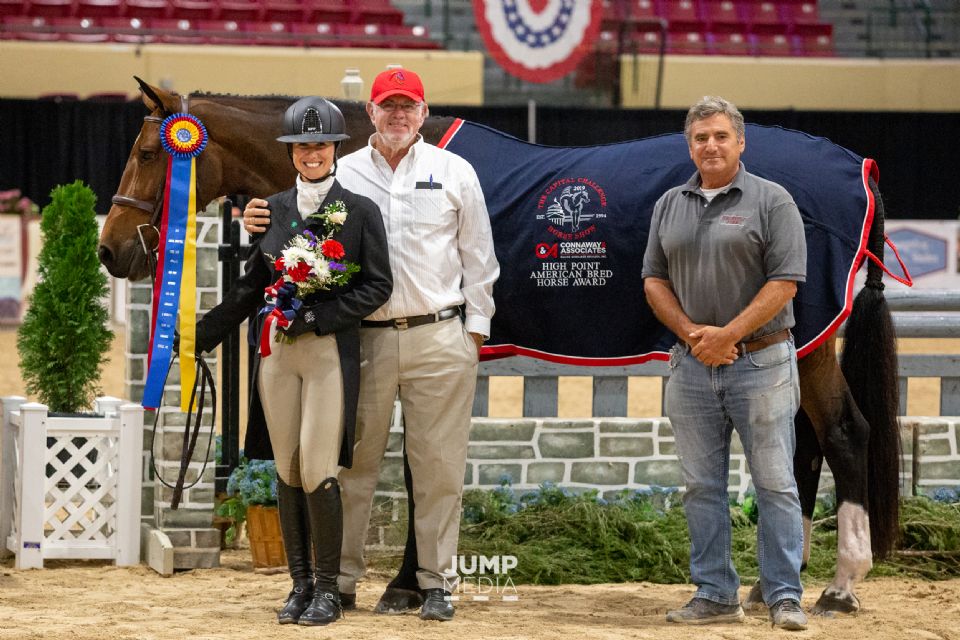 Emil Spadone (far right), co-owner of Monday Balou with Don Stewart (center), in the winning presentation at the 2019 Capital Challenge Horse Show for the Connaway & Associates Best American-Bred Horse Award, joined by Cassandra Kahle.
Photo by Jump Media
All of the sponsors at Capital Challenge Horse Show (CCHS) are family, and two of them that help bring horses to the show every year are Johnson Horse Transportation and Horseflight. Without the sponsors' support, Capital Challenge Horse Show couldn't happen, and this year management is pleased to welcome these important partners back to Prince George's Equestrian Center in Upper Marlboro, MD, on October 1-10, 2021.
Johnson Horse Transportation, led by founder DJ Johnson, has been a sponsor at CCHS for more than 20 years, and the draw of competitors from across the country is what brought Johnson in to sponsor.
"There are a lot of people from California and the Midwest that come to Capital Challenge, so it was good exposure to people who may not have known us at the time," said Johnson. "We are well established now, but every year we always seem to get a new customer from Capital Challenge. It's a special horse show, and we are grateful for that."
He added, "While we do have many long-term customers, the business is ever changing. There are a lot of new faces and new trainers. Even though we have been around for more than 30 years, we never quit looking for customers and good horse shows to go to. Capital Challenge provides both of those for us."
While Johnson joked that his favorite part of CCHS is his "last load out," he also appreciates how the horse show "goes above and beyond."
"It's one of the most exciting horse shows of the year," he said. "It's great to see friends that we haven't seen in a while; they seem to all appear there at the venue! This year, we're looking forward to a healthy and happy horse show for everyone. We thank all of our customers who ship with us and can't wait to see them at Capital Challenge."
Well-known trainer Emil Spadone is also a managing partner at Horseflight, which provides domestic and international air travel for horses. Horseflight became a Capital Challenge sponsor in 2013.
"At that point in time, we were a relatively young business, and it was important for us to spend our money wisely," said Spadone. "Then, and still today, CCHS is the only show that attracts hunters from every part of our country, all at one time, and in one place. It is well organized and delivers an exciting week of competition. For many, CCHS is their favorite show of the year, and we knew it would be of significant value to be part of it."
Spadone echoed Johnson's assertion that CCHS helps bring in new customers to his business.
"The exposure we have received by association with CCHS has helped us tremendously with confirmed bookings for both domestic and international flights," he confirmed. "Capital Challenge has a long-standing reputation for excellence with which Horseflight is proud to be associated. This excellence trickles down to its sponsors, and we are thrilled with the way we are treated for our support of the show."
Spadone added, "Horseflight was founded on the idea that we could provide a personalized experience for every client, differentiating us from the competition. Our clients are an extension of our team, and we treat their horses as if they are our own. We are horse people, first and foremost, and we are here to serve the horse community. The love of the animal and the sport drive us to provide unmatched service and attention to detail as we fly the competitive horse world. It's our motto that when you fly with us, you FLY FIRST CLASS!"
The Capital Challenge Horse Show is recognized as a US Equestrian Heritage Competition and hosts the World Championship Hunter Rider (WCHR) Finals, the $25,000 3' and 3'3" Green Hunter North American Championships, the Ariat National Adult Medal Finals, three days of equitation competition during Equitation Weekend, presented by Bigeq.com including the EMO Insurance/USHJA 3'3" Jumping Seat Medal and the Taylor Harris Insurance Services National Children's Medal Final, and much more. The popular, year-end horse show will once again host the five North American League (NAL) Finals.
Capital Challenge Horse Show looks forward to welcoming all of its sponsors back in 2021 for another year of fantastic competition. If you would like to join the sponsor family at CCHS, please contact Jennifer Glass at jenniferleeglass@gmail.com.

Learn more about the Capital Challenge Horse Show by visiting www.capitalchallenge.org, and follow them on Facebook, Instagram, and Twitter.
About the Capital Challenge Horse Show

Now in its 28th year, the Capital Challenge Horse Show sets itself apart with a distinct and unique focus on preeminent hunter and equitation competition. Held each autumn, the 2021 edition of the Capital Challenge Horse Show will take place on October 1-10. The 10 days of competition will include prestigious equitation events, jumper divisions, the World Championship Hunter Rider (WCHR) Finals, the $25,000 3' and 3'3" Green Hunter North American Championships, and more, with many of the country's best horses and riders competing in junior, amateur, and professional divisions.