Thursday Night at WIHS Has Something for Everyone!
October 13, 2015 - Washington, DC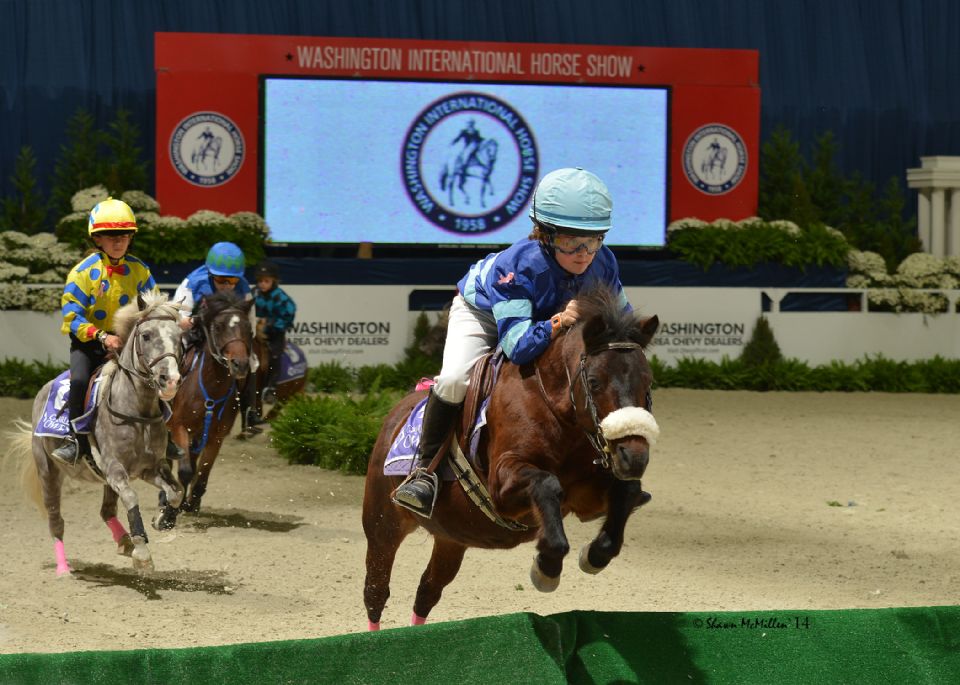 Mini jockeys and Shetland ponies race to the finish line during the WIHS Shetland Pony Steeplechase Championship.
Photo by Shawn McMillen Photography
Barn Night, Gambler's Choice Costume Class, Shetland Pony Steeplechase Races, and Buck Breast Cancer Benefit Highlight Thursday Night at the 2015 Washington International Horse Show
The 2015 Washington International Horse Show (WIHS) has an exciting schedule of events set for each night of competition throughout its six-day stay at Verizon Center in downtown Washington, D.C. WIHS Barn Night, presented by Dover Saddlery, draws a fantastic crowd of equestrian enthusiasts and will be held on Thursday, October 22. Full competition for WIHS runs October 20-25, 2015.
WIHS Barn Night, presented by Dover Saddlery, is a favorite with young riders, barn mates and horse lovers who attend in groups and have a chance to enter contests, win great prizes, and enjoy a fun, horse-filled evening. This year's Barn Night is themed "Keeping Up With the Equestrians," and features fun group contests for all barns, equestrian groups, teams and horse enthusiasts. The night also hosts fun activities along the concourse, such as a scavenger hunt and a Breyer Stablemates horse painting station.
Exciting new prizes this year include a group clinic with top international show jumper Brianne Goutal, a custom drape set thanks to Dover Saddlery, a custom barn jump courtesy of Swan Lake Horse Shows, a customized refurbished golf cart courtesy of United Metro Golf Cart and Dover Saddlery shopping sprees.
"We look forward to welcoming all of our fans for the 57th edition of the iconic Washington International Horse Show," said WIHS President Victoria Lowell. "Thursday night is always fun as we see so many young horse lovers cheering on their idols. There is nothing better than watching the pint-sized Shetland ponies race around Verizon Center or seeing your favorite grand prix show jumper dressed up in a Halloween costume. I hope everyone comes out to experience Barn Night this year."
Evening action begins with a High Junior/Amateur-Owner Jumper speed class. Young jockeys color the night with their rainbow racing silks competing over tiny hurdles in the WIHS Shetland Pony Steeplechase Championship Race, presented by Charles Owen. Guided by their jockeys, youngsters age seven to 14, the traditional Shetland Ponies race over a course of mini hurdles.
World-class show jumpers then take the stage to show off their skills and fun attire in the Gambler's Choice Costume Class, presented by the Winter Equestrian Festival. Horses and riders will be decked out in their favorite costumes for this unique and fun competition. Some of the riders will also stay for an autograph signing after the class so that fans can meet their favorite competitors.
Equestrian fans can also support a charitable cause Thursday night by attending the fourth annual Buck Breast Cancer Benefit, which will be held in the Acela Club beginning at 7 p.m. A portion of ticket sales will benefit Capital Breast Care Center. Guests are invited to think pink and celebrate the lives of survivors, friends and family! Tickets are $150/per person and include dinner and an open bar, and tables are also available. Visit www.wihs.org/social-events/ to purchase tickets.
The evening will also feature a special performance from the Maryland National Park Police Color Guard, featuring mounted park police officers.
The registration deadline for Barn Night is Wednesday, October 14. Visit www.wihs.org/barn-night to sign up today! WIHS tickets are available online at www.Ticketmaster.com. Discounts are available for groups of 10 or more through Verizon Center Group Sales. Call 202-661-5061 for details. Get your tickets today and don't miss this fun, unique night at WIHS!
About WIHS, www.wihs.org
Established in 1958, the Washington International Horse Show is one of the most prestigious equestrian sporting events in the U.S. More than 26,000 spectators attend the six-day show, which includes Olympic-level competition along with community and charity events. More than 500 top horses and riders come to D.C. from all over the globe to jump for more than a half a million dollars in prize money. Event highlights include the $125,000 President's Cup Longines FEI World CupTM Jumping Washington, presented by Events DC (Saturday night), The Boeing Company Puissance high jump competition on Military Night (Friday) and Kids' Day (Saturday), a free, fun and educational community event. The Washington International Horse Show Association, Ltd. is a 501(c)(3) nonprofit charitable organization headquartered in Washington, D.C. WIHS is an official USEF Heritage Competition and is recognized as a Top 25 Horse Show by the North American Riders Group. WIHS is rated CSI4*-W by the Fédération Equestre Internationale, the world governing body for horse sports.