Tiffany Foster Speeds to SSG Gloves Bonus at 2016 Winter Equestrian Festival
March 3, 2016 - Wellington, Florida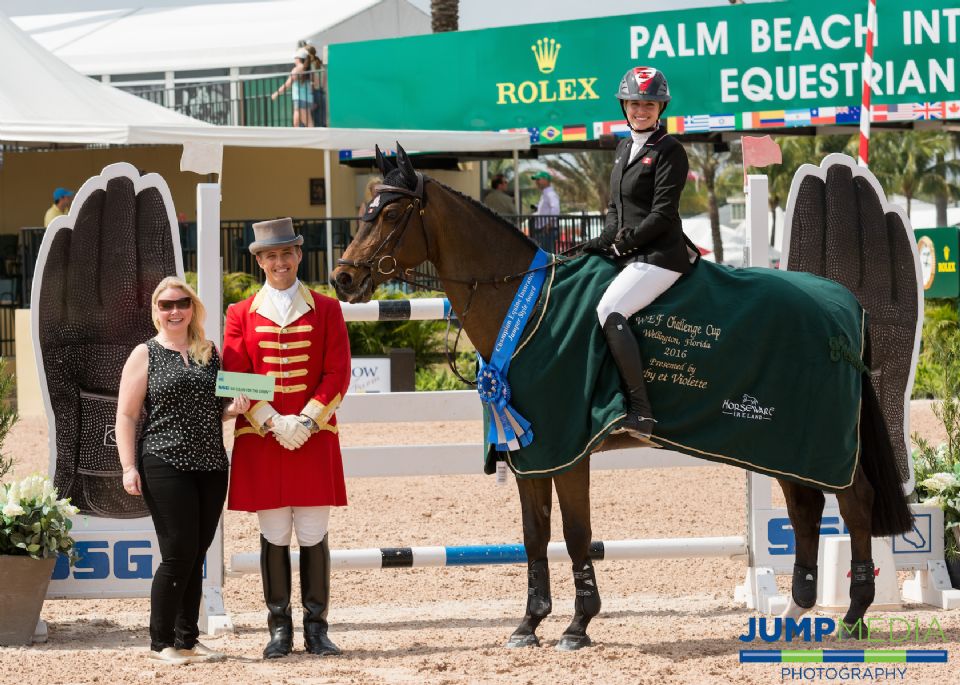 SSG Gloves "Go Clean for the Green" promotion manager Jennifer Ward presents Canada's Tiffany Foster with a $3,000 bonus following her win in the $35,000 Ruby et Violette WEF Challenge Cup Round VIII on March 3 at the Winter Equestrian Festival in Wellington, FL."
Photo by Jump Media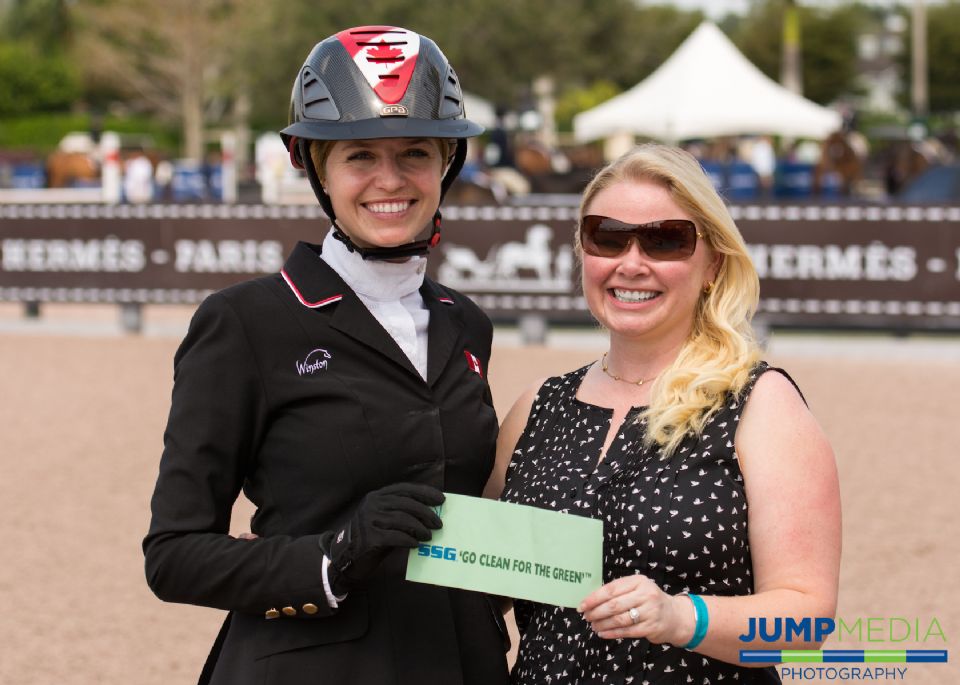 Tiffany Foster receives her $3,000 bonus from SSG Gloves "Go Clean for the Green" promotion manager Jennifer Ward.
Photo by Jump Media
Canadian Olympian Tiffany Foster wore her SSG 'Digital' style riding gloves on her way to victory in the $35,000 Ruby et Violette WEF Challenge Cup Round VIII to earn a $3,000 bonus in the SSG Gloves "Go Clean for the Green" promotion on Thursday, March 3, at the 2016 Winter Equestrian Festival (WEF) in Wellington, FL.
Foster and her mount, Brighton, bested a field of 58 entries over a speed track set by U.S. course designers Steve Stephens and Ken Krome. Foster and Brighton, a ten-year-old Dutch Warmblood gelding owned by Artisan Farms and Torrey Pines Stable, crossed the timers in 61.26 seconds to clinch the win.
While fellow Artisan Farms rider Eric Lamaze has won four WEF Challenge Cup classes so far this season, this time he was proud to have coached Foster to her own victory.
"Normally the WEF is Eric's class, so at least we are keeping it in the Artisan family," joked Foster, 31, who was also presented with the Champion Equine Insurance Jumper Style Award during the prize giving ceremony.
An important component of her show ring style always includes a pair of SSG 'Digitals' riding gloves.
"I ride with SSG Gloves anyway, so being eligible for the bonus didn't require any extra work for me," said the rider who hails from North Vancouver, BC. "These gloves are very flexible in the knuckles, which I love. I don't like the feeling of gloves and these ones don't feel like you are wearing anything. It's a great promotion that SSG does, and I'm very appreciative."
Thursday's win marked the biggest accomplishment on Brighton's resume to date, and Foster hopes to point him towards more FEI events in the near future.
"He has no idea what it means to go into the ring and school; he only likes to go at speed," said Foster. "He has yet to tell us there's something he can't do. I would like to think a horse like that could be able to go the whole way."
Foster and Brighton kicked off CSIO4* Nations' Cup week with two wins, including Wednesday evening's $5,000 Carolex Stables CSIO Welcome Stake. On Friday evening, Foster will ride Victor as she represents Canada in the $150,000 FEI Nations' Cup.
The SSG Gloves "Go Clean for the Green" promotion offers $60,000 in bonus money to riders throughout the 12-week WEF competition running January 13 through April 3, 2016, in Wellington, FL. A $3,000 bonus is offered each week to the winner of the WEF Challenge Cup if they are wearing SSG 'Digital' style riding gloves with the horsehead logo clearly visible in all rounds of competition. In the weekly Maybach – Icons of Luxury High Amateur-Owner Jumper Classic and the Sleepy P High Junior Jumper Classic competitions, a $1,000 bonus is on offer if the winning rider is wearing SSG 'Digital' style riding gloves with the SSG Gloves horse head logo clearly visible in all rounds of competition.
SSG 'Digital' Riding Gloves are available for purchase at numerous Wellington locations, including Tackeria, as well as on-site at the Winter Equestrian Festival show grounds at various retailers such as Running Fox.
Please refer to the 2016 Winter Equestrian Festival Prize List for complete promotion details. For further information, please contact Jennifer Ward, Jump Media, at cell: 613-292-5439 or jward@jumpmediallc.com.