U.S. Driving Team Takes Eighth in FEI Driving World Championships for Pairs
September 16, 2019 - Drebkau, Germany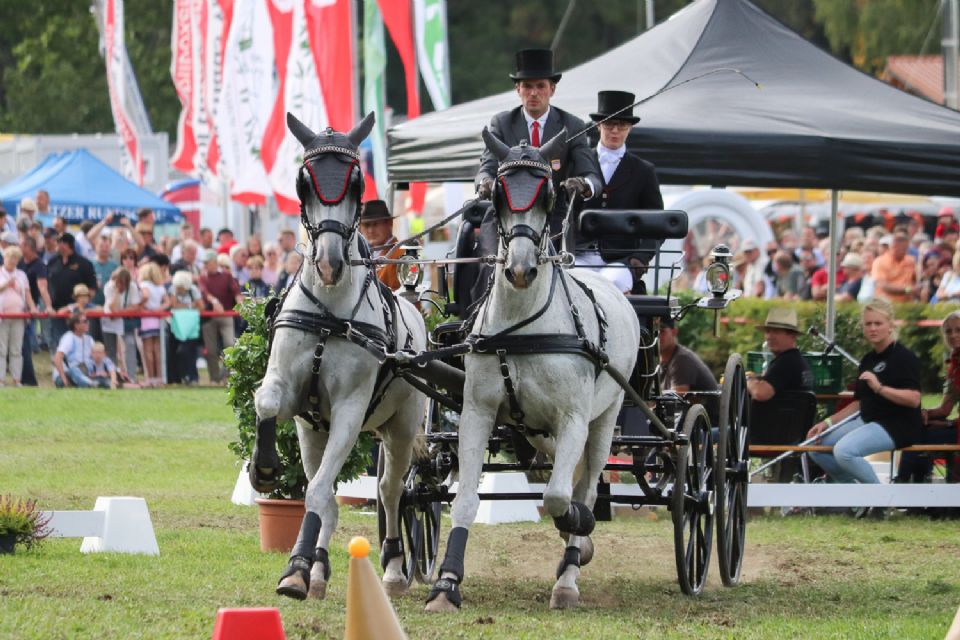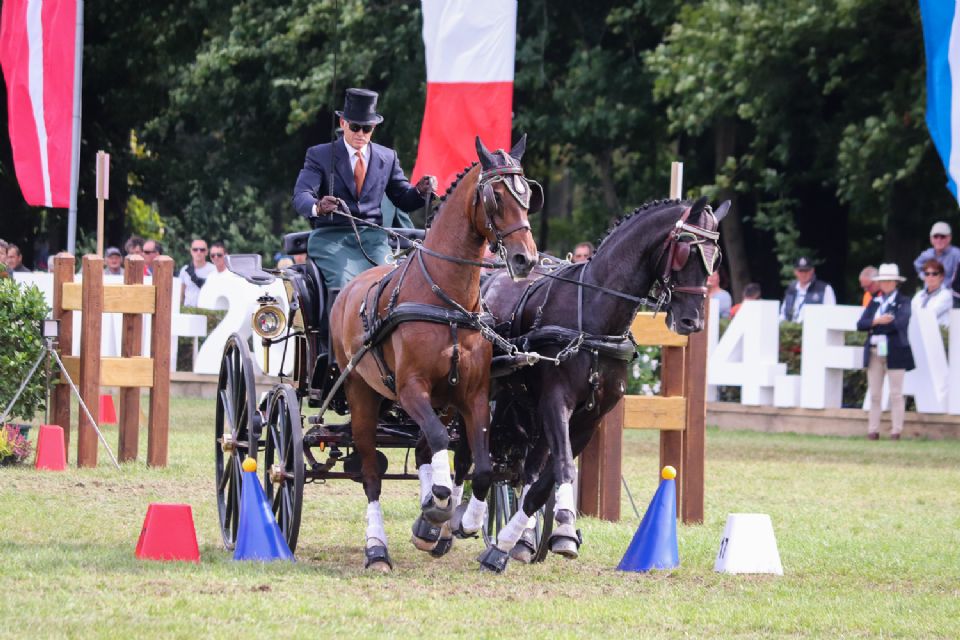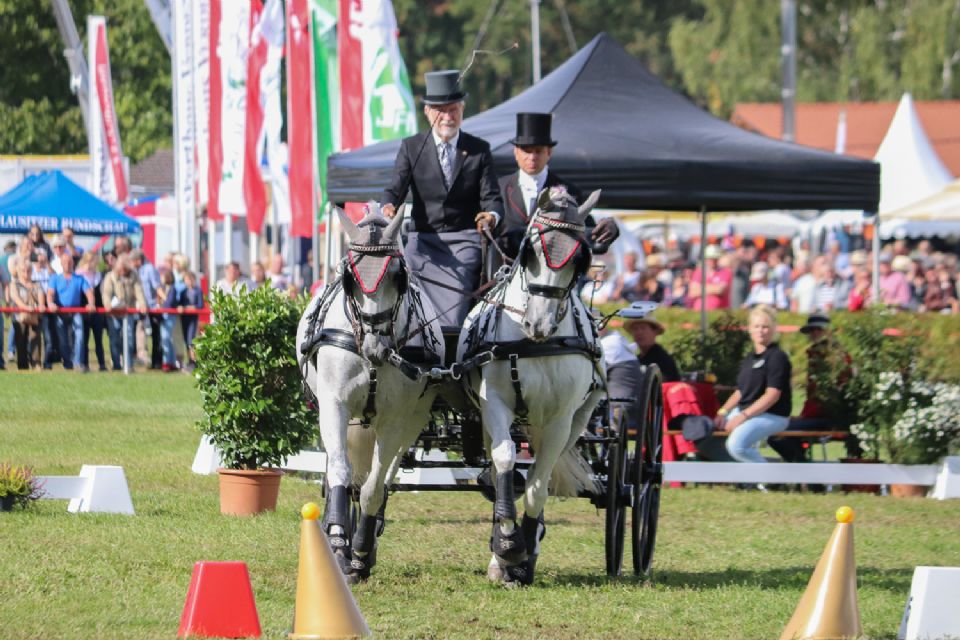 The U.S. Driving Team had a strong showing at the FEI Driving World Championships for Pairs in Drebkau, Germany, on September 11-15, finishing eighth in a field of 16 nations. Hungary claimed the gold medal, with the Netherlands taking silver and Germany collecting bronze.
The U.S. Driving Team of Jacob Arnold, James Miller, and Steve Wilson got off to a strong start, standing fourth after the dressage. After a solid marathon day, the team was in fifth, and at the conclusion of the cones phase on the final day, they stood in eighth. Arnold, who has represented the U.S. Driving Team in World Championships for Singles twice and in the World Championships for Pairs once before, was the top-placing U.S. driver individually as he finished in 22nd.
"I was really happy with how our teams all ended up," said Arnold. "It was James Miller's first championship and he did a really good job all three days. Steve Wilson is my employer and supporter; the horses I'm competing are owned by Steve. He was nice enough to let me drive, and he did a great job as well. It was a really fun week."
A last-minute horse substitution meant Arnold had to re-think which horses he used for each phase. "I was really happy with my dressage test; that was the phase I've been focusing on this year," said Arnold, who drove Wilson's 10-year-old KWPN gelding Endorro and Wilson's 15-year-old KWPN gelding Mr. Lindsey G in the dressage and placed sixth individually in that phase. "I was very happy to be sixth in the world with a 45.71. I've worked a lot with the trainers we have, Mieke van Tergouw and Claudio Fumagalli, and they've done wonders."
Wilson is a four-time current USEF Advanced Pairs National Champion and made his championship debut in 2017 at the FEI Driving World Championships for Pairs in Lipica, Slovenia. In Drebkau, he drove with confidence in all three phases. "What a fantastic experience—a highlight of my life," said Wilson. "I started driving 11 years ago and my motivating goal was to make the U.S. Driving Team. Competing with James Miller and Jacob Arnold was a real honor. They are both talented horsemen. I have some disappointment that we didn't place higher, but I'm full of pride that we did place eighth, only a few points out of the medals."
In his first World Championship performance, Miller drove into the top 20 individually in dressage and finished his weekend with the best U.S. cones result. "I have a lot of confidence in cones, and I had a good feeling going into the day. It was a tough course, but I knew that my training has been going well, so I was able to produce a good result," said Miller.
Miller has played polo and is married to veteran driver Misdee Wrigley-Miller, but he's only been driving competitively for two years. "I've been around the sport for quite some time, but I've only competed myself for a short time. Being able to compete alongside Steve and Jacob certainly made it a worthy experience. I think it's great to be able to compete for the United States, and I think our sport is wide-open for new competitors. I would encourage anyone who has any aspirations in horse sport that they look at American driving as an opportunity not only to develop in a new equestrian sport, but also as a chance to possibly represent their country."
"We all worked great as a team," said Arnold. "I think everyone really pulled together and worked together. The team vet, Jonathan Furlong, did a great job. Our crew we had taking care of the horses—grooms and navigators—were all wonderful; we couldn't have done it without them. It was a good team dynamic."
Full team results and full individual results.
Stay up to date by following USA Driving on Facebook and US Equestrian on Instagram and Twitter. Use #USADriving.
The USEF International High Performance Programs are generously supported by the USET Foundation, USOC, and USEF sponsors and members.