Vermont Summer Festival Returns with Hunter, Jumper, and Equitation Offerings
May 14, 2016 - East Dorset, Vermont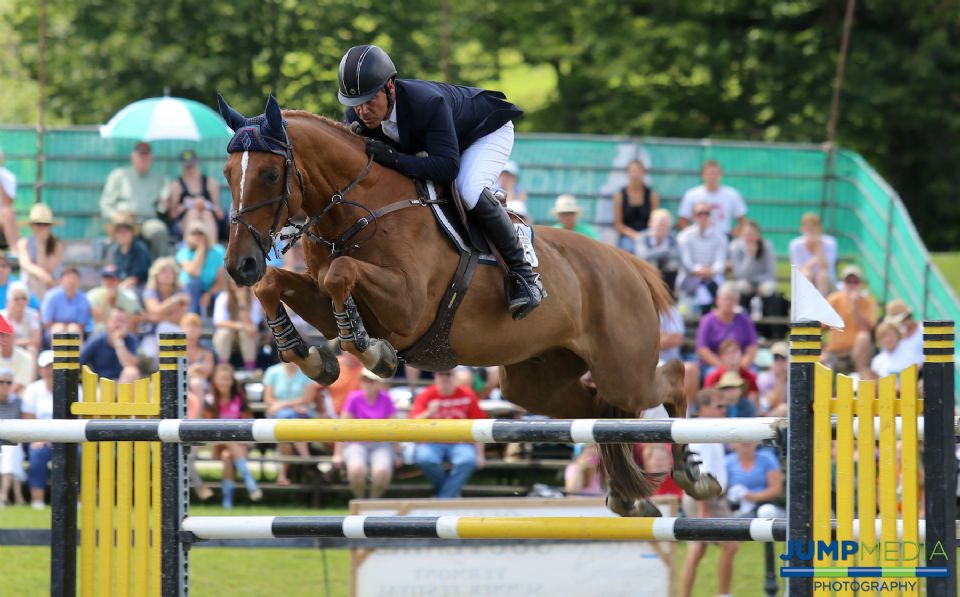 Jimmy Torano and Ramses du Lavillon competing at The Vermont Summer Festival in 2015.
Photo by Jump Media
The Vermont Summer Festival will return to Southern Vermont in 2016 with exciting offerings in every ring for hunter, jumper, and equitation riders alike. The Vermont Summer Festival runs for six consecutive weeks from July 5 through August 14, 2016, at Harold Beebe Farm in East Dorset, VT.
Known as a popular show for equitation riders, The Vermont Summer Festival has transformed into a bootcamp for year-end finals thanks to the introduction of Equitation Tuesdays. On Tuesday of each week, The Vermont Summer Festival hosts some of the country's top equitation riders as they set their sights on prestigious finals under the direction of top trainers including the likes of North Run's Missy Clark, Val Renihan of Findlay's Ridge, and Bobby Braswell of Terrapin Hill Farm to name a few.
"Historically, Vermont has attracted the highest level equitation riders," said Vermont Summer Festival Technical Coordinator, Billy Glass. "We created the Equitation Tuesday to provide a vehicle for those high-level riders to get mileage and qualify for finals."
Popularity is not limited to just the equitation rings at The Vermont Summer Festival. Robust hunter and jumper schedules makes Vermont the perfect place to settle for the summer season. The Vermont Summer Festival is a proud member event of the Show Jumping Hall Of Fame, the Marshall & Sterling League, and the North American League (NAL) while offering more than $750,000 in prize money.
Highlighting ringside action this summer in Vermont, the first five Saturdays will feature a $30,000 Grand Prix. The $50,000 Vermont Summer Celebration Grand Prix will close the season on a high note during the sixth and final week of competition on Saturday, August 13. High-performance jumpers will also enjoy the weekly $10,000 Open Welcome Stake, presented by Manchester Designer Outlets, each Thursday.
Sundays will feature the NAL Junior/Amateur-Owner Jumpers Classic, as well as Marshall & Sterling Children's and Adult Jumper Classics, giving junior, amateur and adult jumpers their turn in the grand prix ring.
For hunters, the $5,000 3'3" NEHJA Hunter Derby Qualifier will return to Thursdays for the first five weeks, culminating with a $15,000 offering on Thursday, August 11.
A familiar face within both the hunter and jumper rings at Vermont, Jimmy Torano of Wellington, FL, has been showing at The Vermont Summer Festival since 1987 and is already looking forward to his return in 2016.
"It's an enjoyable, laid-back atmosphere," said Torano. "There is a lot for young horses to do and is the perfect place to start them at the grand prix level. Aside from the show, the surrounding town is nice with really great restaurants. We actually have a house here, so it is a second home for us."
Torano and his wife Danielle, an amateur competitor herself, will make the 2016 Vermont Summer Festival a family affair with their two children, Natalia and JJ, also competing in Vermont.
Entries for all six week of The Vermont Summer Festival close June 10. To view the 2016 prize list, click here. Please e-mail or visit www.vt-summerfestival.com for more information about the Vermont Summer Festival.