Vermont Summer Festival Welcomes Returning Sponsors
June 17, 2016 - East Dorset, Vermont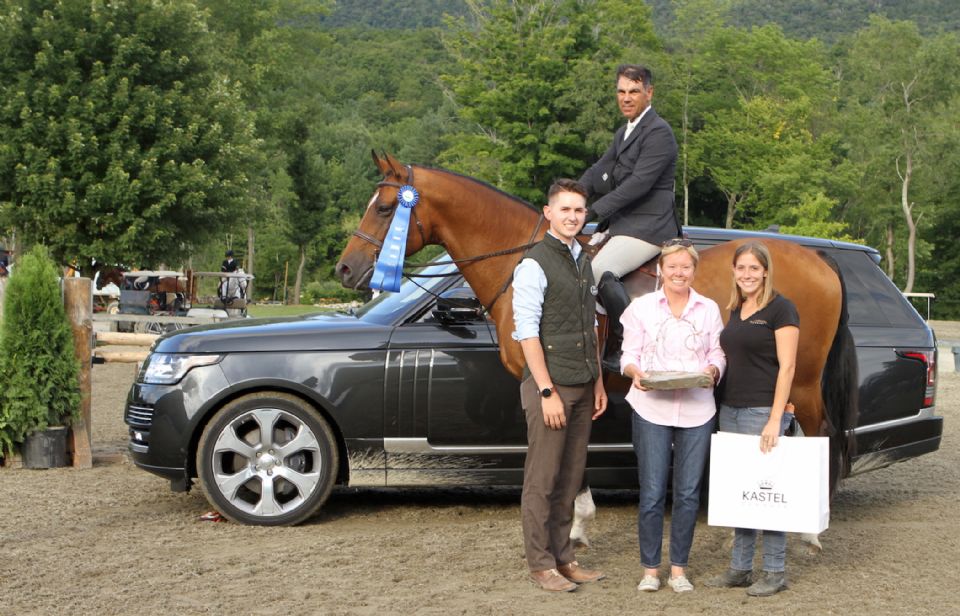 Jimmy Torano and Lion Hearted are presented as the winners of the $15,000 NEHJA Performance Stake Hunter Derby, sponsored by Land Rover Experience. Sebastien Dutton (left) of Land Rover Experience made the presentation alongside horse owners Laurie and Kayla Paternoster of Beacon Woods at the 2015 Vermont Summer Festival.
Photo by David Mullinix Photography
Local and industry sponsors will continue their steadfast support of the Vermont Summer Festival running from July 5 through August 14, 2016, at Harold Beebe Farm in East Dorset, VT.
Eastern Hay, Equinox Resort, Land Rover Experience Driving School, Purina Horse Feed, and Johnson Horse Transportation will once again contribute their support to the 2016 Vermont Summer Festival, helping the six-week circuit offer more than $750,000 in prize money to its competitors.
"Without the continued support from our sponsors, we would not be able to provide our exhibitors with an unmatched experience," said Ruth Lacey, Marketing Director of the Vermont Summer Festival. "While we look forward to welcoming sponsors from within the equine industry back to Vermont each year, it is also very special for us to have such unwavering sponsorships from the Manchester community. We thank all of our sponsors for helping to make the Vermont Summer Festival a favorite among North American riders."
One such sponsor is Equinox Resort, a Vermont Summer Festival supporter since 2001. This year, Equinox Resort will present the $30,000 Grand Prix on Saturday, July 23. Nestled on 1,300 acres between the Green and Taconic Mountains, Equinox Resort was established in 1769. The expansive property features 195 rooms and suites, a range of restaurants to satisfy everyone's palate, a beautifully serene spa, and a golf course voted 'Best in State' by Golfweek. Equinox Resort is a comfortable place for rider, trainers, grooms, and spectators alike to spend their time away from the horse show.
Embarking on their third year of sponsorship at the Vermont Summer Festival, The Land Rover Experience Driving School will once again present the $15,000 NEHJA Performance Hunter Derby on Thursday, August 11, to conclude a six-week series of hunter derbies. The Land Rover Driving Experience School, located at the Equinox Resort in Manchester Village, VT, offers customized adventure activities and off-road instruction for those wishing to have a true outdoor experience during their visit. Land Rover has long been a favorite among horse enthusiasts around the world, and the company is excited to once again partner with the Vermont Summer Festival, according to David Nunn, Land Rover Experience Location Manager.
Equine industry sponsors returning to the Vermont Summer Festival include Eastern Hay, the exclusive provider of Purina Horse Feed at the Vermont Summer Festival. Eastern Hay will also present the first five weeks of $5,000 Hunter Derbies.
An exhibitor favorite for several years, Purina Horse Feed has again been named the Official Horse Feed of the 2016 Vermont Summer Festival as well as presenting sponsor of the $30,000 Grand Prix on Saturday, July 30.
With over two decades of experience, Johnson Horse Transportation is the Official Horse Carrier of the 2016 Vermont Summer Festival, and will be the title sponsor of the $30,000 Grand Prix on July 9. Johnson Horse Transportation will be responsible for delivering horses from around the country safe and sound to southern Vermont, providing top-notch service by a team that takes great care in transporting horses with the same love and attention they receive at their home barns.
For over 20 years, the Vermont Summer Festival has attracted exhibitors and their families to the Manchester region in southern Vermont for great competition experience in an ideal summer setting. The Vermont Summer Festival is a proud member event of the Show Jumping Hall Of Fame, the Marshall & Sterling League, and the North American League (NAL). Please e-mail or visit www.vt-summerfestival.com for more information about the Vermont Summer Festival.