Young Dressage Star Christian Simonson Earns USET Foundation's 2023 Lionel Guerrand-Hermès Trophy
January 23, 2023 - Gladstone, NJ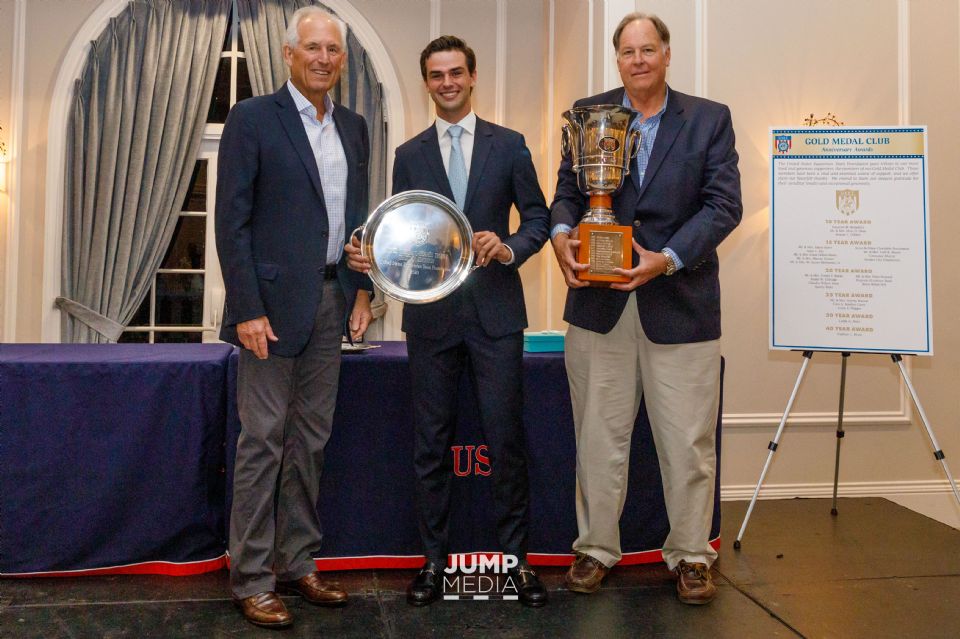 Christian Simonson received the USET Foundation's 2023 Lionel Guerrand-Hermès Trophy from the USET Foundation's Chairman, President, and CEO W. James McNerney, Jr. (left), and the USET Foundation's Vice President of the Board of Trustees William H. Weeks (right) at a special ceremony in Wellington, Florida.
Photo by Jump Media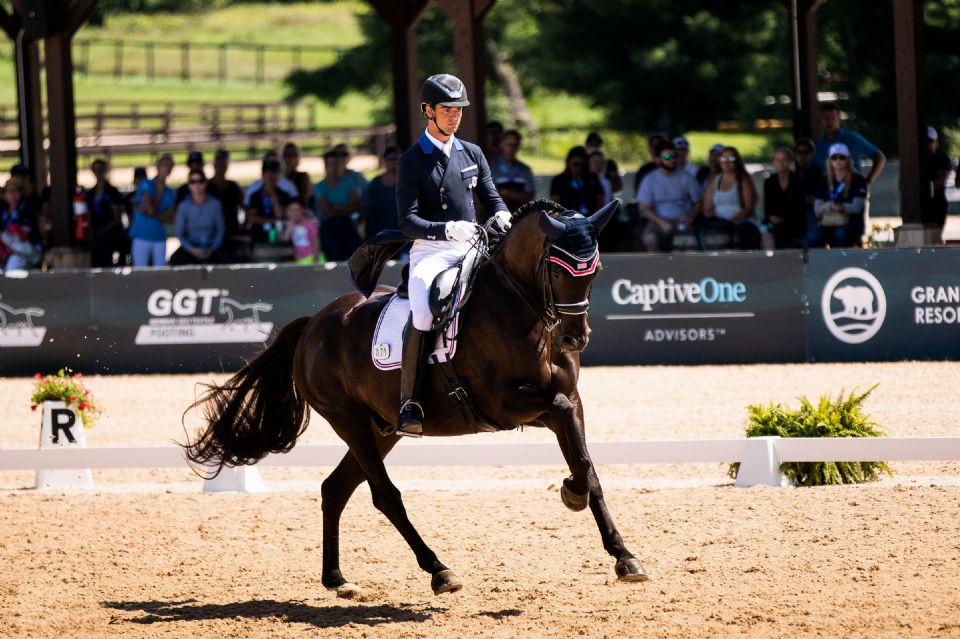 Christian Simonson and Zeaball Deawind were three-time gold medalists at the 2021 FEI North American Youth Championships.
Photo by KTB Creative Group
Christian Simonson of Ventura, California, received the United States Equestrian Team (USET) Foundation's 2023 Lionel Guerrand-Hermès Trophy at a special ceremony during the USET Foundation's Gold Medal Club Reception held on January 22, 2023, at The Wanderer's Club in Wellington, Florida.

Each year, the Lionel Guerrand-Hermès Trophy is awarded to a junior or young rider in an Olympic discipline who exemplifies the Team's ideals of sportsmanship and horsemanship.

Simonson, 20, who has amassed an impressive list of accolades as a young rider, joins an elite group of equestrians that have successfully represented the U.S. on an international level.
"It is truly an honor to receive the Lionel Guerrand-Hermès Trophy and join an esteemed group of athletes that have been recognized for sportsmanship and horsemanship," stated Simonson. "I sincerely want to thank those around me including my trainer Adrienne Lyle and fellow rider Katie Duerrhammer. They are incredible role models that demonstrate what horsemanship truly means. Without them, this would not be possible. I plan to uphold the ideals of the USET Foundation and continue the journey of learning from both human and horse."

Taking advantage of the US Equestrian (USEF) High Performance Pathway, Simonson competed at the 2017 and 2018 North American Youth Championships (NAYC) earning the team gold medal and individual silver medal in the Junior division in 2017 and the team silver medal in the Young Rider division in 2018. Simonson was also awarded the United States Dressage Federation (USDF) bronze and silver medals in 2017.

More recently, in 2021, he won triple gold in the Young Rider division at NAYC riding Zeaball Diawind and he was also selected to represent the U.S. at the Future Champions Nations Cup in Hagen, Germany, where the team took home bronze. In the summer of 2022, Simonson and Son of a Lady had a third-place podium finish in the Young Rider Freestyle at CHIO Aachen in Germany.
Simonson credits the formative opportunities offered along USEF's High Performance Pathway for helping him progress and find success as a young rider.
"My journey along the High Performance Pathway has been extremely worthwhile," he explained. "These initiatives implemented by the USET Foundation, USEF, and Discover Dressage, including the European Tour and NAYC, have provided me with invaluable experiences.
"Team experiences are rare in our sport," he continued. "These opportunities have shown me how vital it is to develop strong and supportive team dynamics in order to succeed on the international stage against the best in the world. These events have prepared me to represent my country, hopefully at the highest level. Without the USET Foundation's initial support, this wouldn't be possible."

Simonson recently made the transition to the professional ranks and looks forward to showing in the FEI Young Rider and Small Tour divisions this winter at the Adequan® Global Dressage Festival in Wellington, Florida. In the near term, he hopes to be selected for team outings in Europe as well as make his debut in the Under 25 division with his new mount Harmony's Duval. Longer term, Simonson is focused on learning as much as possible with the goal of one day competing on senior teams at major venues such as the FEI World Cup™ Finals and the Olympic Games.
Simonson recognizes that the journey isn't always easy and encourages other young equestrians with big aspirations to stay focused.
"If I were to give advice to a junior or young rider, it would be to have resilience," he said. "There are constant challenges. Not every ride will be perfect, and that is okay! You have to enjoy the process and be grateful for the small wins and successes. Surround yourself with a supportive team whom you want to emulate, as they will be an essential part of your journey. Never stop learning or listening; there is always something to improve or work on when it comes to riding. Lastly, and most importantly, always place your horse's welfare first, no matter what. Horses are the reason we are here, and they give their all to us."

The Lionel Guerrand-Hermès Award was established in 1983 by Patrick Guerrand-Hermès in memory of his son, Lionel, an Olympic hopeful trained by U.S. Eventing Coach, Jack LeGoff, who was tragically killed in an automobile accident at the age of 18. A perpetual trophy designed by Patrick Guerrand-Hermès is inscribed annually with the winner's name and permanently displayed at the USET Foundation's headquarters in Gladstone, New Jersey.
Previous Recipients:
1983 – Mark Leone
1984 – Jeffery Welles
1985 – Holly Mitten
1986 – Gregory A. Best
1987 – Susanne Owen
1988 – Christopher Kappler
1989 – Mollie Bliss
1990 – Kim Keenan
1991 – McLain Ward
1992 – Abigail Lufkin
1993 – Mark Combs
1994 – Gabriella Salick
1995 – Megan Johnstone
1996 – Jonathan Elliot
1997 – Alison Firestone
1998 – Bruce Davidson Jr.
1999 – Chad Geeter
2000 – Elise Haas
2001 – Marilyn Little
2002 – Clark Montgomery
2003 – Will Faudree
2004 – Kristin Schmolze
2005 – Brianne Goutal
2006 – Katie Hamilton
2007 – Carolyn Kelly
2008 – Hillary Dobbs
2009 – Laura Noyes
2010 – Jennifer Waxman
2011 – Tiana Coudray
2012 – Lucy Davis
2013 – Reed Kessler
2014 – Katie Dinan
2015 – Lillie Keenan
2016 – Lucy Deslauriers
2017 – Chloe Reid
2018 – Jennifer Gates
2019 – Daisy Farish
2020 – Brian Moggre
2021 – Hannah Irons
2022 – Mimi Gochman