Dr. Sarah Puchalski Leads Palm Beach Equine Clinic to the Forefront of Diagnostic Sport Horse Imaging
February 18, 2016 - Wellington, FL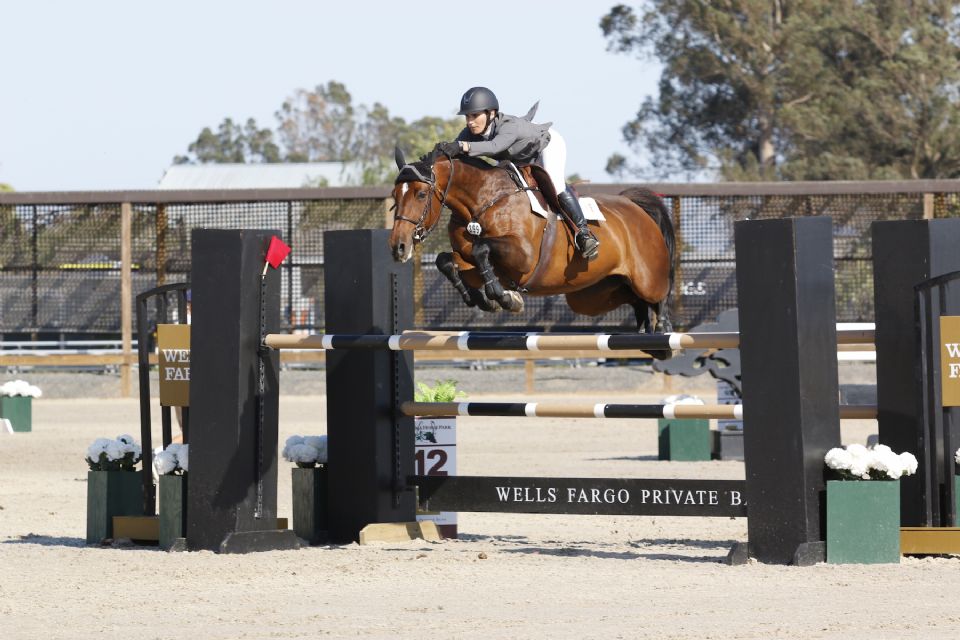 Palm Beach Equine Clinic (PBEC) is one of the few equine hospitals in the country to have a full-time radiologist on-site during season. With the addition of Dr. Sarah Puchalski to their staff, as well as the installation of the most state-of-the-art imaging equipment, PBEC has become a leader in diagnostic sport horse imaging.


Dr. Puchalski is one of very few board certified equine Radiologists in the country and one of the most high profile of those in the world. Early in her career, Dr. Puchalski earned the respect of the best in the industry and strives to continue to contribute advances for equine sports medicine and diagnostic imaging.
Dr. Puchalski's job takes extensive training and a high level of specialization to properly review diagnostic imaging, including MRIs and Nuclear Scintigraphy bone scans to produce written reports for referring veterinarians. In addition to her full-time position with PBEC, she reads cases from all over the world on a daily basis. Many veterinarians and owners request to consult with her for a second opinion.
Potential for Growth
After eight years working as a faculty member at the University of California Davis, Dr. Puchalski decided to take a job with Palm Beach Equine Clinic in December 2013. She had been consulting on PBEC cases for several years prior to the move and felt it was a natural progression. PBEC made huge advances to their in-house imaging technology under her direction.
Almost 30 years ago, Palm Beach Equine Clinic bought the first ultrasound for equine practice in South Florida. Twenty-five years ago, PBEC installed the first gamma ray camera to perform bone scans (Nuclear Scintigraphy). Twenty years ago, PBEC developed Computed Radiography (CR) for horses. Currently, PBEC has the most advanced state-of-the-art surgical and diagnostic imaging equipment available. Onsite, they have a Hallmarq standing MRI unit, MiE gamma ray camera, Digital Radiography, Video Endoscopy, and a bevy of additional diagnostic equipment.
"PBEC has a great case population and great equipment, which is a huge bonus for someone doing what I do," Dr. Puchalski stated. "The equipment is exceptional, the technical staff is excellent, and the case population of the region is obviously amazing."


Palm Beach Equine Clinic is dedicated to providing exceptional veterinary service for the horse, and Dr. Puchalski proudly supports that mission through her work. She diagnoses issues from complicated images that assist veterinarians in the proper, effective treatment plan. She is able to provide a second opinion on routine diagnostic techniques such as radiographs and ultrasounds. She is also able to provide diagnostic reports for pre-purchase examinations based on the imaging submitted.


For Dr. Puchalski, the potential for future growth in diagnostic imaging services at PBEC is huge.


"There are new technologies coming into the market for imaging all of the time and PBEC will remain abreast of those advances," Dr. Puchalski said. "Going forward, we are looking to acquire new equipment, and I think it is fair to say that the hospital will see an increasing role with different kinds of cases. There are a lot of changes in the market that occur very quickly, so we are always trying to figure out the best thing for this practice."



Finding Time to Ride
In addition to working with PBEC locally and assisting veterinarians around the world, Dr. Puchalski competes her Oldenburg mare, Lucia de Luxe, in the Medium and High Amateur-Owner Jumpers.


Dr. Puchalski splits her time throughout the year between her homes in California and Florida. She is based in Wellington for about five months, and enjoys competing at the Winter Equestrian Festival, for which PBEC serves as the official veterinarians.
Although her horse is currently injured, Dr. Puchalski normally rides every day and enjoys the flexibility of her job that supports her riding schedule.
"One of the best parts of what I do is the flexible schedule," she admitted. "I try to ride every day and fit everything else around it. I can really do my job from anywhere. It can be completely web-based, which I love."
"First thing in the morning, I check into the clinic and check on the imaging cases for the day," Dr. Puchalski detailed. "I usually read some MRI and Nuclear Scintigraphy cases and then go ride mid-morning. Then I come back and read cases for my other clients. PBEC is a big chunk of my work, but a lot of my cases also come from global clients; I have clients all over the world."
From a Small Town to Big Dreams


Dr. Puchalski grew up on a small-town acreage in British Columbia and started riding at a very young age. She got her first pony when she was four years old and continued riding at a three-day eventing barn next door to her home. Early on, Dr. Puchalski knew that she wanted to be a veterinarian. Dr. Puchalski graduated with a BS in Biology from Simon Fraser University in British Columbia, and completed her Doctorate of Veterinary Medicine from the University of Saskatchewan in Saskatoon. She interned in Field Service and Sports Medicine at New Bolton Center at the University of Pennsylvania, and completed her residency in Radiology at UC Davis in 2005.
During her internship at the New Bolton Center, Dr. Puchalski decided to pursue a career as a Radiologist thanks in part to one of her valued mentors, Virginia Reef, at the University of Pennsylvania.

"
Dr. Reef was a huge influence on my career direction at that stage," Dr. Puchalski noted. "Ginny was an influence in me becoming a radiologist, and then as a radiologist, I was mentored by Tim O'Brien at UC Davis – he is a founding father of equine radiology."



Continuing to Have an Influence


Prior to joining PBEC in 2013, Dr. Puchalski spent eight years on the faculty of UC Davis providing research instruction and clinical service. Dr. Puchalski has published many scientific articles in diagnostic imaging and equine injuries which was a huge component of her early career.

"
Once you have published research, the spinoff is then to publish in textbooks and other literature, so I have done a number of chapters for major lameness and diagnostic imaging textbooks as well," Dr. Puchalski explained. "I have published more than 50 scientific articles and performed over 100 presentations all over the world on lameness diagnosis and diagnostic imaging in sport horses. I am currently trying really hard to still publish study results and be involved with universities, but also have a very busy private practice caseload."
Outside of work and horses, Dr. Puchalski enjoys the challenges of Crossfit. In addition to her time spent in Florida and California, she also spends several weeks every summer working and showing at Spruce Meadows in Calgary, Alberta, Canada.
Dr. Puchalski is an integral part of the team at Palm Beach Equine Clinic and will continue to serve PBEC's clientele as diagnostic imaging advances into the future.
Palm Beach Equine Clinic provides experience, knowledge, availability, and the very best care for the horses of Wellington. Have them be a part of your team! To find out more, please visit www.EquineClinic.com or call 561-793-1599. "Like" them on Facebook to follow along on what happens in Wellington and more, and get news from their Twitter!

More About Dr. Sarah Puchalski
Dr. Puchalski is a Diplomate of the American College of Veterinary Radiology whose specialty includes the interpretation of radiographs in addition to other diagnostic imaging techniques.

Dr. Puchalski is from Davis, CA, where she was an associate professor at the University of California in their Department of Surgical and Radiological Sciences. In 1995, she received her BSc in biology from Simon Fraser University in British Columbia, and in 1999 earned her Doctor of Veterinary Medicine from the University of Saskatchewan in Saskatoon, where she received the ACVS Outstanding Large Animal Surgery Student award that same year. Dr. Puchalski interned in Field Service and Sports Medicine at New Bolton Center at the University of Pennsylvania in 2001, and completed her residency in radiology at UC Davis in 2005.
Dr. Puchalski has devoted her career to teaching and improving equine health through the development and refinement of diagnostic techniques. In 2011 she contributed to two books on the topic of equine lameness. Her recent contributions include chapters in Diagnosis and Management of Lameness in the Horse edited by Ross and Dyson, as well as in Veterinary Computed Tomography and the Clinical Veterinary Advisor: The Horse, Equine Colic and Veterinary Clinics of North America. She also has contributed close to 50 scientific articles concerning the diagnosis of equine lameness to many periodic journals, including Veterinary Radiology & Ultrasound: the official journal of the American College of Veterinary Radiology and the International Veterinary Radiology Association; Veterinary Pathology; Equine Veterinary Journal; the American Journal of Veterinary Research; Equine Veterinary Education; Journal of the American Veterinary Medical Association; and Journal of Veterinary Internal Medicine.