Manchester Designer Outlets Celebrates 10th Year of Sponsorship at the Vermont Summer Festival
June 12, 2015 - East Dorset, Vermont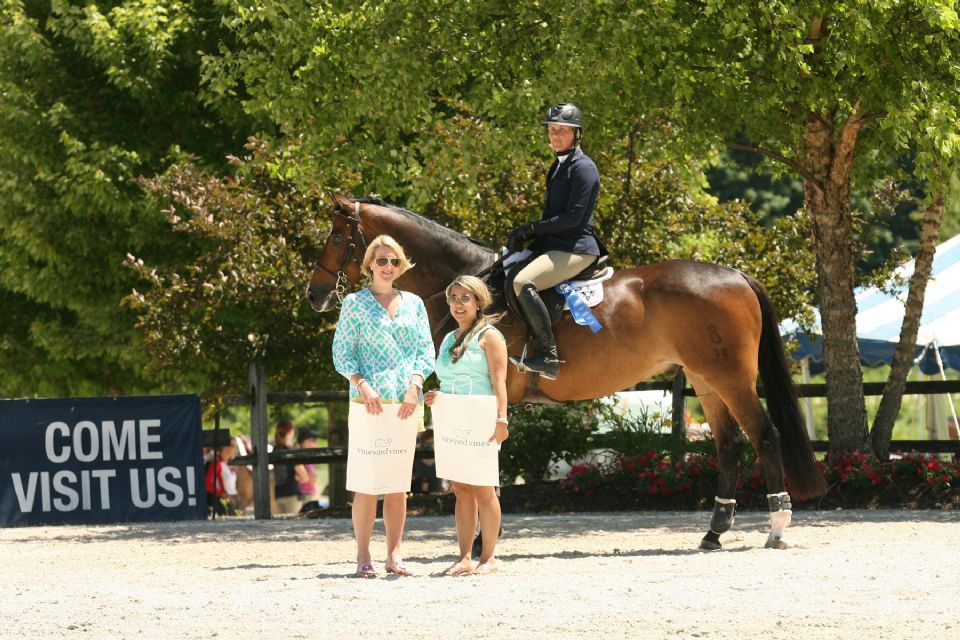 Molly Healy and Janet Kincaid, representing Vineyard Vines, with Amanda Flint, winner of the $10,000 Vineyard Vines Open Welcome, presented by Manchester Designer Outlets, at the 2014 Vermont Summer Festival.
Photo by David Mullinix Photography
For the past 10 years, Manchester Designer Outlets and the retail brands it represents have been steadfast supporters of the Vermont Summer Festival. In 2015, Manchester Designer Outlets returns to present the $10,000 Open Welcome Stake Series held each Thursday.
Thanks in part to Manchester Designer Outlets, the Vermont Summer Festival, which runs from June 30 through August 9, 2015, at Harold Beebe Farm in East Dorset, VT, will offer more than $750,000 in prize money, making it the richest sporting event based on purse in the state of Vermont.
"For 10 years, various Manchester Designer Outlet brands have joined together in sponsoring the Open Welcome Stake Series," said Ruth Lacey, Marketing Director of the Vermont Summer Festival. "Their support means that the weekly winner of the Open Welcome Stake not only earns their prize check, but also a $1,000 gift check from that week's sponsoring brand."
The $10,000 Open Welcome Stake, presented by Manchester Designer Outlets, will be held in the Grand Prix Ring each Thursday throughout the six weeks of competition. Brand sponsors for 2015 include New Balance, Brooks Brothers, Kate Spade, Vineyard Vines, NYDJ, and Overland, all available at Manchester Designer Outlets. Other contributing brands include the Vermont Bird Place, Theory and Marimekko. For more information on Manchester Designer Outlets, visit www.manchesterdesigneroutlets.com/our-stores.
"Manchester Designer Outlets has consistently stepped up to the plate to support the horse show," added Lacey. "In return, the exhibitors are shopping in all the great Manchester Designer Outlets stores, which benefits the broader Manchester community."
Manchester Designer Outlets offers designer label fashions for both men and women with savings of up to 70 percent. In addition to offering some of the newest fashion trends, there are also unbeatable deals on luxury home furnishings, gifts and stylish accessories. The combination of culture and style, while showcasing the best of Manchester, makes for an enjoyable and relaxing shopping experience for those who visit.
According to Lana Hauben of Manchester Designer Outlets, expansions and plans are underway to enhance the summer shopping experience. A new luxury hotel deemed Taconic Hotel, and American brand Talbots, in addition to a roster of special events, will be ready just in time for the arrival of equestrians this July.
"With at least two street fairs planned and the August Moon Ball at the Southern Vermont Arts Center on August 8th, visitors and residents alike can look forward to great food and entertainment, as well as the premier big band Vermont Jazz Ensemble providing music to dance the night away," said Hauben. "With beautiful gardens, cultural events, music and entertainment, and great shopping, Manchester is a great choice for summer."
For over 20 years, the Vermont Summer Festival has attracted exhibitors and their families to the Manchester region in southern Vermont. Known for its wide variety of area amenities including restaurants, outdoor activities, and unlimited shopping opportunities, Manchester-area businesses warmly welcome horse show competitors to the area each summer.
Highlighting the action at the 2015 Vermont Summer Festival, the first five Saturdays will feature a $30,000 Grand Prix. The $50,000 Vermont Summer Celebration Grand Prix will close the season during the sixth and final week of competition on Saturday, August 8.
Please e-mail or visit the website for more information about the Vermont Summer Festival.