WIHS Regional Horse Show and USHJA Zone 3 Finals Host Top Competition at Prince George's Equestrian Center
October 19, 2015 - Washington, DC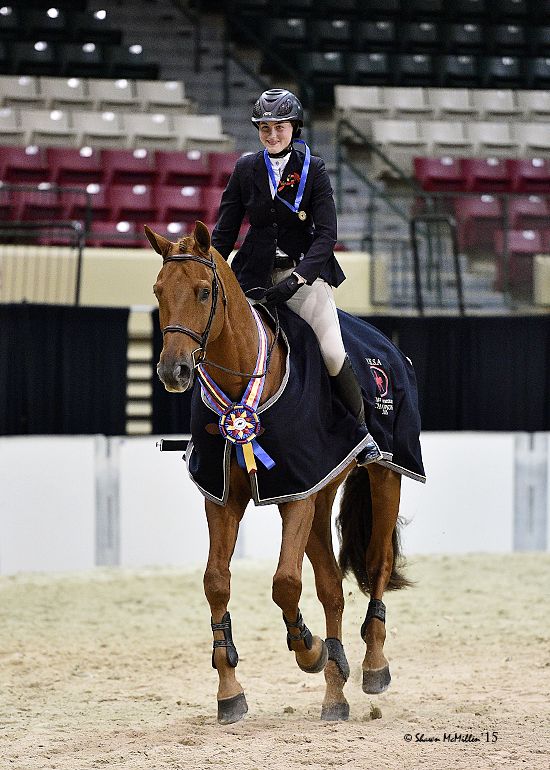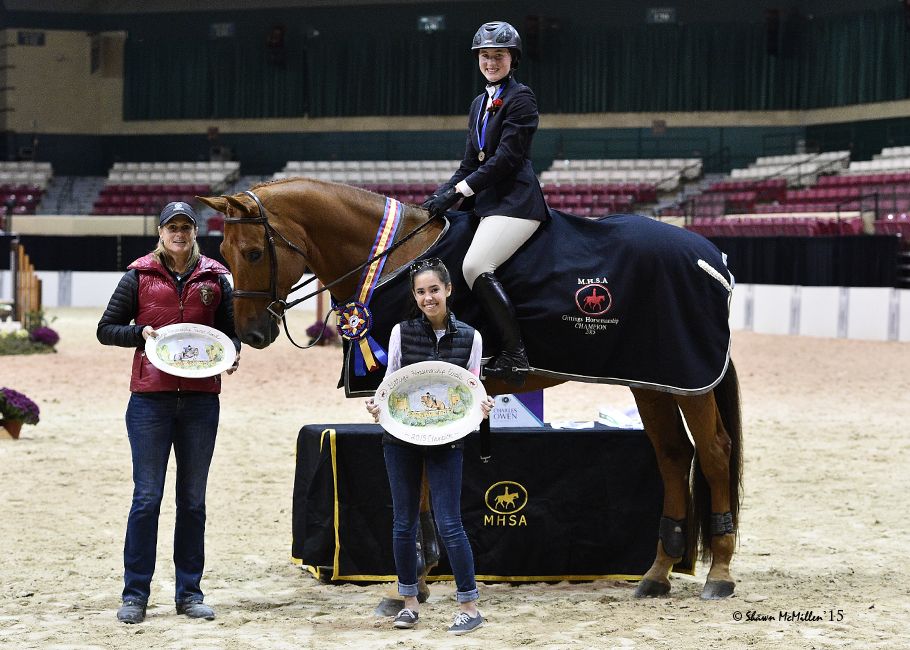 The 2015 Washington International Horse Show (WIHS) hosted its Regional Horse Show in conjunction with the USHJA Zone 3 Finals October 16-18, 2015, at Prince George's Equestrian Center in Upper Marlboro, MD. The competition leads up to the 57th annual Washington International Horse Show, which runs this week, October 20-25, at Verizon Center in downtown Washington D.C.
The regional competition gives local riders a chance to qualify to compete in the WIHS Championship Finals in the children's and adult hunter and jumper divisions. The WIHS Championship Finals will feature the $10,000 WIHS Children's Hunter Championship and the $10,000 WIHS Adult Hunter Championship on Tuesday, October 20. The $10,000 WIHS Children's Jumper Championship and the $10,000 WIHS Adult Jumper Championship will both be held on Wednesday, October 21.
Tom Blankenship managed this weekend's WIHS Regional Horse Show and saw an excellent turnout of competitors and spectators for the annual event.
"Thank you to everyone who made this year's WIHS Regional Horse Show and USHJA Zone 3 Finals such a great success," Blankenship acknowledged. "Entries were fantastic, the weather was beautiful, and many of the region's top horses, riders and trainers were in attendance. We had a lot of fun and saw some impressive competition."
Eighteen-year-old Devan Graham, of Chevy Chase, MD, was the big winner in the weekend's MHSA Gittings Horsemanship Finals. Graham rode Sandro Sky, her eight-year-old Oldenburg gelding, to victory with the help of trainer Jonelle Mullen. Second place honors were awarded to Lauren Rachuba aboard Equibrokers LLC's Aoki. Jacqueline Watts finished third riding her own Color Up, and Madeline McManus placed fourth aboard her own Invesco.
Graham has been riding for eight years, and has competed in the Gittings Horsemanship Finals several times, but noted that this year was definitely her best.
"I have been doing the equitation for the past three years, mainly in Virginia, and then the past two or so years I have moved up to the Maclay and all of the bigger equitation classes," Graham noted. "To win this is very exciting. We always do the Gittings Finals, but for some reason I have always bombed them, so it was nice to come back and redeem myself after a few years of struggle."
Graham's mount, Sandro Sky, is a horse that she owns herself and imported from Germany this past winter.
"He just started doing the equitation and he has been absolutely perfect. He is the best horse in the world," Graham praised.
The pair completed their first round over fences and then returned in the top four to test further as the judges made their final decisions.
"The first round, my horse was really good," Graham detailed. "He is huge and incredibly scopey, so the jumps are a little small for him. I tend to slack off a little, so he took very good care of me and made up for lots of my mistakes. He was an absolute saint the entire time and stepped in the ring like he lived there."
"For the test, he was not too excited about leaving the group out of the lineup," Graham continued. "I was a little worried about that, but once he got moving, he was absolutely perfect as usual."
"I thought the test was very appropriate for the group that was testing," she added. "There was a little bit of no-stirrup work on the flat at the end. It was a blind turn to the first jump and there was a trot jump. We usually struggle with trot jumps, but he just took care of me."
Graham also competes in the Junior Hunters and will be attending the main competition at Verizon Center to show her horse Delorian in the Large Junior Hunter 16-17 division later in the week.
Other equitation divisions in this weekend's WIHS Regional competition included the MHSA Adult Hunt Seat Final, which saw a win for Brittani Director aboard her own Rococo. Carly A. Ziegler and her own All 4 Play finished second, and Margot Sanger-Katz placed third riding Sandra L. Humenik's Tempelbach.
Ziegler then went on to win the VHSA Adult Amateur Medal with All 4 Play. Davina Pruitt-Mentle and Oye Como Va finished second, and Lauren B. Glickman placed third aboard Julia Ward's Marli GS.
In the VHSA Children's Medal, Rachel Ashe guided Katie Pittinger's Romero to victory. Chace Simmons finished second aboard Brooke Kemper's Snowbound, and Margaret Lebor placed third riding her own Wicklow.
Katherine G. Atherton aboard her own Stony Point's Dragon Top won the MHSA Children's Pony Medal. Olivia Brown earned second-place honors aboard Olivia Clelan's Puddle Jumper, and Codie Campbell jumped to third-place honors riding Catherine Black's Cruz Bay.
In the hunter divisions, Poetic Justis, owned and ridden by Brooke Cole, earned the championship tricolor in the Adult Amateur Hunter 18-35 Zone Finals. All 4 Play, owned and ridden by Carly A. Ziegler, finished in reserve.
In the Adult Amateur Hunter Over 35 Zone Finals, the championship was awarded to Cindy Schmidt's Surfs Up, ridden by Nicole Wood. Reserve honors went to Glyndon, owned and ridden by Patti Schindler.
The Children's Hunter Horse 14 and Under also hosted their Zone Finals over the weekend, with a championship win for Winsome, owned by Kathryn Vasquez and ridden by Hailey L. Griffin. Jack Graham rode Mary Elizabeth Cordia's Welcome to reserve honors.
In the Children's Hunter Horse 15-17 Zone Finals, Sophie Hecker guided her own Cheers to championship honors with Helen Ulrich and her own Broadway in reserve.
The Small/Medium Children's Hunter Pony Final presented its championship to Morgan Matlaga's Petite Syrah, ridden by Auriol Azzara. Sham's Loganberry, owned by Streett Moore and ridden by Aidan Dubin, finished in reserve.
The Large Children's Hunter Pony Zone Final was won by Mackay's Show N Tell, owned and ridden by Grace Frulla. Karen Zinkhan's Allstar was ridden to the reserve championship by Jordi Gray.
In the jumper divisions, the Children's Jumper Zone Finals saw a win for Devon Monroe aboard Wingman, with Caroline Solacoff and Shoshana Altschuler's Judgement Call in second and Yeardley Pendleton aboard Rolling Acres Farm's Magnanimo in third.
Jessica Matelis won the Adult Amateur Jumper Zone Finals riding her own Chador, with Bari Friedman and KEC Maximus in second and Cary Hundley riding Beste Intentions in third.
In the Pony Jumper Zone Finals, Victoria Hutcheson-De Michele owned all of the top three ponies and trained all of the top three riders. Megan De Michele finished first with Gracie Lou and second with Agripin Rudy. Ashley Kapinos placed third aboard Ruby Slipper.
Sarah Spire and her own RF Rovano Rex won the Low Children's Jumper Zone Final. Kaitlyn Nicely-Harvey guided her own Mischief Managed to second-place honors, and Andrea Russell jumped Ashley Foster's Nikita to the third place prize.
The Low Adult Jumper Zone Final saw victory for Alison Wichman riding Mary B. Schwab's Candide. Alexis Mierzwa finished second riding Nadeem Helfer's Image Maker, and Megan Fitzgerald placed third aboard Darprin Enterprises LLC's Affier.
The excellent competition in Upper Marlboro, MD, served as a precursor to this week's 57th annual Washington International Horse Show, featuring many of the nation's top horses and riders as well as some of the world's best international competitors. For more information, please visit www.wihs.org.
Tickets are available at the Verizon Center box office, online at www.Ticketmaster.com or by calling 1-800-745-3000. For group discounts, contact Verizon Center Group Sales at 202-661-5061. For more information on tickets and discounts for military, seniors and students, visit http://www.wihs.org/tickets/.
About WIHS, www.wihs.org
Established in 1958, the Washington International Horse Show is one of the most prestigious equestrian sporting events in the U.S. More than 26,500 spectators attend the six-day show, which includes Olympic-level competition along with community and charity events. More than 500 top horses and riders come to D.C. from all over the globe to jump for more than a half a million dollars in prize money. Event highlights include the $125,000 Longines FEI World Cup™ Jumping Washington, presented by Events DC, for the President's Cup (Saturday night), The Boeing Company Puissance high jump competition on Military Night (Friday) and Kids' Day (Saturday), a free, fun and educational community event. The Washington International Horse Show Association, Ltd. is a 501(c)(3) nonprofit charitable organization headquartered in Washington, D.C. WIHS is an official USEF Heritage Competition and is recognized as a Top 25 Horse Show by the North American Riders Group. WIHS is rated CSI4*-W by the Fédération Equestre Internationale, the world governing body for horse sports.