Meet Our Clients: Equine Elixirs
July 31, 2020 - Wellington, FL
Photo by Aaron Glanzberg
Equine Elixirs has become one of the most trusted equine supplement brands on the market. Founded by Elizabeth "Liz" Ehrlich, the company takes pride in creating all-natural, show-safe supplements that help combat a variety of health issues many horses face. It has been exciting to be a part of Liz's journey with Equine Elixirs over the past two years as she has launched four new products to join her flagship offering, Ulceraser®.
Liz grew up competing in the Northeast hunter/jumper circuit but took time off from riding when she began her career as a litigator in an international law firm in Manhattan. After a few years, she and her husband moved to Palm Beach County, FL, and she got back in the saddle with a warmblood mare named Bella. Dealing with Bella's health issues was what prompted Liz to launch her own business and focus on the world of equine supplements.
When Bella started showing symptoms of ulcers in 2016 such as pinning her ears while being groomed and becoming spooky and reactive under saddle, Liz used a course of omeprazole to heal the ulcers. But once Bella recovered, she knew she needed a product to keep her mare's digestive tract healthy in an effort to prevent further ulcers from developing. When Liz couldn't find what she needed, she decided to make her own. With her formidable legal research skills, Liz learned all that she could in order to develop Ulceraser and found the effects on Bella were remarkable: her spookiness went away, she was happy to be groomed, and no longer sulky under saddle. And, her dapples blossomed.
Part of what makes Liz and Equine Elixirs so unique is her diligent customer service and her close relationships with the riders, trainers, and barn managers who use her products. She gets invaluable feedback from them on the products in their testing phase and is able to bring products to the market that have been used and recommended by the best in the business.
"I love chatting with our clients about the products," says Liz. "Many of these people were my riding heroes growing up. Now I talk to them on a regular basis about horse health and how to address (through a nutritional approach) certain problems that their horses face. That type of thing never gets old!"
In 2019, Equine Elixirs released Positude®, an all-natural, show-safe hormone support product for mares, stallions, and geldings. In July 2020, two additions to its all-natural, forage-based product line were announced: Immunox® and Calmakazi®. Immunox provides immunity and antioxidant support and Calmakazi is a calming supplement that supports the horse's nervous system.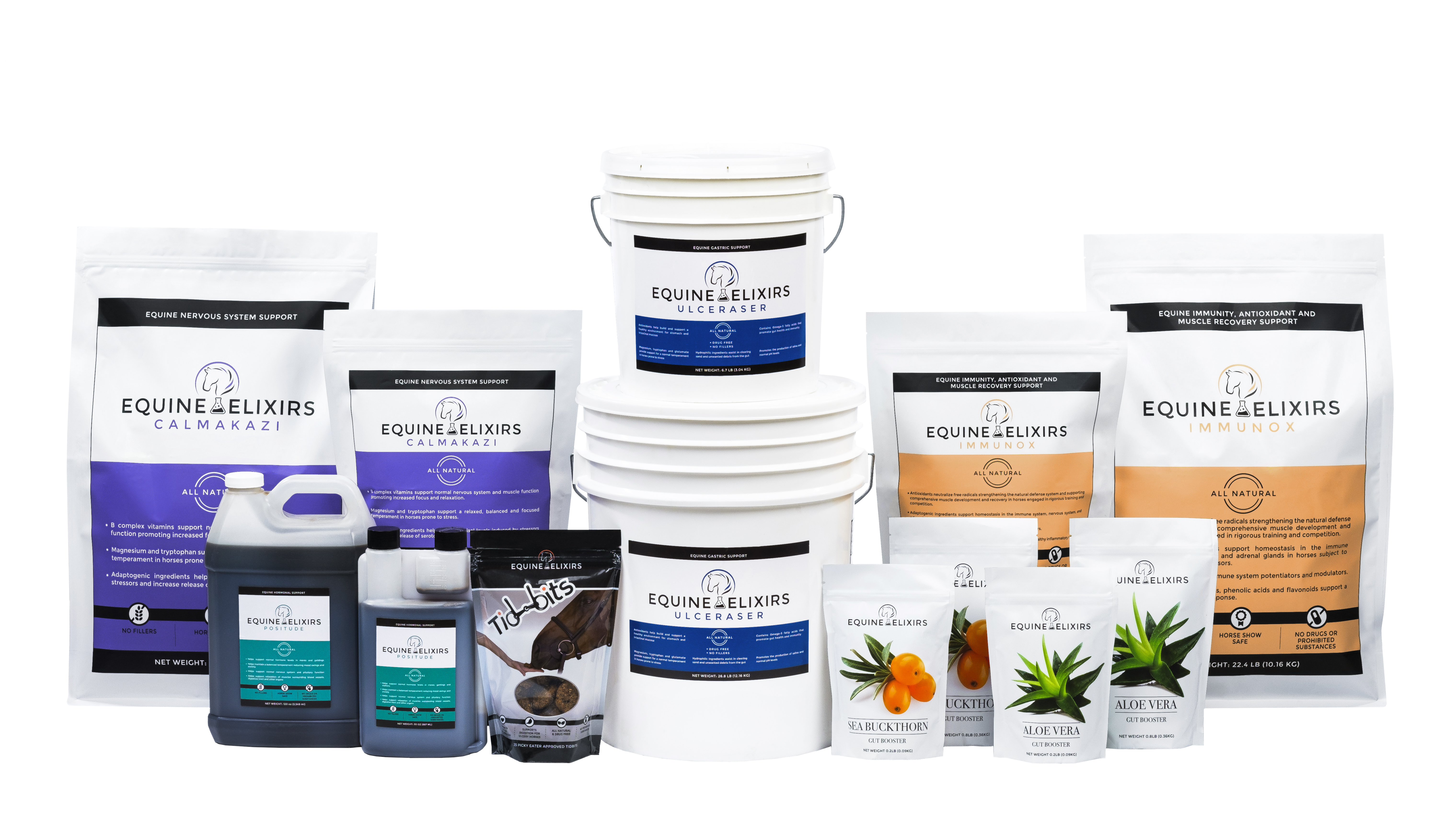 Photo by Chrisman Studios
Along with Liz's obvious and admirable work ethic and smarts, it's her wicked sense of humor that makes her so fun to work with. We loved the "Behind the Scenes" video from their media campaign this winter, created from all of the commercials and rider testimonials they made for the new product launch. We hope you enjoy this video, too, and visit the revamped Equine Elixirs website to learn more about the products and see all of the testimonials.
Watch the Equine Elixirs "Behind the Scenes" video here!