Chris Sorensen and Wriomf Earn Equis "Best Presented Horse" Award at Hampton Classic Horse Show
September 2, 2015 - Bridgehampton, New York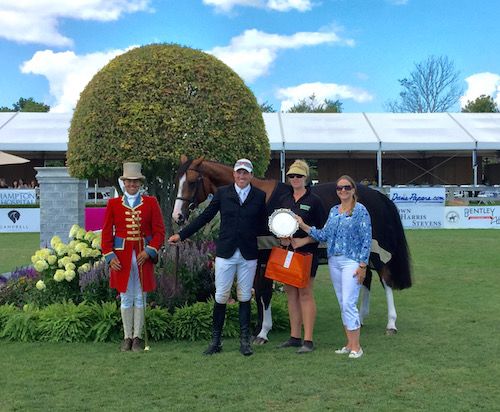 Chris Sorensen holds Wriomf along with Megan Armit, who manages Sorensen's FEI horses, as they collect the Equis "Best Presented Horse" Award from Irma Rubesa of Equis at the 2015 Hampton Classic Horse Show.
Photo by Shawn McMillen Photography
Equis, a boutique for the discerning equestrian, awarded "Best Presented Horse" honors to Chris Sorensen and Wriomf, the horse he both owns and pilots, at the 2015 Hampton Classic Horse Show in Bridgehampton, NY.

The top choice for luxury equestrian brands, including Parlanti, Anna Scarpati, Kingsland Equestrian, Kentucky Horsewear, and Dy'on, Equis Boutique has also dedicated their presence at North American horse shows to breathing some excitement back into the FEI Horse Inspection. Their efforts to reward FEI riders and their diligent grooms produced stiff competition for the Equis "Best Presented Horse" Award at the Hampton Classic FEI Horse Inspection.

The overall turnout of both horses and riders was evaluated by the FEI Ground Jury made up of Phil DeVita, Oliver Kennedy, Neil O'Connor, Jennifer Ross-Koning, Steve Sarafin and Yolanda Matallana Trivino. Sorensen and Wriomf impressed the Jury and were presented with a commemorative silver plate, as well as assorted products from Equis partner brands for the honor.

In addition to the "Best Presented Horse" Award, Sorensen and Wriomf were 12th in the $15,000 Merrill Lynch 1.40m Speed Derby, presented by Sotheby International Realty, an event Sorensen says is his 12-year-old KWPN (Tangelo van de Zuuthoeve x Priomf) mare's specialty.

While Sorensen had the ride on Wriomf, he was quick to give credit to his groom and FEI horse manager, Megan Armit. "This award is such a nice thing for Megan – there are a lot of great grooms at the FEI level and for one to be celebrated is nice to see. She prepared several horses for the jog and any one of them could have won," he said.
"This award is a fantastic idea," added Sorensen. "It's great for the teams behind theses horses to be recognized and highlighted. The quality and pride that we saw at the jog set an excellent example for top show grounds."

Sorensen, who operates Sorensen Stables in Caledon East, Ontario, and Wellington, Florida, also collected a fourth-place finish in the $250,000 Hampton Classic Grand Prix CSI 4* aboard another one of his self-owned FEI mounts, Bobby.
Equis Boutique was founded by Elena Couttenye and Cesar Hirsch, who are FEI judges themselves, as well as active proponents of international equestrian competition. In addition to introducing high-end international riding apparel to the American market, Hirsch wanted Equis to elevate FEI Horse Inspections with a new element of competition. From that idea, the "Equis Best Presented Horse" Award was born.

"Seeing immaculate horses and their riders and grooms take such pride in jogging them at the Hampton Classic gave me confidence that what we set out to do has been successful," said Hirsch. "It was an honor to partner with such an iconic horse show, and we look forward to continued involvement with FEI Horse Inspections at top horse shows across the U.S. and Canada."
Equis Boutique made a successful debut season at WEF in Wellington, FL, and HITS Horse Shows in Ocala, FL, this winter, and has had a busy summer season at horse shows around the U.S. For a complete schedule of Equis Boutique locations, visit equisboutique.com/find-us.

For more information on Equis LLC boutiques, please visit EquisBoutique.com, or find EquisBoutique on Facebook and Instagram! Email info@equisboutique.com for questions on the stores and their products.

About Equis, LLC
Equis LLC delivers superior service in order to educate their consumers on the brands and products they offer and show the variety and quality of their made-to-order, customized products. By providing a unique shopping experience, Equis rises above your normal tack shop to offer only the best. "Live the Experience – A Boutique for the Discerning Equestrian."