Take Your Business to the Next Level With BarnManager Pro
September 7, 2022 - Wellington, FL
BarnManager Pro will be released on September 14, 2022, and users can learn about the features that the new version offers now.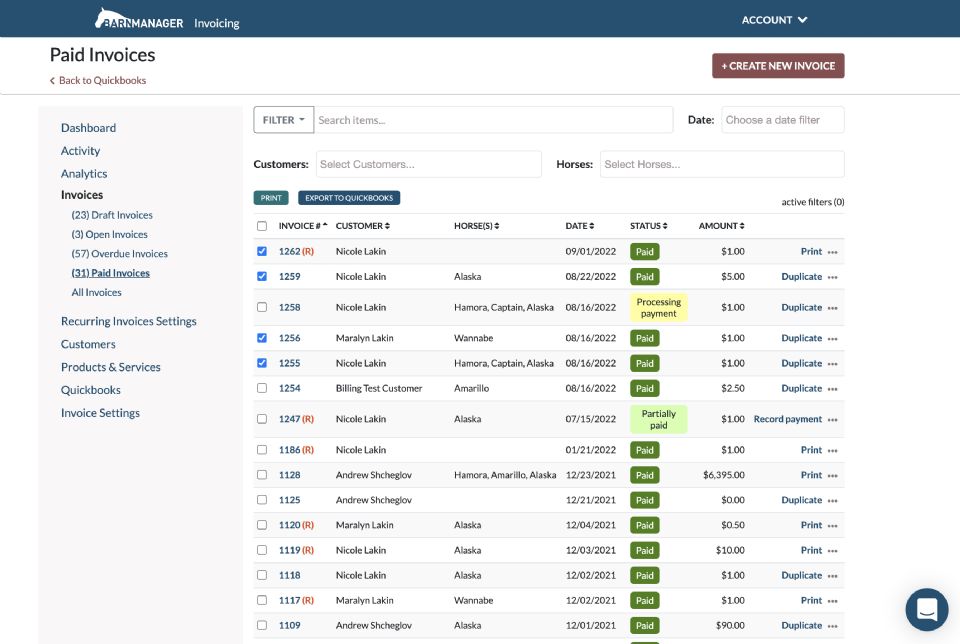 BarnManager Pro allows users the flexibility to organize payments and invoices in ways that make sense for their clients as well as their business.
BarnManager, the leading online management system that is a must-have for barns throughout the equestrian industry, today shared details about the highly anticipated launch of BarnManager Pro slated to roll out on September 14, 2022. The Pro version will include innovative new features such as effortless invoicing, comprehensive revenue breakdowns, and a secure payment method. Users can read and learn about new features now and get ready to sign up.
Founded in 2012 by lifelong equestrian Nicole Lakin, BarnManager is a cloud-based software solution that helps horse owners and managers simplify their daily management responsibilities. Users can access BarnManager from their computer, smartphone, or tablet to create horse profiles, store medical records, schedule appointments, make detailed lists, and much more. BarnManager has become a valuable organizational tool for stables across several disciplines.
BarnManager Pro is designed to help take barn management to the next level. The new Pro plan includes all the features of the Starter and Essential plans while also simplifying the invoicing process, allowing users to keep track of revenue, and safeguarding payment transactions. The Pro version is focused on building a user experience that meets the specific needs for barns of all sizes, removing the extra layers of complexity and rigidity often found in tools like Quickbooks and Freshbooks.
"BarnManager Pro doesn't simply allow users to make and send invoices and receive payments," explained Lakin. "It incorporates the nuances of equine business invoicing by allowing users to invoice for multiple horses, split shared expenses across multiple clients, put multiple horses on a single invoice, and ensure that the full amounts of payments are covered."
Since no two barns are the same, BarnManager Pro allows users the flexibility to organize payments and invoices in ways that make sense for their clients as well as their business. The Pro plan currently offers secure ACH payments through Stripe Connect, one of the most respected and popular online payment providers, which will yield substantial savings in payment fees over major competitors. BarnManager Pro will soon release credit and debit card payment options in partnership with Equestrian Payment Solutions enabling each barn a personalized touch, excellent guidance, and world-class support from equine industry experts.
"We never want to come into a barn and make them feel like we are telling them they need to change when something has been working for them for years," commented Lakin. "Instead, we are trying to supply them with tools to improve their existing systems. We want to make the payment process safer, more secure, more efficient, and easier to manage."
BarnManager Pro's comprehensive revenue breakdowns help users gain insight into which parts of their business are most successful. These tools allow users to make data-driven decisions about where to focus resources for future growth.
While working to help equine businesses succeed, BarnManager also aims to continue expanding and creating new features that will benefit its increasing number of users. BarnManager is constantly looking for new tools to help barns manage, organize, analyze, and grow their businesses.
For more information on BarnManager and the new Pro version visit www.barnmanager.com/pro and follow them on Facebook and Instagram.
About BarnManager
BarnManager is a cloud-based software solution that provides horse owners and managers with the tools they need to streamline and simplify their daily management responsibilities. The program offers digitized record keeping for the many facets of horse care and has developed intuitive and simple business tools to make small business management accessible and easy.