Volunteers Give of Time and Talents at WIHS
October 27, 2018
Running a horse show in the heart of Washington, D.C. is a huge logistical undertaking, but at the Washington International Horse Show (WIHS) it's one made slightly easier thanks to a team of dedicated volunteers.
In 2006, WIHS launched its volunteer program as a way for local residents and equestrians to feel connected to the horse show and to get an inside, up-close-and-personal look at what goes into the weeklong event.
Shortly after launching the program, WIHS not only saw numerous individuals giving selflessly of their time and talents, they saw those same volunteers coming back year after year. Among those returners this year are Rachel Johnson and Simone Peloquin.
For Johnson, 30, volunteering – and spending her birthday week – in the horse show's press room has been something she's now done for seven years.
"When I first moved to D.C. [from Saratoga, NY], it was right before October. I heard that they were looking for volunteers, and I thought it was the perfect way to get back involved with horses," said Johnson who grew up riding and showing and who, alongside a friend, started the equestrian team at Hobart and William Smith College. "I've been doing it ever since. It's always my birthday week, so I consider it a gift to myself to leave my job early every day this week!"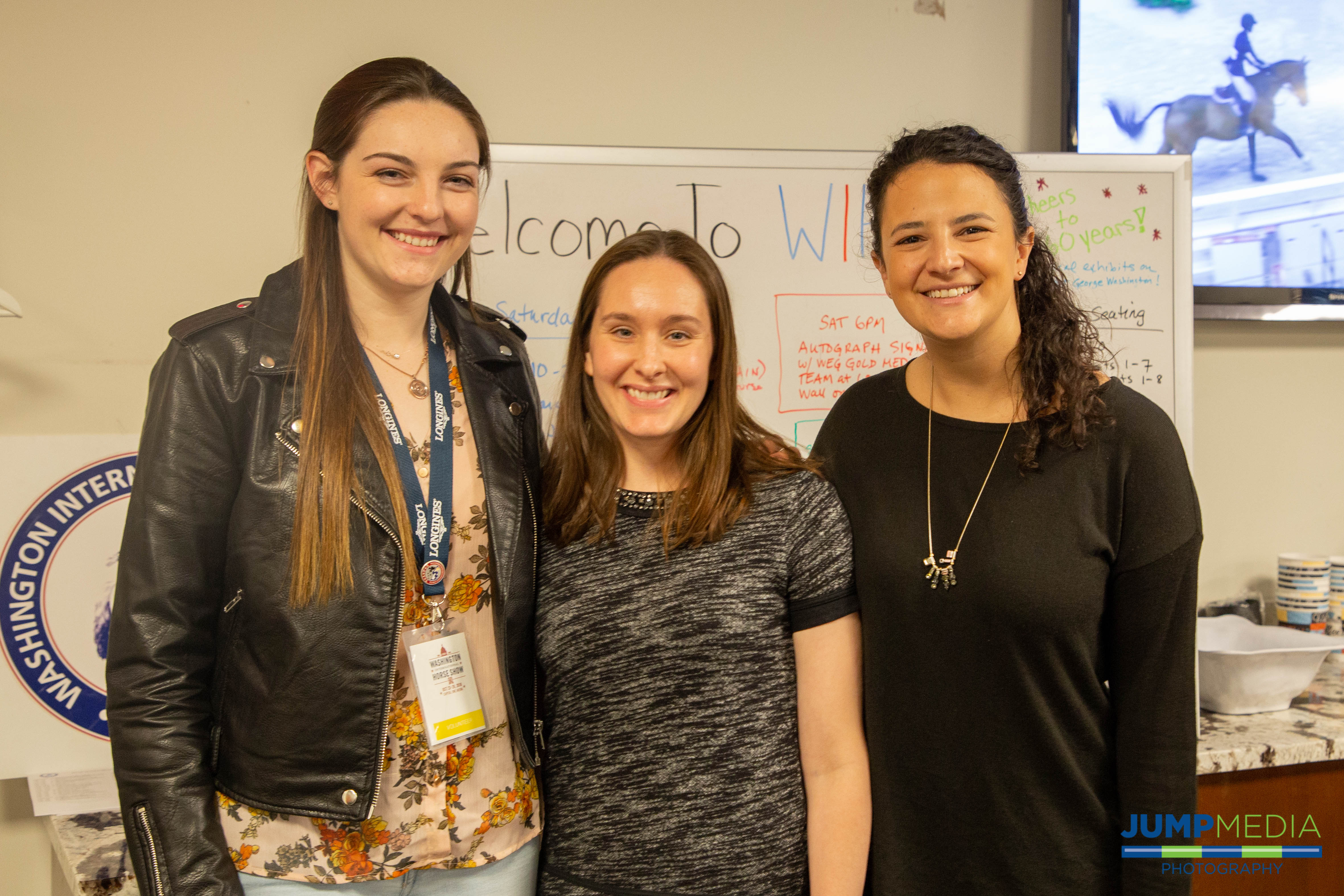 WIHS volunteers Emily Gebhardt, Simone Peloquin, and Rachel Johnson. Photo by Jump Media
Johnson regularly works as a marketing manager for medical device association AvaMed, and as a volunteer, she's been a highly valuable asset to the social media and press team.
"I have a background in website design and stuff, so I would help post things to the website, keeping the pages updated. I started here back in the day before the show was Tweeting or Instagramming or Snapchatting," said Johnson, who now regularly mans the WIHS Twitter account. "It's been really cool to watch how it's grown and how the followings have grown.
"I love the Jump Media crew. I feel like I'm always part of the team when I come back," continued Johnson. "It's an awesome opportunity to meet some of the riders, see the horses, and I get to do what I do for my regular job but about something I really, really care about."
While Johnson found her volunteer niche in the press room, Peloquin found hers while assisting with production.
"I was always aware of the show growing up, and I knew it was a huge production and one of just the most famous shows in the country," said Peloquin, who moved to Washington, D.C. after attending graduate school and studying international relations at New York University. "When I came to D.C. the first year, I made sure to get tickets and wanted to see the show. I wanted to look for ways to get more involved in the equestrian community, so I looked on the website to see if they had any volunteer positions available, and it turns out that they hire quite a few volunteers. I signed up and have been doing it ever since!
"In my first year, I was assisting Julia Andersen Power in production," said Peloquin, who regularly works for Impl.Project. "I really like production because you get an inside scoop and a behind-the-scenes look at what goes into the show and how all of the moving pieces fit together. You get to watch the show as you're volunteering and see everyone's work come together in a smooth production.
"It just seemed like a good fit for me," continued Peloquin. "I kind of stuck by Julia's side, and she taught me the ropes in production."
This year, after learning the ropes as a volunteer for four years, Peloquin was hired to work as a production assistant for the week of the show.
"They needed some extra help in production, and they knew that I had been volunteering for a while, so they asked if I would be available," said Peloquin, who was able to accommodate the week of work at WIHS with her regular, full-time employment.
"I'm a lifelong horseback rider," concluded Peloquin. "I love being around the horses, in the middle of the city, and just seeing and learning about what goes into such a high-level production and how it all ties into the equestrian sport. I think of it as a learning opportunity and a way to be closer to a sport that I really love."